Sales Dashboard
Your CRM dashboard offers you a visual display of all the metrics and information you need to visualise your entire sales process. It offers you an overview of everything you need to know about the health of your sales process – all in one place. Regardless of which segment of your sales pipeline you wish to examine; team performance statistics; deals won or lost; lead sources and success of marketing campaigns; your sales management dashboard has it all.
Start Free trial now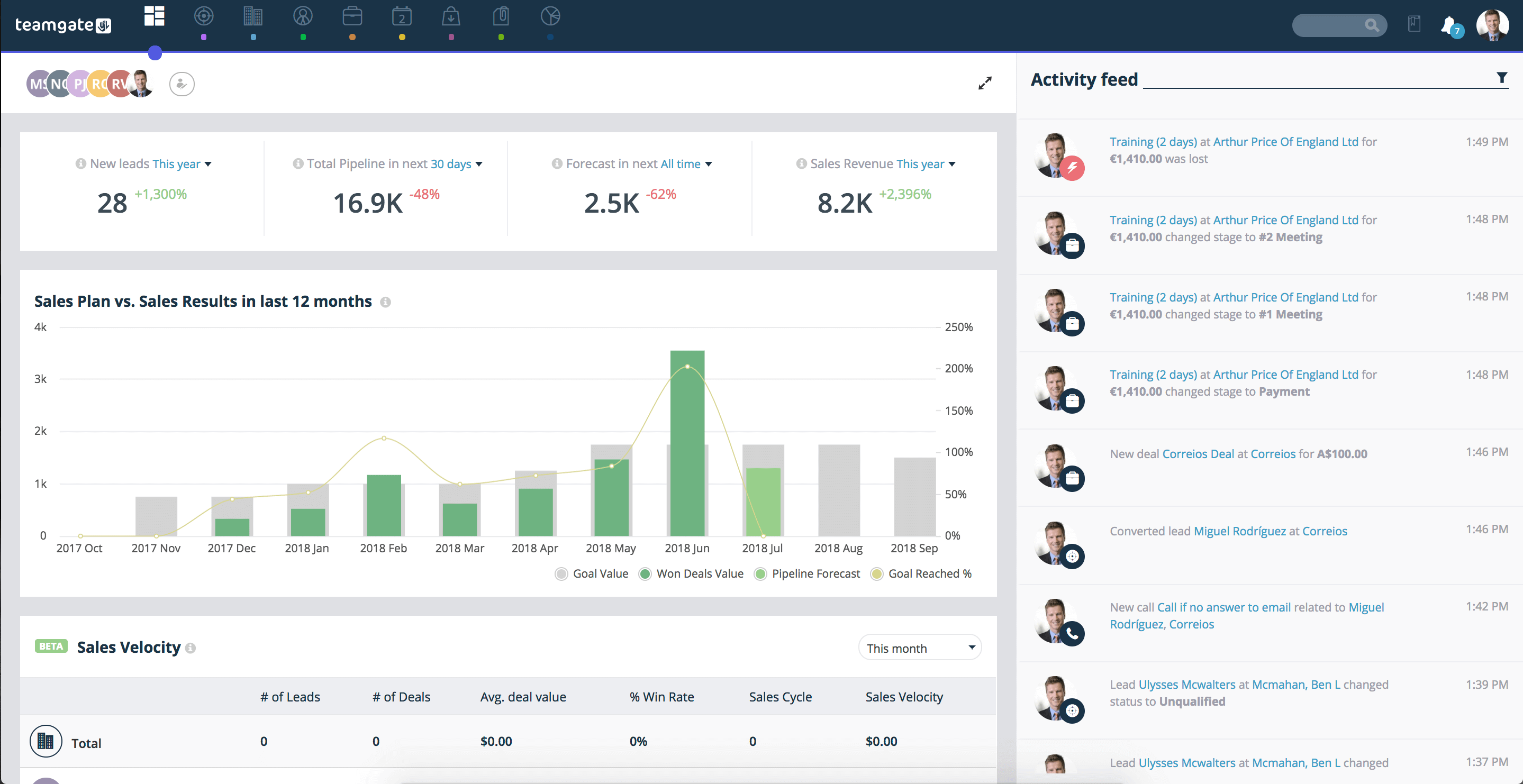 Your Overview To Everything
Your Teamgate sales dashboard displays the topmost-level of your most important sales performance indicators. It offers sales executives, and individual salespeople, instant views of the entire sales process, including; top loss reasons; activity and goal management issues; identification of sales pipeline bottlenecks; and much more.
This pipeline dashboard view automatically gives you the opportunity to quickly analyse the overall situation, and to then delve deeper in order to investigate any situations, in more detail.

Dashboard Advantages
Your dashboard – just like a car's – lets you keep your eyes on the road ahead, and be aware of any impending obstacles.
It allows you to identify any sources of blockage in your pipeline, and rectify matters as necessary.
Your dashboard's reports and analysis are instant, and always up-to-date.
The Teamgate dashboard helps you to keep track of staff performance, and helps you to significantly improve, and motivate your sales team.
Your dashboard includes hugely important business indicators, like; numbers of new leads, value of leads, and future sales forecasts.
TOP LOSS REASONS
A sales analytics dashboard can help you identify the main loss reasons among closed deals. By continuously entering loss reasons, as deals progress, your sales performance dashboard can outline the top loss reasons, such as; price; preference for a competitor; decided against use of product; lost contact; or any other reason which may arise. After further analysis, it can also offer you intuitive reports suggesting improvements on your closing process with all future deals. Importantly, you can compare your loss-reason percentage against a team's overall average.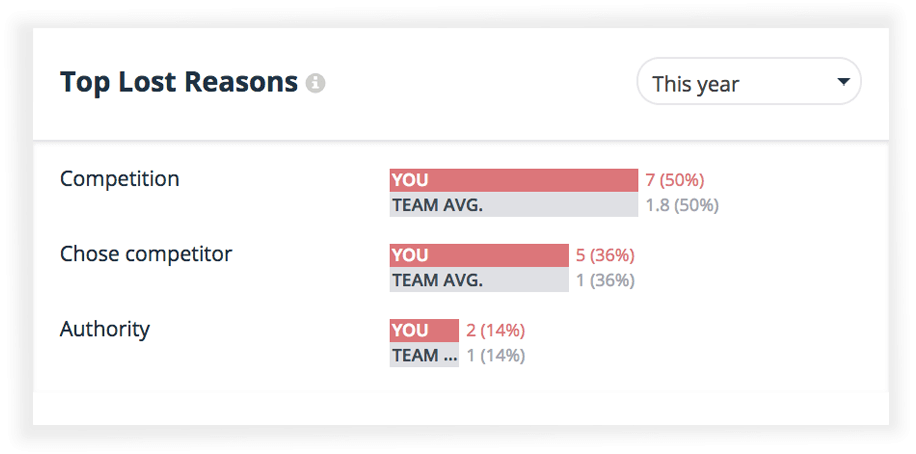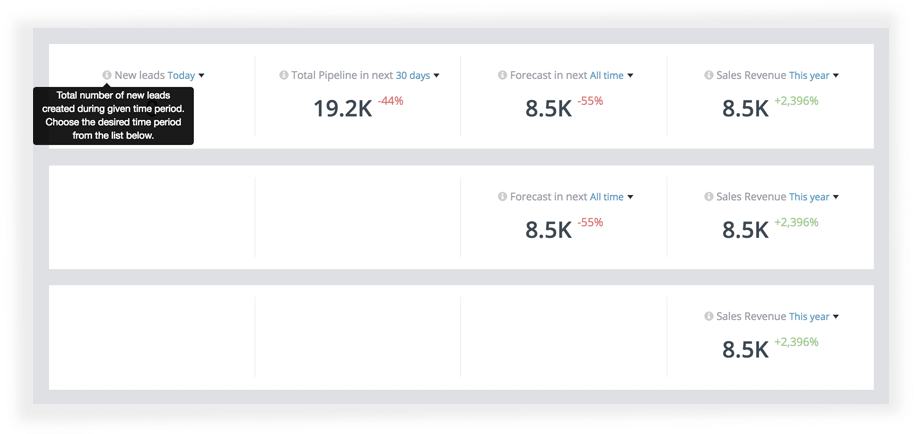 BUSINESS INDICATORS
Sometimes it's necessary to get an instant, and accurate, update on your pipeline's sales situation – urgent meetings, demands from superiors, rapidly changing situations, etc. With Teamgate your sales report dashboard can provide you with all those up-to-date metrics on-demand; numbers of new leads; total value of the pipeline; and sales forecast value. You can get a real-time feel for the current situation on the ground, plus you can also create a preview for any selected period of time, based on the information to-hand.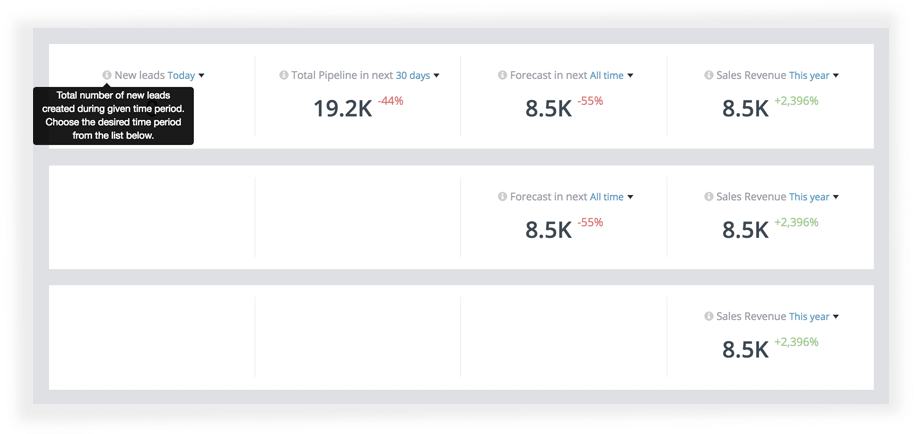 ACTIVITY MANAGEMENT
Track your team's performance against set activity goals. Employ useful overviews for sales managers to help you evaluate a team's KPIs for any selected period. Your Teamgate sales team dashboard is the one-stop shop for analysing sales performance, and using all the relevant data to make the right decisions. By analysing the available metrics, you can easily distinguish the links between sales activities, and outcomes.
You can also quickly identify, and compare, your top performers, in different markets, during different time periods, and how they react to changing situations. Another great bonus of the sales KPI dashboard is getting a full overview on set sales targets, assigned meetings and calls, deals to close ratios, and new deals created.
SALES ACTIVITY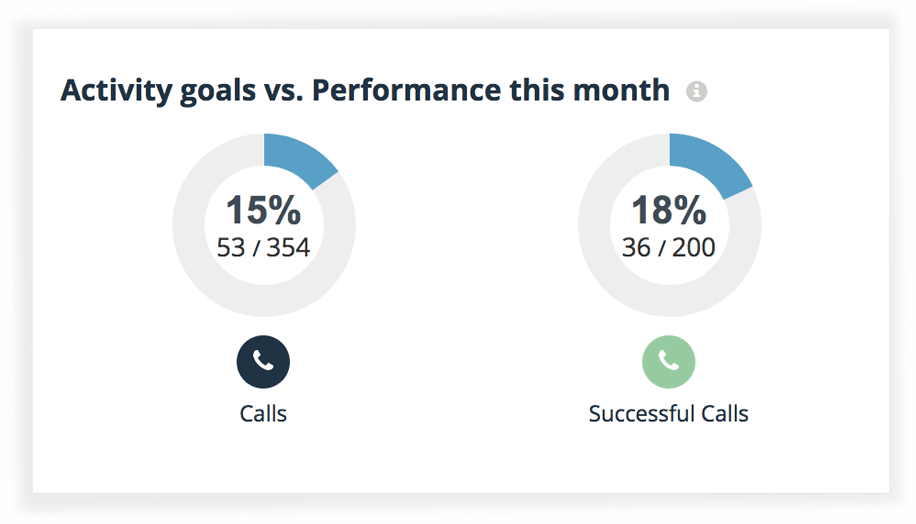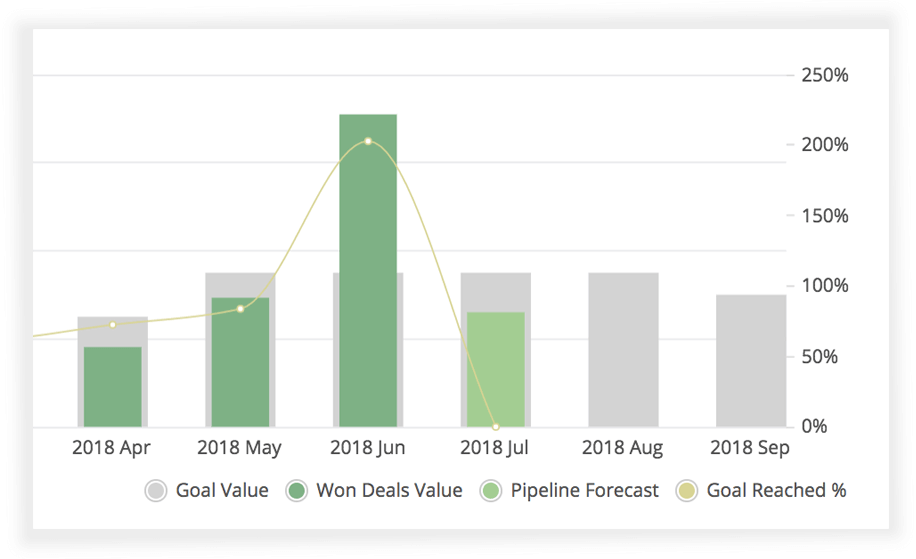 GOAL MANAGEMENT
Make use of simple, yet detailed, illustrated charts of sales goals against actual results for the past 12 months, or any other selected time-frame. There's no need for confusing graphs or multiple indicators; just the facts you need, when you need them. Track your sales movement and profitability, and easily identify the most import loss-reasons, and know who your top customers are. By sharing these results with your sales team you can enable them to stay on track of their goal management, appreciate their top customers, and help motivate all of their future sales activities.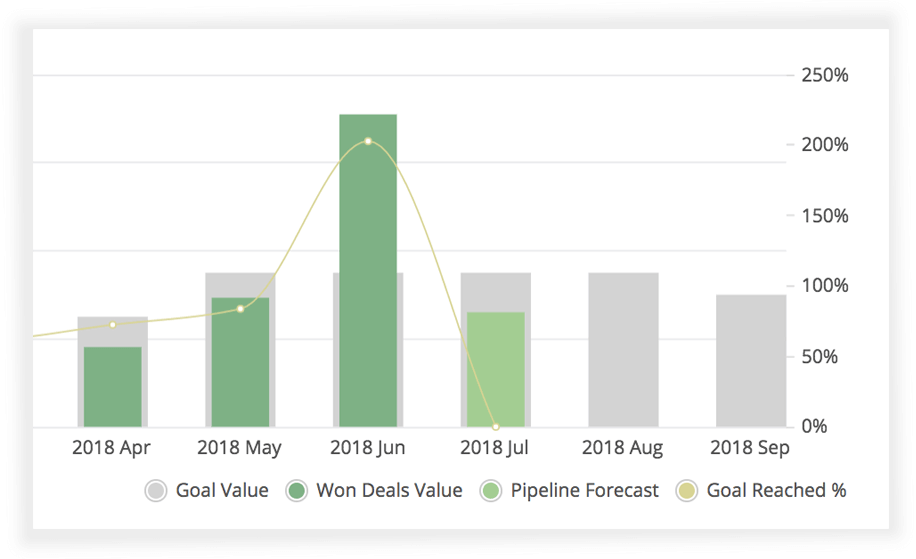 RISK MANAGEMENT
The Teamgate sales dashboard offers you and your sales team the kind of simple, yet detailed, metrics and analysis you won't find in a free sales dashboard. One of the most important metrics delivered concerns risk management. Risk management allows you to pinpoint the highs and lows of your current live opportunities, and to take the necessary action on those which require your attention. The predictive analysis feature is designed to be both practical, and simple, so that you can react to any urgent situation, in real time.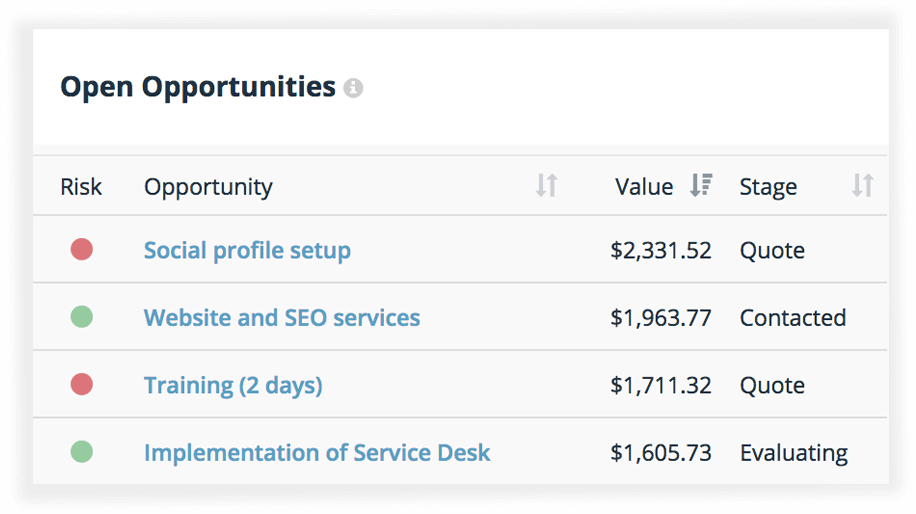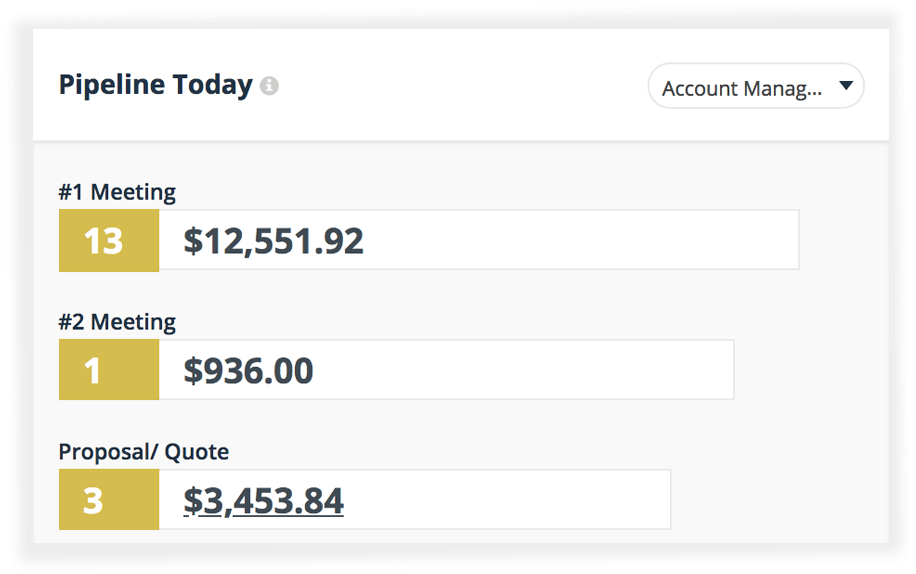 SALES FUNNEL MANAGEMENT
It is highly recommended that you regularly take time to overview dashboard metrics concerning your sales funnel management. Here you can track the current financial situation of your pipeline, and identify any possible bottlenecks. You can then focus on the overcrowded segment of the process and manage your pipeline more easily and efficiently. Within your sales funnel metrics you also have access to; lead management; marketing reports, new lead sources; pipeline reports; predictive forecasting features; the complete sales funnel; and your overall sales cycle. This overview will help you identify where in the process you are losing most sales momentum, and give you the right options to correct any shortcomings.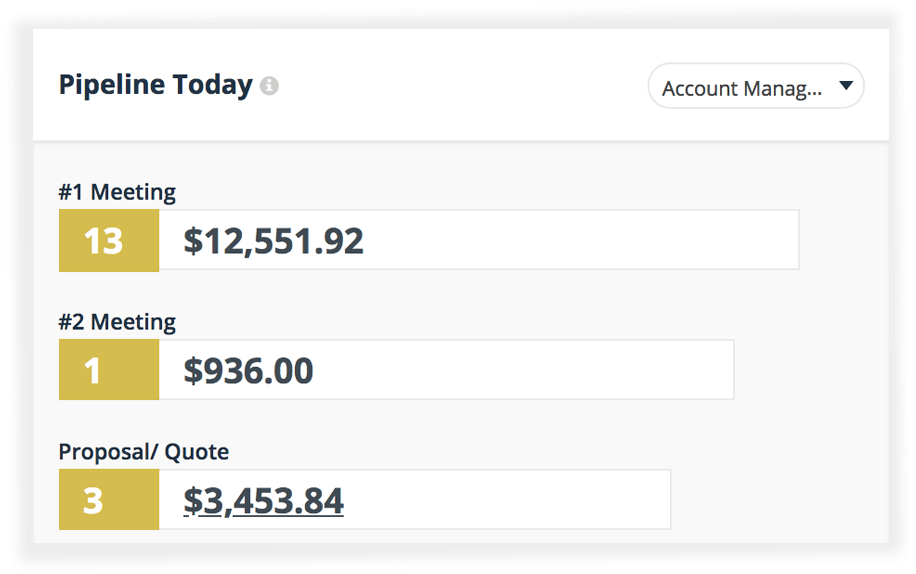 WIN RATIOS
Easily identify the correct steps required to complete a successful deal closure. Armed with such valuable information, you can then take the necessary steps to increase your win ratios by improving your communication and pre-sales process, along with managing the overall quality of leads. For example: you might notice that there are low conversion rates at the meetings stage of the process, this may require you to take steps in order to improve the quality of meetings, or even realise that the customer's potential should be further evaluated before scheduling meetings.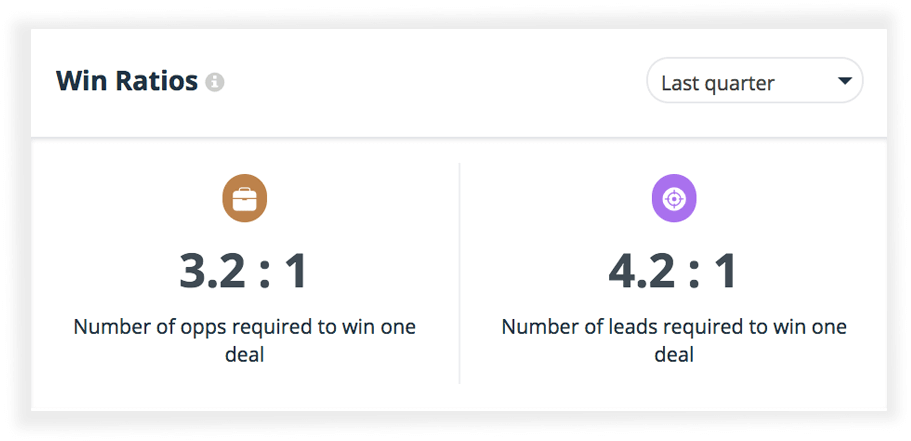 Manage your sales time smarter – Sign up for your FREE TRIAL today
No credit card necessary
Hi, I'm Andrew, CEO here at Teamgate. Myself and my team pride ourselves in ensuring that our customers are powered to unlock their true sales potential. Speak with our team today so that we can learn more about your business and sales goals, and how Teamgate can be effectively utilized to help you grow faster.