Lead Capturing
Learn the fine art of lead capture, and reach your sales targets, easier and faster. Make your website a valuable sales weapon with lead capture landing pages, and intelligent lead capture forms. Quickly capture website leads, plus easily measure and increase conversion rates. Encourage your Sales and Marketing team to work closer together – make Smarketing work to your advantage.
Try Now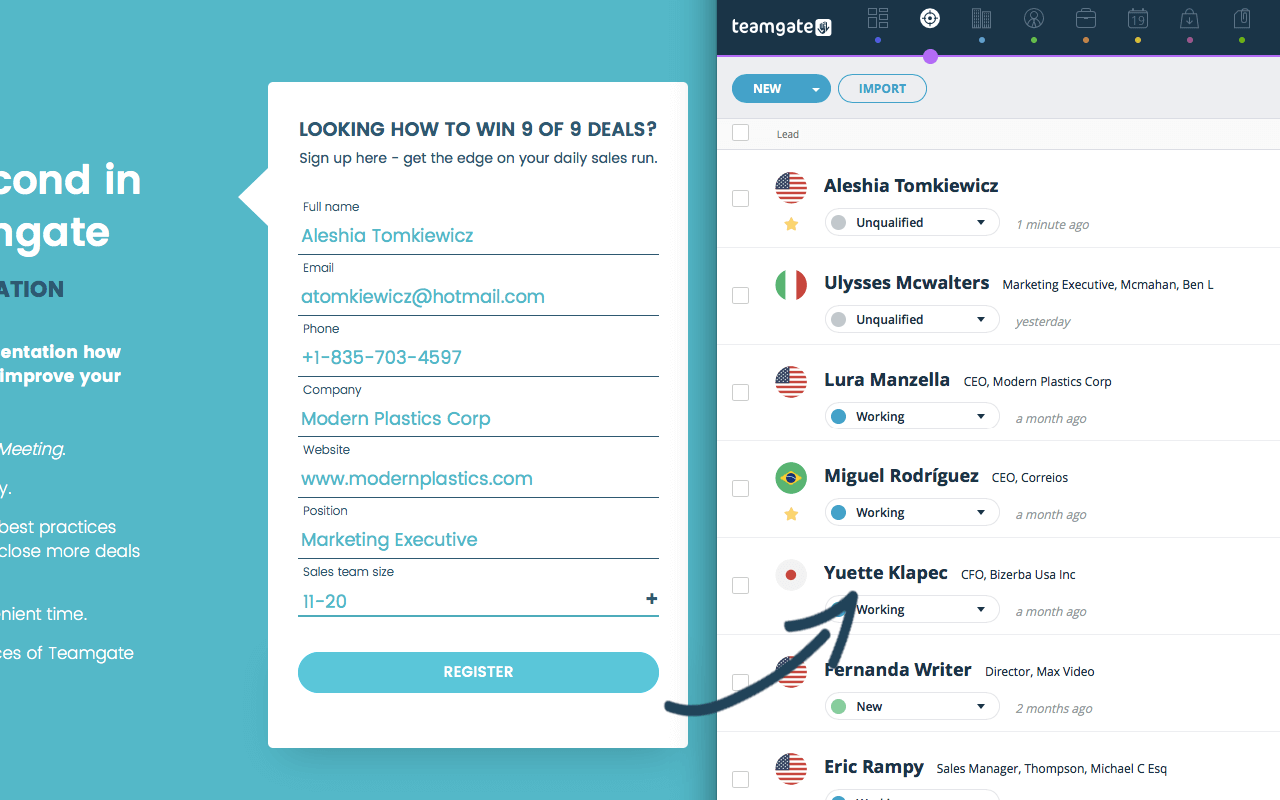 Website Forms
There are many lead capture tools to choose from which assist with the collection of inbound leads. By using lead capture forms on your website – newsletter sign-ups etc. – visitor details can be captured automatically as a new lead, and transferred directly to Teamgate, exactly where you want your leads to be. Your lead capture tools are some of the smartest, and easiest means of CRM lead capture in your toolkit.
Start with WordPress, Zapier, or API
Lead capture websites are an invaluable source of valuable and intelligent lead capture. In conjunction with your CRM lead capture has never been more effective.
A variety of available widgets enable website integration in just a few clicks. Using your website and WordPress lead capture, you can create specialised user forms directly from the ever-popular WordPress platform.
Add simple, template web-forms to all of your landing pages directly from Teamgate, or, find the desired tool for your specific needs using the advanced technology platforms like Zapier and Integromat. If you are looking for something even more specific, a powerful supported CRM API integration allows you to drive even more sales leads into your system.
Get to Know More
Find out which visitors convert into opportunities and what are the most valuable lead sources.
Use web forms for A/B testing to know which forms convert the most.
Don't be afraid to test new methods, spend time researching the powerful Zapier facilities.
Get your content up front to drive more traffic to the key landing pages.
Publish mobile-optimised content and analyse website performance.

Automate your workflow and avoid missing any opportunities to contact new leads when they are most interested.
Some of the Lead Capturing features in Teamgate
Manage your sales time smarter – Sign up for your FREE TRIAL today
No credit card necessary
Hi, I'm Andrew, CEO here at Teamgate. Myself and my team pride ourselves in ensuring that our customers are powered to unlock their true sales potential. Speak with our team today so that we can learn more about your business and sales goals, and how Teamgate can be effectively utilized to help you grow faster.