Smart Dialer
SmartDialerTM enables you to make calls directly from Teamgate. And it's not only about outbound or inbound calls, it's also about employee training and their performance improvement, about new leads and a valuable tool for team's calls analysis.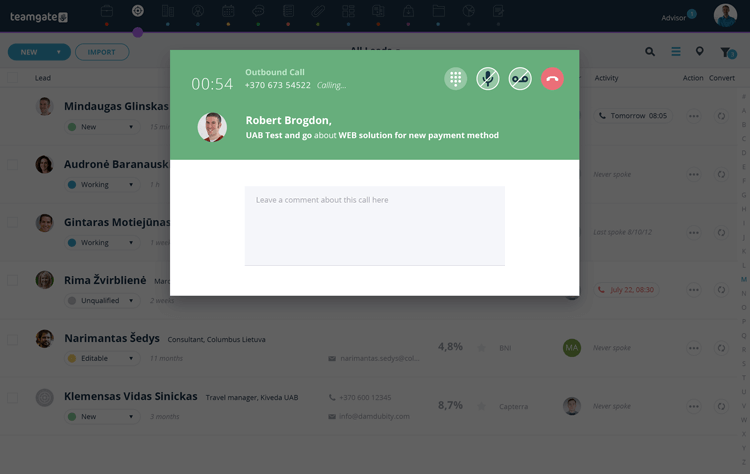 A Tool That Helps You Sell More
No more messing around with external programs or VoIP phones. Drive your call-making through the roof with this fantastic native feature. SmartDialer™ ensures that you will get a great calling experience:
Make local or nationwide long-distance calls in only a few clicks.
Record and playback your calls.
Be sure that every inbound call is assigned and rerouted to the owner of a contact.
Find missed call listed and recorded in customer's profile.
Turn your missed calls into new leads.
Prepare short script to ensure focused pitch while making cold calls.
Some of the Smart Dialer features in Teamgate
Incoming and Outgoing Calls
Make and receive calls directly through Teamgate CRM without any efforts
SmartDialer allows to record and playback your calls in a reliable, simple and secure way
Forget any unpleasant communication experience, interactive routing will do the job – every inbound call is assigned and rerouted to the owner of the contact
Make a short and focused pitch while making cold calls. Make a script for outbound calls and keep on-point.
Analyze calling results and see the call logs in your Teamgate account
RUN YOUR SALES TEAM ON TEAMGATE
Your sales team deserves more than just a platform. They deserve a complete sales stack.
Hi, I am Ilmaras, Sales Manager here at Teamgate. I am responsible for ensuring that you drive maximum value from our tool. I would like to learn more about your main goals for using the CRM solution and to tell you how other companies are using our CRM. Please fill in the form and I will get back to you ASAP.