Teamgate has started out as many startups do these days. The majority of the Teamgate team originates from Lithuania, where the product was created and company first founded back in 2012. Through competitive fundraising, Teamgate has built a healthy business of 20+ employees, has branched out with an office in London, and has a fast growing global customer base.
We are the optimistic risk-takers who've rolled up their sleeves to enable instant, open, direct communication between you and your sales leads. We reconcile business, deep analysis & product development skills to create strong product designed to turn our clients companies into businesses with strong sales numbers.
Andy
Product Manager
Don't dream of winning, work for it!
Amber Gintare
Head of Customer Success
I can't change the direction of the wind, but I can adjust my sails to always reach my destination.
Liudas
Developer
Your excuses get you 0% closer to your goals.
Chris
Marketing Manager
I want to get to the future first.
Marijus
Founder & CEO
A very, very bright star can be as bright as over eight million suns.
Anna
Developer
Everyday life is like programming, I guess. If you love something you can put beauty into it.
Giedrė
Customer Support Manager
You are never too old to set another goal or to dream a new dream.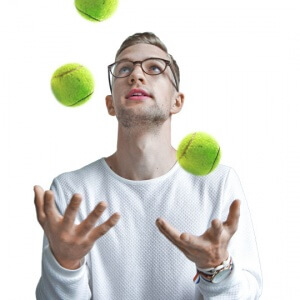 Vytautas
Marketing Specialist
The only time success comes before work is in the dictionary.
Ilmaras
Sales Manager
No pain, no gain.
Andrius
Developer
It is not a bug. It is a feature.
Vitalija
Head of Customer Support
If plan A didn't work, don't worry – the alphabet has 25 more letters.
Mindaugas
Developer
Most good programmers do programming not because they expect to get paid or get adulation by the public, but because it is fun to program.
We hire only committed, passionate, and experienced visionaries. We're all about open dialogue, doing away with needless corporate hierarchy and letting our team run the show. We work hard, we love SaaS, and we put all the best parts of ourselves in our Sales Stack platform to help you explode your sales.