Sales Acceleration
In your efforts to accelerate sales, grow your profits, and create a seamless sales cycle, it is important to closely examine methods of faster, and better customer communications, improve the overall customer experience, and ensure that your whole sales process is as smooth as possible. Teamgate offers you a host of sales acceleration tools to increase the velocity of your sales process. Following the movement, communicating wins and losses within your team quickly, and analysing the performance has never been easier.
Start A Free Trial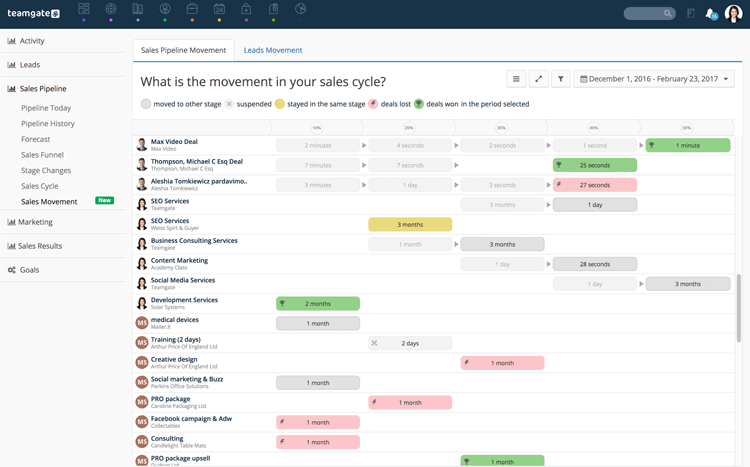 Sales Pipeline Movement
To help you identify which sales stages need revision, Teamgate offers you reports which interact with your opportunity movement in real time. The sales pipeline movement report is designed to illustrate the actual movement – or lack of movement – of each opportunity within a specified time range, in order to accelerate sales cycle performance. With this unique and insightful report, you can identify, and create solutions for, bad communication procedures, poorly followed-up opportunities, delayed evaluation, or stalled pending deals.
Analyse to Improve
Teamgate dashboard and insights features are designed to provide you with an accurate synopsis of your entire sales movement, and the factors influencing that movement. In-depth, accurate, and up-to-date analysis and reports allow you to identify the main loss reasons; track the performance of your team – meetings and calls held, targets met, etc.; pinpoint risks, leads getting stalled in a segment of the sales process; and by comparing your goals with actual results. Analysing both past and present results may help to improve the closing process of impending, and future deals.
Some of the Sales Acceleration features in Teamgate
An empowered and proven way to shorten your sales cycle instantly. The Sales Pipeline Movement report is built to show the movement of each sales opportunity within a chosen time range
Focus on the right things by benefiting from the power of the Dashboard feature. It is designed to provide you with a quick overview of your sales. Use it to check the health of your pipeline, forecast and track performance.
Learn more.
Base your actions on intelligent analysis. Teamgate offers data-driven, intelligent reports which provide a real-time image of your business. Learn more.
MailChimp integration allows you to send marketing emails, automated messages, and targeted campaigns to your Leads or Contacts using custom filters, and also allows you to track your campaign status directly in Teamgate Sales CRM. Learn more.
"Morning Muffin" is a short daily newsletter summarising the most important updates from the day before (Lead updates, Pipeline updates) and today's agenda details.
With the Teamgate Sales CRM mobile app solution your data can be accessed and updated from everywhere you go! Be confident that all the necessary information is always with you and never forget to capture important notes. Learn more.
Manage your sales time smarter – Sign up for your FREE TRIAL today
No credit card necessary
Hi, I am Mindaugas, Director of Sales here at Teamgate. I am responsible for ensuring that you drive maximum value from our tool. I would like to learn more about your main goals for using the CRM solution and to tell you how other companies are using our CRM and increasing their sales performance. Please fill in the form and I will get back to you ASAP.