Teamgate CRM email integration for organised sales people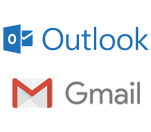 Take advantage and connect your favorite email service – Gmail, Outlook – with the award-winning sales CRM to ensure that your email correspondence is in check.
Sales CRM email integration allows you to track your conversations by attaching copies of your sent and received emails, straight to the designated contacts' or leads' card. Keep your emails safe and in the place where it matters most, save precious time and stay organised.
Note: Each email service has its own integration process, due to differences in technology, but, Teamgate has it all covered with detailed steps for you to follow in the process.
Try Now
How It Can Help You:
Integrated Communication – with CRM email integration you can be sure that all communication history can be found, and easily accessed in one place. In addition, it is also a great way to organise and backup your important emails and files.
Save Time – We are aware that much of a company's communications happen via a Sales CRM. With this integration, you eliminate the need for random email scrolling in search of relevant emails. Teamgate saves you time by keeping any files exactly where they belong – attached to the appropriate contact's lead's or deal's card.
Discover other integrations with Teamgate
Hi, I am Ilmaras, Sales Manager here at Teamgate. I am responsible for ensuring that you drive maximum value from our tool. I would like to learn more about your main goals for using the CRM solution and to tell you how other companies are using our CRM. Please fill in the form and I will get back to you ASAP.