Sales Pipeline Management
Paying close attention to sales pipeline management allows salespeople to manage each stage of the the sales process simply, and in a manner that gets results faster. The Teamgate sales CRM drag and drop feature lets you move your deals through each progressive stage of the sales management process, easily, and visibly.
Start Free trial now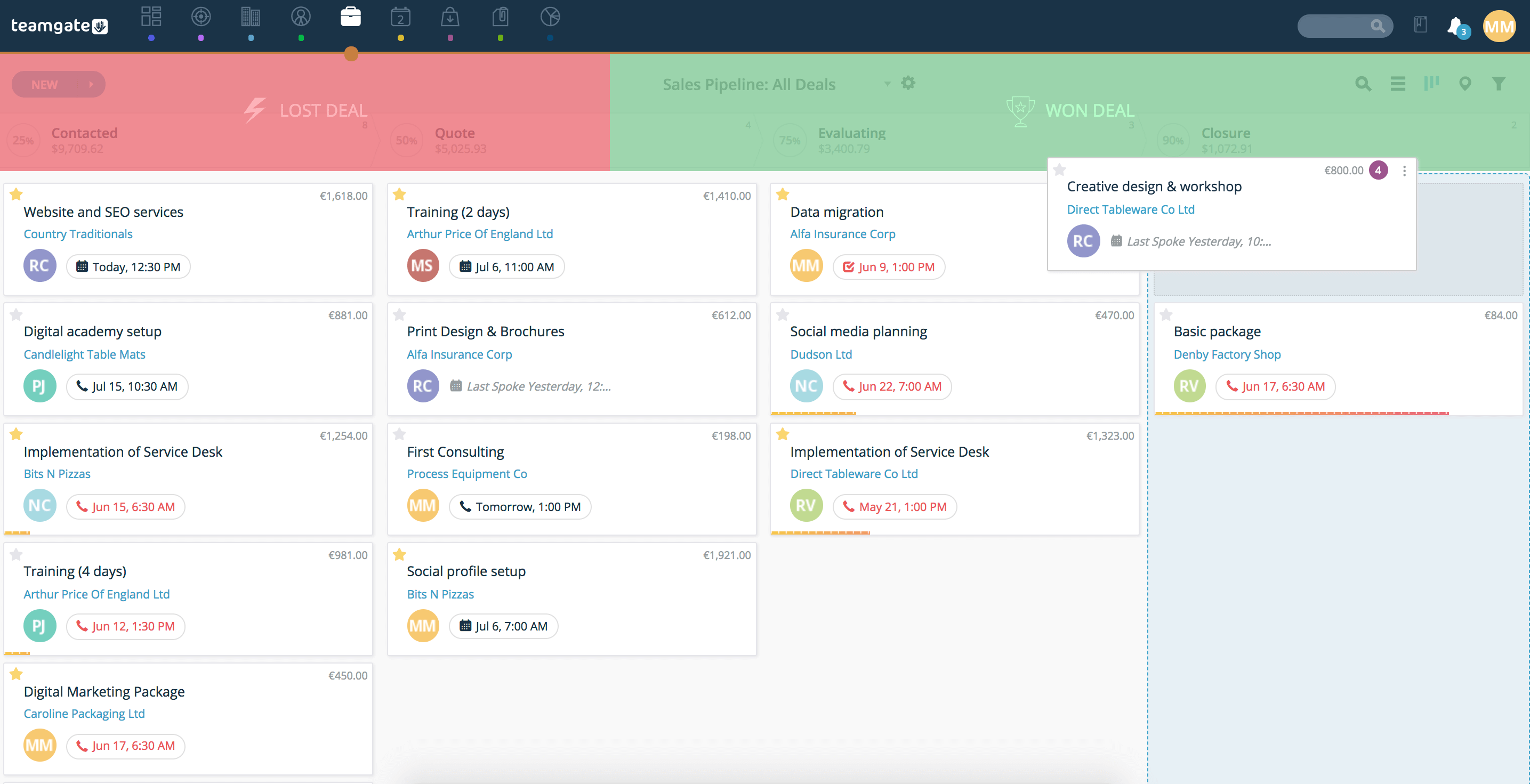 Always Know Where Your Sales Are Parked
It's vital to know exactly where your sales are getting stalled. With a closing date indicator to give warnings on overdue deals, sales managers are offered a clear and overall view of the sales team's performance. The closing date indicator also highlights areas which require extra attention, or an extra push forward.
With the combination of your experience, plus intelligent sales pipeline software, you and your sales team are ready to manage any sales situation easily, correctly, and with the right results. CRM pipeline management adds functionality to experience. This combination makes your entire sales mechanism seamless, and effortless.
Sales Management Advantages
Teamgate intuitive interface lets you drag and drop you deals as they pass through each stage of the sales pipeline
With global sales issues, the ability to view your deals in multiple currencies helps you avoid major confusion
For complicated sales issues, Teamgate helps you create multiple pipelines – including products, locations, industry, etc.
A visual display of your sales pipeline offers you the opportunity to identify snags before they become blockages
ESTIMATED CLOSING DATE INDICATORS
One way deals can get lost – and even stall the whole sales pipeline – is by not setting estimated closing dates for each and every deal. With colour-coded visual indicators, Teamgate helps you visualise, and manage where your leads are situated in their closing-date deadline. The longer a lead is overdue, the more the potential exists for blockages forming right across your sales pipeline. Using the Teamgate pipeline management tools, stay on top of very lead, and never let another lead fall through the cracks.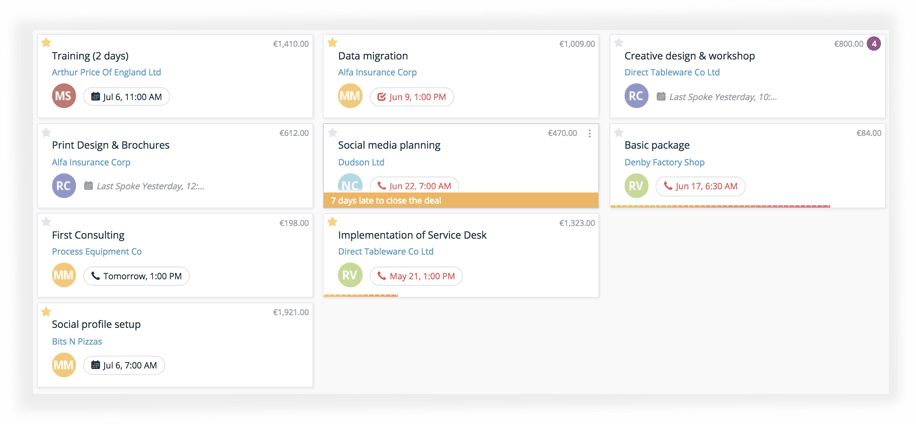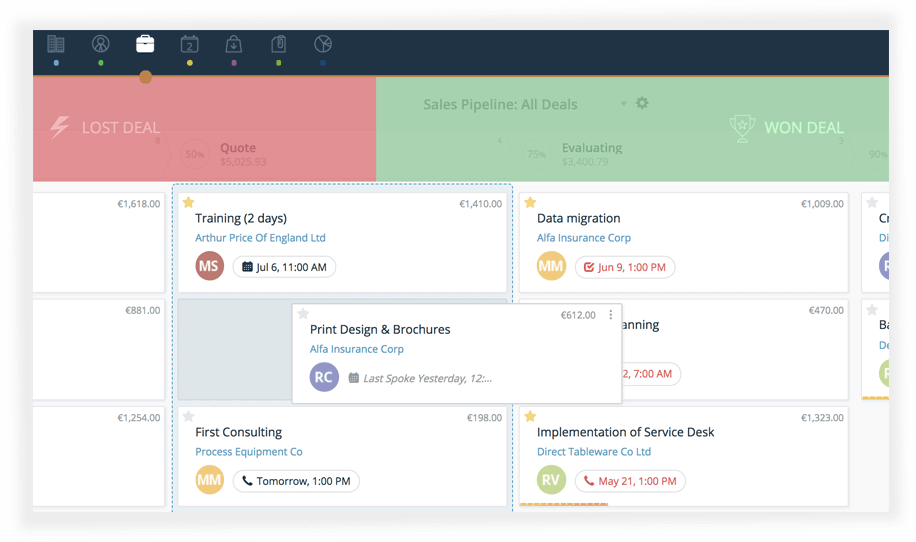 DRAG AND DROP INTERFACE
Your sales pipeline CRM software can give you a simple and highly visual means of moving deals through your entire sales process. Teamgate simplifies that movement with a simple drag and drop feature, moving deals manually – and quickly – from one stage to the next. As a really great tool for sales management, drag and drop gives you a visual representation of all your sales, in one place.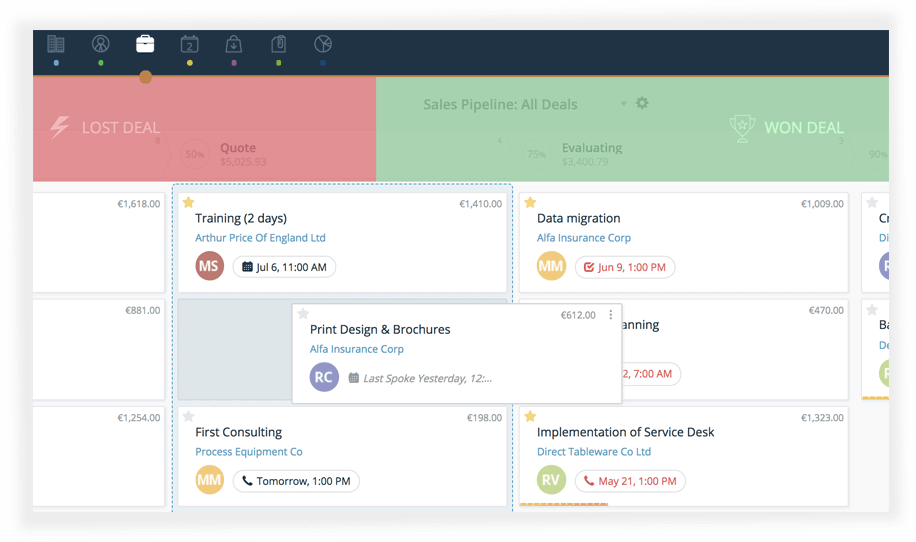 MULTI-CURRENCY OPTIONS
If your deals are located in different countries, there's a good chance you'll be forced to deal in multiple currencies too. Teamgate CRM lets you nominate a currency for each specific deal – a really great facility to have access to, regardless of the size of your company. Located in your pipeline CRM software, you can easily view the total value of any deal, in the chosen currency, helping you avoid confusion when it comes to deal closing.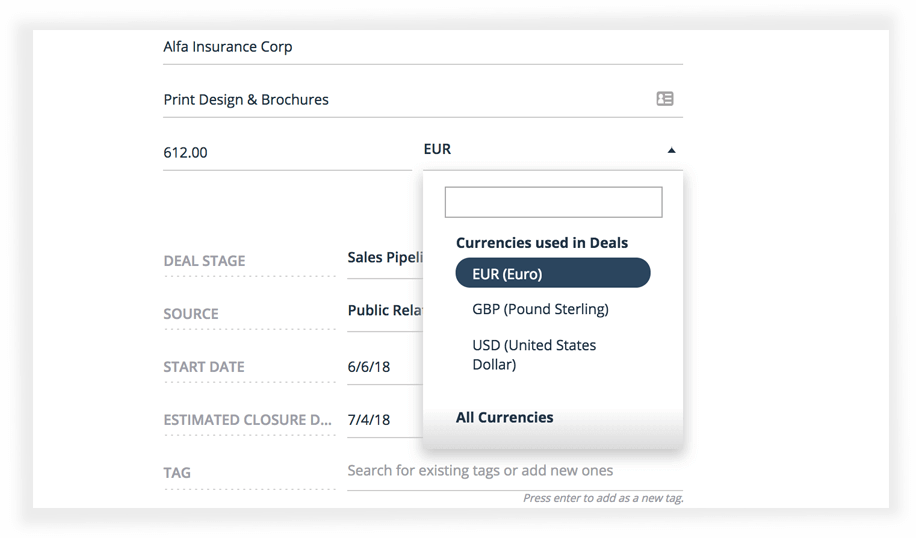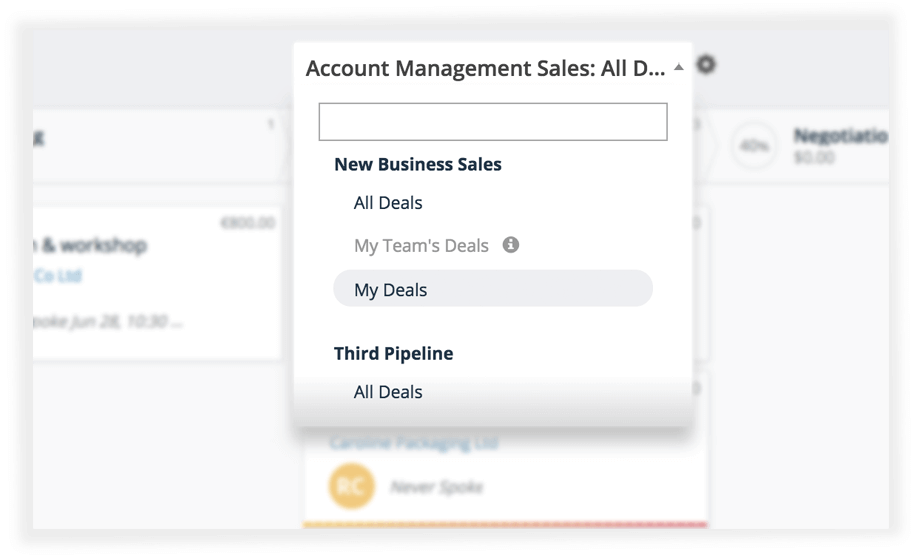 MULTIPLE SALES PIPELINES
Sometimes a single sales pipeline in just not enough. Too many components, too many variabilities, too many products – whatever the reason, the ability to have multiple pipelines can be a huge advantage to your sales pipeline management. Teamgate gives you the ability to create multiple sales pipelines, each with its own sets of reporting, tagging, and search options. That's simplicity.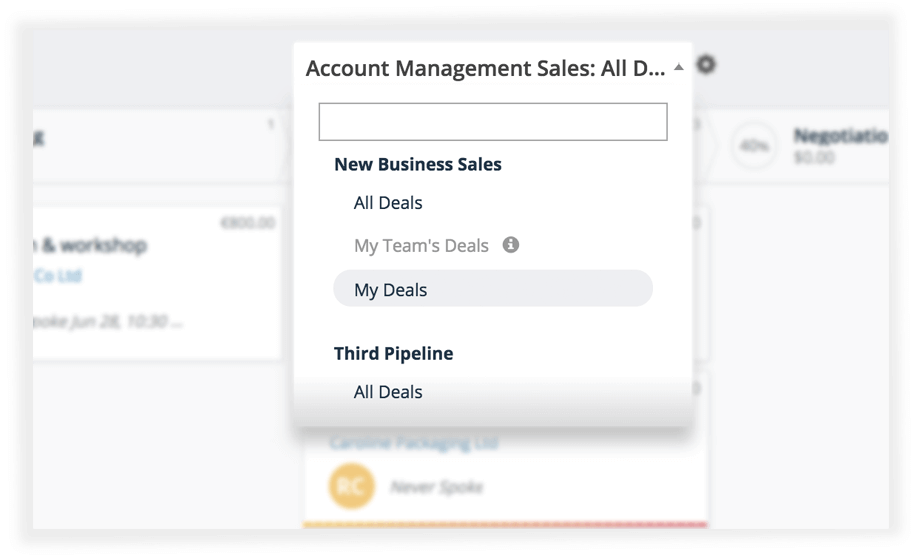 EASE OF USE
With the help of Teamgate sales CRM simply manage all of your deal's information; attach related documents, add products from a catalogue, and enter all important information in the various custom fields. Everything you need to effectively manage your whole sales management process in one place, and ready to take with you, wherever you might need it. Managing your CRM pipeline stages has never been so simple or intuitive.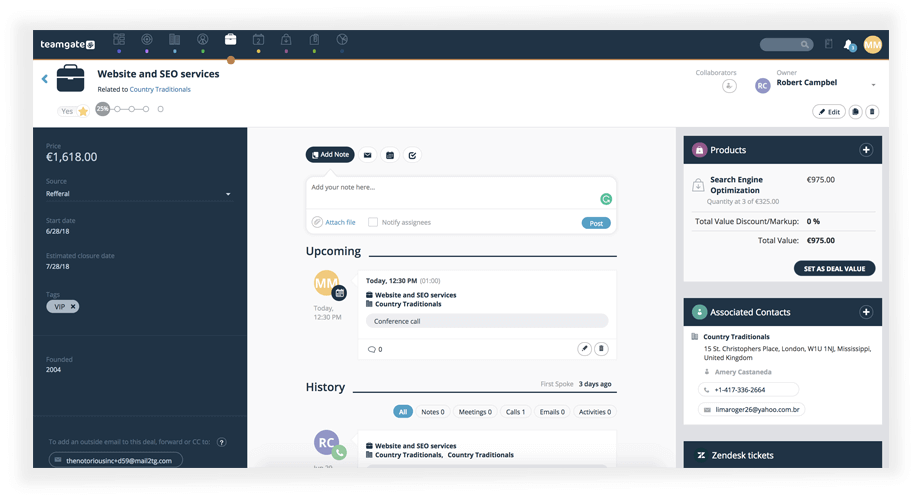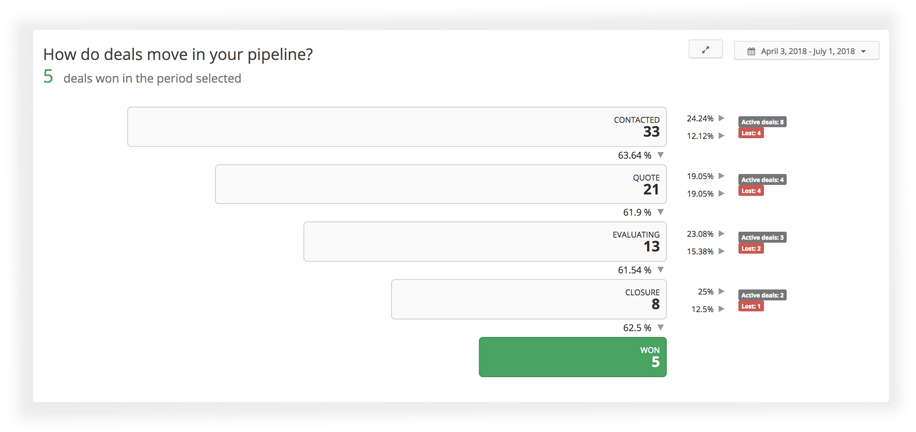 SALES FUNNEL
Being able to see, at a glance, what's happening in your sales pipeline has to be good. Right? The intuitive Teamgate Sales CRM tracks and measures various indicators, allowing you to pick the ones you need to view in your dashboard or insights section. Sales Funnel and pipeline trajectory will become an irreplaceable feature when used on a daily basis, making your CRM pipeline management even more simple and time-saving. By means of the advanced features in the Teamgate sales pipeline(s) CRM is transformed to the next level allowing you to grow and profit more easily.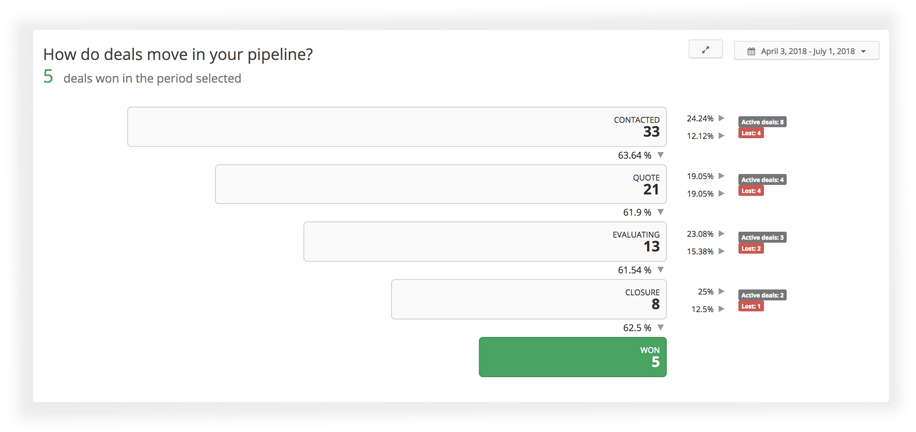 SALES PIPELINE FORECAST
Sales pipeline forecast is designed to help users see their income prognosis at a glance. Calculations are based on the deal values and probability to win these deals. Sales pipeline forecast section is a great visual representation of the team's performance in regards to income by each salesperson and all of them combined. This section allows users to track the performance in real-time and create reports and strategies easily, having data already ready to use.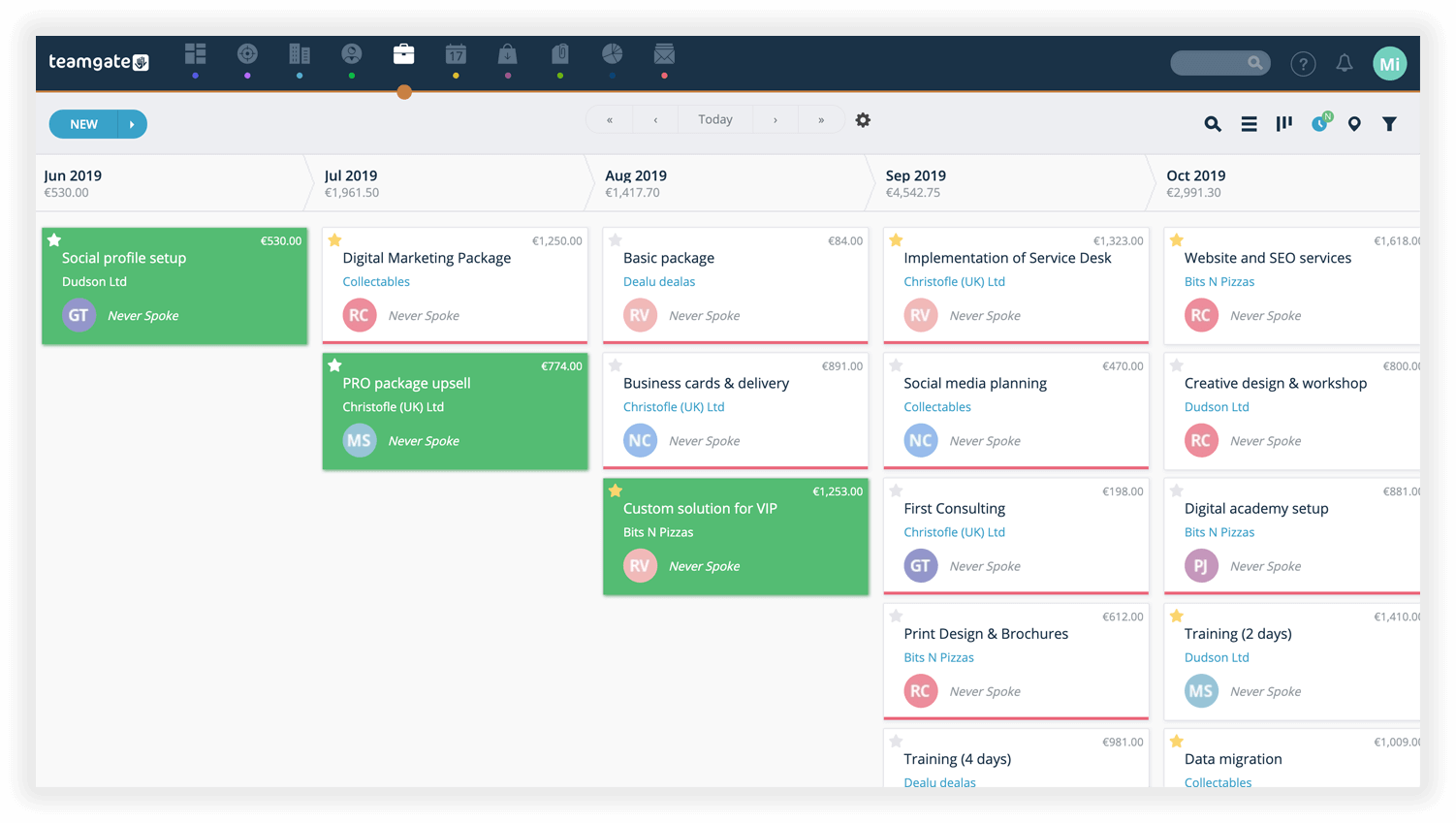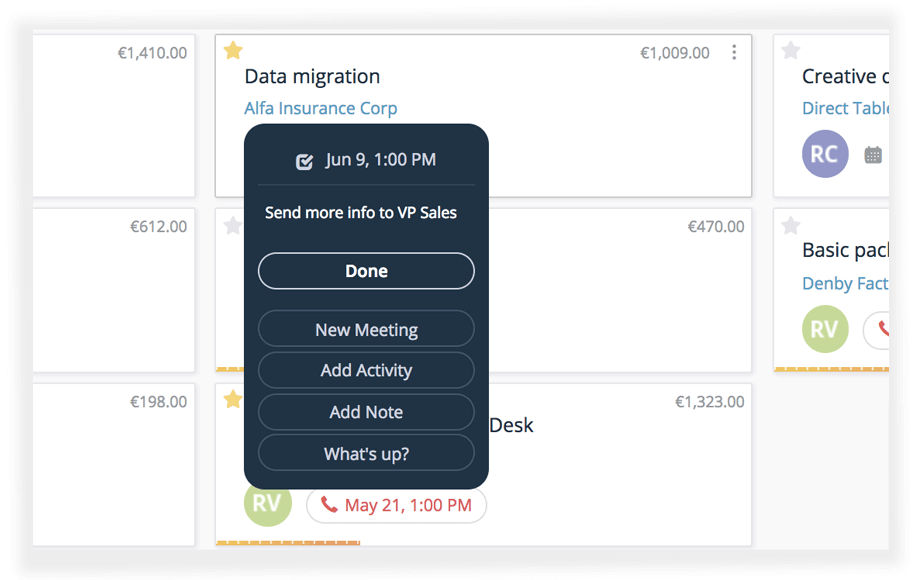 PROSPECTING
Whatever stage of your sales process you're involved in, whether prospecting, in discussion, or closing a deal, your Teamgate pipeline management software helps you to actively, and easily manage each step. Recording every action, involvement, or communication with a prospect can all be handled by a multitude of helpful Teamgate tools. Recording this information helps to eliminate any redboubling of efforts or making unnecessary contact, at the wrong portion of the process. Knowing exactly what stage of prospecting you are involved in, and avoiding mistakes, greatly help to build a trusting, and long-lasting relationship with the client.
Manage your sales time smarter – Sign up for your FREE TRIAL today
No credit card necessary
Hi, I am Mindaugas, Director of Sales here at Teamgate. I am responsible for ensuring that you drive maximum value from our tool. I would like to learn more about your main goals for using the CRM solution and to tell you how other companies are using our CRM and increasing their sales performance. Please fill in the form and I will get back to you ASAP.