Pipeline Management Insight
Enhance both your lead and sales pipeline management processes. Easily identify available opportunities, see where in the process the most of your potential is lost, notice bottlenecks in your pipelines, and forecast future perspectives.
More about Pipeline Management Insight
Teamgate Insights are user-friendly and enriched with useful features, such as filtering, export to Excel, quick links, summaries, and other.
Lead Management
See a full picture of your lead management process. You can clearly identify the number of created and converted leads, and how they correlate. This report can help you decide whether you should focus on lead generation, or work on qualifying the current ones.
Marketing Reports
Easily measure the effectiveness of your marketing campaigns. A number of marketing reports show how many leads and deals are generated by relevant sources. Thanks to these Insights, you are able to assess whether your investment pays off and is worth the effort.
Pipeline Reports
You can compare your sales pipeline changes in time and see how exactly deals move through it. Analysis of the Pipeline reports allows prioritizing work and focusing on the most valuable deals. As a result, you'll be able to work in a more targeted way, measure the effectiveness of your team and decide upon the future direction.
Forecasting
The Forecast report is based on your current pipeline calculating the success rate of a deal closure and its past sales data. The forecast can be compared to the goals you set. Assessing a long-term and short-term sales performance of your company in an accurate way has never been easier.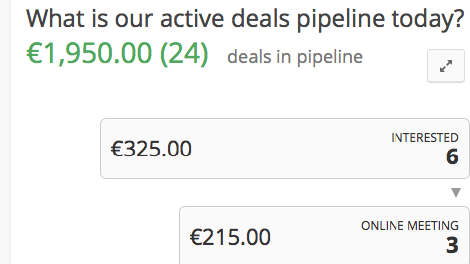 Sales Funnel
A clear view of sales opportunities available to your sales team, including the number of prospects, total revenue, which can be generated by every deal, flow and win rates. It is a great way to visualize how many leads convert to customers, and what are the most unqualified stages that need to be improved.
Sales Cycle
To be able to close deals in the shortest period of time, you may want to take a look at the insights about the length of your current sales process. A number of available reports, including the Pipeline Movement, help to identify the stages at which you're winning / losing most of the deals and track how sales opportunities move through the sales cycle in time.
RUN YOUR SALES TEAM ON TEAMGATE
Your sales team deserves more than just a platform. They deserve a complete sales stack.
Hi, I am Ilmaras, Sales Manager here at Teamgate. I am responsible for ensuring that you drive maximum value from our tool. I would like to learn more about your main goals for using the CRM solution and to tell you how other companies are using our CRM. Please fill in the form and I will get back to you ASAP.