Lead Scoring
And Prioritisation
Lead scoring allows you to identify a calculated value each lead represents to your company. By using this highly valuable feature it's possible to prioritise leads and focus on the right ones in order to close more deals. Lead scoring and lead prioritisation go hand-in-hand with the process of accurate financial projection forecasting.
Try Now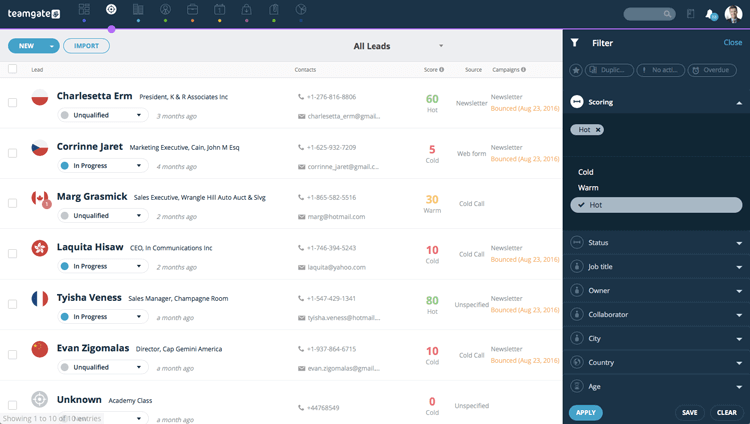 Rank Prospects Your Own Way
Lead scoring is a methodology used to rank prospects against a scale indicating the calculated and expected worth of a lead. The score is used to determine which leads should be prioritised.
Save time and work more strategically – increase your revenue.
Work more efficiently – focus on important leads that are more likely to convert.
Rank leads based on selected criteria – get the most out of targeted sales.
How Does It Work
A point-based scoring system when qualifying leads, refers to them as being; 'hot', 'warm', or 'cold", based on previous qualification experience. You can calculate your lead score by adding values to the criteria of marketing source; country; industry; sales status; and others.
To set up effective lead scoring, it is recommended to use Teamgate Insights. This will help you to identify which leads, according to their criteria, are more likely to buy rather than others. Lead prioritisation is one of the most useful methods of establishing the likelihood of future lead qualification.
Some of the Lead Scoring and Prioritisation features in Teamgate
Lead scoring helps you to determine which leads are hot – and which leads are not – allowing your sales and marketing teams to put their efforts into the best opportunities for revenue generation.
learn more
Lead statuses allow tracking the current status of your potential customers. The status identifies whether you have already started working with the potential client, and what actions should be taken next.
learn more
Create user teams and easily filter leads, deals, contacts, and companies by the teams where they belong!
Customisation & Segmentation
Contacts can be segmented by various static categories, therefore you can keep your database well-organised and see necessary information by applying filters.
learn more
With Teamgate Sales CRM mobile app solution your data can be accessed and updated while on the go. Be confident that all the necessary information is always with you, and never forget to capture important notes on the spot.
learn more
Powerful reports such as; lead trajectory; lead movement; unqualified reasons reports; and many others, are generated based on data captured during the leads qualification process. These reports provide valuable insights to improve lead nurturing and the decision making processes.

Manage your sales time smarter – Sign up for your FREE TRIAL today
No credit card necessary
Hi, I am Mindaugas, Director of Sales here at Teamgate. I am responsible for ensuring that you drive maximum value from our tool. I would like to learn more about your main goals for using the CRM solution and to tell you how other companies are using our CRM and increasing their sales performance. Please fill in the form and I will get back to you ASAP.