Lead Scoring
And Prioritization
Lead scoring allows to identify the perceived value each lead represents to your organization. By using this feature it is possible to prioritize leads and focus on the right ones in order to close more deals.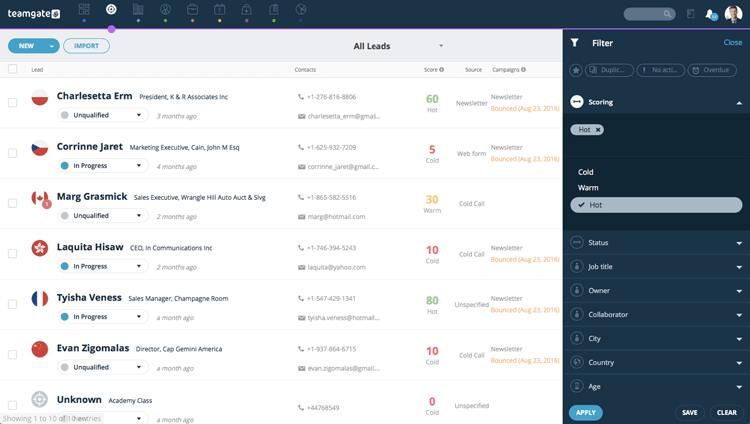 Rank Prospects Your Own Way
Lead scoring is a methodology used to rank prospects against a scale that indicates the perceived worthiness of a lead. The score is used to determine which leads should be prioritized.
Save time and be more strategic – increase your revenue.
Work more efficiently – focus on important leads that are more likely to convert.
Rank leads based on selected criteria – get the most out of targeted sales.
How Does It Work
A point-based scoring system in qualifying leads refers to them as "hot," "warm" or "cold", based on your previous experience. You can set up your lead score by adding values to the criteria of marketing source, country, industry, lead status, and other.
To set up an effective lead scoring, it is recommended to use Teamgate Insights. This will help you to identify which leads, according to their criteria, are more likely to buy rather than others.
Some of the Lead Scoring and Prioritization features in Teamgate
Using Teamgate lead scoring solution is simple. It's up to you to decide which criteria and values to use for prioritizing your leads
Decide on the scoring strategy yourself. Lead scores are displayed in the list of leads and allows you to track how they change when new information is received
Use the slider to determine intervals of worthiness. Decide what score will indicate "hot", "warm" or "cold" leads
Improve your predictions and productivity by using sorting and filters. You can filter out the hottest leads and get to work instantly!
RUN YOUR SALES TEAM ON TEAMGATE
Your sales team deserves more than just a platform. They deserve a complete sales stack.
Hi, I am Ilmaras, Sales Manager here at Teamgate. I am responsible for ensuring that you drive maximum value from our tool. I would like to learn more about your main goals for using the CRM solution and to tell you how other companies are using our CRM. Please fill in the form and I will get back to you ASAP.