No matter what style or tone you choose to use, the closing phrase will greatly affect how well your prospects remember your email and how willing they are to respond.
Closing strong requires a good mix of research, creativity and strategic thinking. Read on to find out how the industry's best marketers craft their winning closing lines.
Marcus Miller
Marcus Miller, a digital marketing strategist at a UK digital marketing agency Bowler Hat, says that people "often need a push over the edge". He finds that urgency and availability are his strongest cards when closing a deal.
"We are a small team and have a great reputation so we do only have limited resources. The best close for us is that we have limited time and are in high demand."
Tapping into the scarcity factor seems to be an effective approach, as the agency lands about 50% of the work they quote. It is also a way to quickly filter qualified leads, "The majority that don't go for us tend to not do so down to price. Now, we are not expensive, but there is always someone who will do a bad job more cheaply. Often, the jobs we do land tend to be with people who have experience of the true cost of cheap work and know that doing the job properly needs a realistic budget."
Paul Jarvis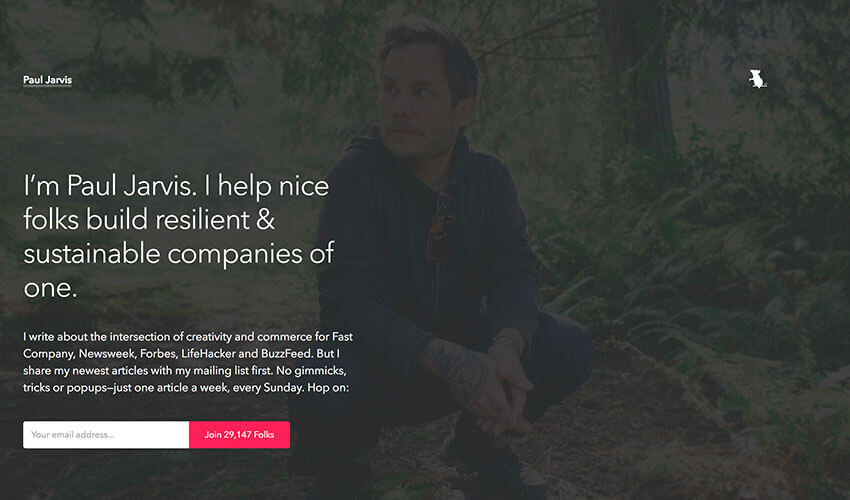 Image source: Pjrvs
Writer and designer, Paul Jarvis, had his fair share of email lead generation back in the day when he was doing freelance gigs. He has kindly agreed to share his one-liner that seemed to land most of his deals:
I'd love the opportunity to work with you and help your business grow in [list the solved specific pain point they came to me with] .
"Even though I was a designer, I always related everything I did back to their bottom line (i.e. making money) and problems they came to me with (i.e. increasing revenue, growing their audience, building their newsletter, increasing conversions, etc)," Jarvis explains.
He now uses email to distribute his newest articles about the intersection of creativity and commerce to his email list of almost 30k subscribers.
Dan Scalco
"The goal isn't for you to convince them that you're the best option for them. The goal is for them to convince themselves that you're the best option," Dan Scalco, founder of digital marketing company Digitalux, believes. Unlike many other entrepreneurs who are searching for little-known conversion hacks, Dan Scalco relies on heavy personalization rather than one exact phrase to close a deal over email.
"I like to determine what their biggest pain point is in a conversation and use that information to drive home the value of my service. For example, if they are a small or mid-sized business having trouble converting leads on their website, I would reiterate how Digitalux has helped hundreds of businesses just like theirs increase conversions. I would then go into specific details as to how we did this," he says.
Thanks to high level of personalization, their campaigns enjoy a decent reply rate and prove the point that going the extra mile is often the only conversion hack needed.
John Chen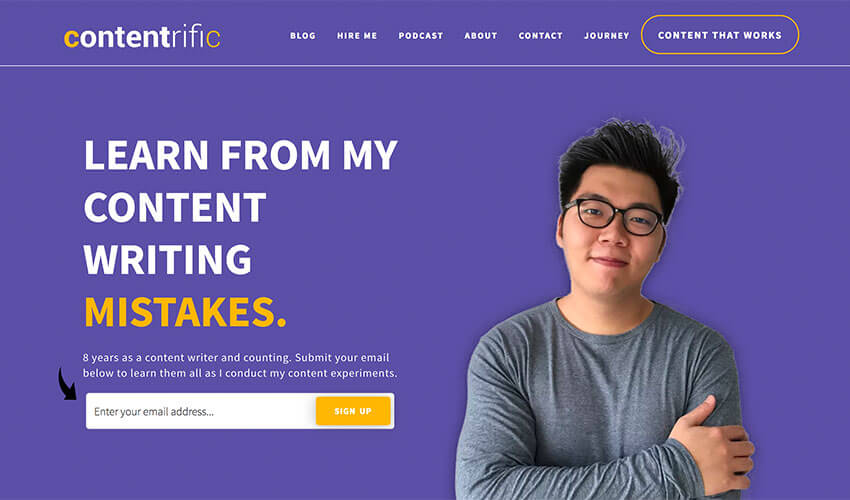 Image source: Contentrific
As someone who's created content for brands like Apple and Microsoft, John Chen has a few copywriting secrets under his belt. Having recently founded a content marketing blog Contentrific, where he aims to educate entrepreneurs on the power of words, he's a keen experimenter with bags of experience in the email marketing game.
"Too often in the content marketing industry you'll find countless business owners who think that content marketing is all about getting to the front page of Google," Chen says. "Why wait 6 months and hope to rank, when you can go ahead and create content, share it to where your audience is right now, create value, and appeal directly to them?"
To communicate this message and make a strong first impression, he uses a rather unique closing phrase in his emails, "I'm not going to rank you. Google is. I'll just rank you in the eyes of your reader with powerful content, so Google doesn't have a choice but to rank you."
That his refreshing approach is a winner is confirmed by the 75-80% reply rate in the sample size of 500+ customers.  
Hariesh Manaadiar
Hariesh Manaadiar is a niche blogger specializing in the dynamic shipping and freight industry. He uses his blog to educate his readers about the processes and procedures in the industry, but when it comes to closing a deal, he says face-to-face meetings are an invaluable piece of the puzzle.
Although different situations require different angles, Manaadiar found that one closing phrased works well in his field, "I look forward to an opportunity to explain our services in person and how we can add value to your business and provide you cost savings". His one and only goal is to get the foot in the door and see where the meeting takes them.
"In the industry that I am in, the most difficult part is to get to the meeting stage, after which if the customer really has business, I have been able to secure it," Manaadiar adds.
Sam Hurley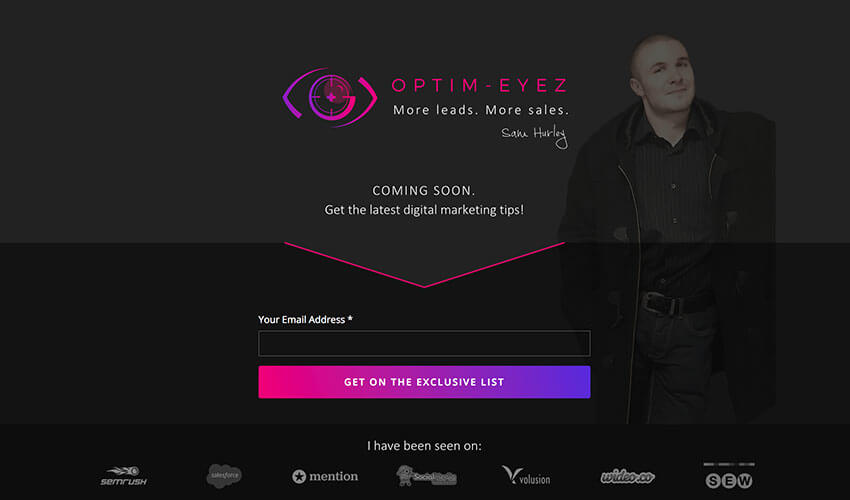 Image source: Optim-Eyez
Sam Hurley, one of the most influential digital marketers and the founder of Optim-Eyez, knows a thing or two when it comes to converting leads into paying customers. He estimates his email conversion rate (or the success rate) to be upwards of 80%, which is mind-boggling in the hostile world of email marketing.
He's not particularly keen on relying on a closing line to do the hard work for him but says that in his personal emails he uses something similar to "Looking forward to the future together!".
"This not only suggests the deal is already going ahead, but also describes the future as a collaborative effort," Hurley explains.
However, a closing phrase is just a small detail of a much larger picture, "Speaking with the right prospects is 80% of success and my leads are currently all inbound. That considered, my reply rate is always 100%…".  
Fahad Mohammed
Fahad's goal since the age of 11 has been to do a multi billion dollar deal. Today he is the CEO of Bay Street Brands, a digital advertising agency dedicated to helping businesses and entrepreneurs build a social media brand, and he's still striving to make that dream a reality.
To seal a deal in an email, Mohammed uses a top closing phrase shared with him by an international sales expert Grant Cardone:
"I understand you need to think about it, however, thinking about it does not change the fact that this investment solves your problem, saves you money. Sooner or later you're going to do this, let's take time out of the equation and let's do this so you can get back to focusing on the other things in your business that require your attention. Not doing it will cost you, doing it will cost you and that's a fact, it's better to pay a little extra and get what you want vs paying a little less and making a mistake. I need your sign here." He would normally send a contract alongside this and follow up by phone to confirm the final details.
This closing strategy yields an impressive 60% success rate.

Do you have a CRM that keeps you organised?
The most user-friendly CRM on the market. 14-day free trial.
Start Free Trial
Painless setup, no credit card required
Eric Christopher
Better known as ERock, Eric Christopher is an innovative marketing strategist, accomplished writer and speaker, founder and CEO of BizFamous.com and LocalBusinessRockstar.com, and a huge advocate of educational marketing. ERock has decades of experience in marketing and enjoys sharing the lessons he's learned along the way. This time, he gave away the entire pitch that's winning them a lot of business:
Subject: Were you serious or kidding?
Hey FirstName,
I know you said you were interested in working with BizFamous,
so we can help you [insert the desired outcome or benefit here]…
Were you serious or just kidding?
We're ready to get started immediately, as we take the opportunity
to help you  [insert the desired outcome or benefit here] very seriously…
Can you imagine how you will feel when we make that happen together?
Let's not waste any more precious time…
When would you like to start FirstName?
Thanks!
Signature
PS- If you'd like to jump on a quick call for any reason, then please let me know… we're here to help you!
ERock explains that, "We really focus on what they said they really want. We then invite them to experience the emotion of that feeling and then invoke a bit of scarcity to imply that timing is ticking away."
If you're wondering how successful this pitch is, the answer is very. "Our reply rate is typically 75%, so 3 out of every 4 people will reply regardless of their final decision.  We will usually close 4 out of every 5 deals, if we've done a good job articulating the value of our offer," Christopher reveals.
But it ain't over till the fat lady sings, right?
ERock says they don't give up on prospects who do not reply and use a special trick that he's picked up from a book by a former international lead hostage negotiator for the FBI ("Never Split The Difference" by Chris Voss). They send the following follow-up email that's proved to be extremely effective at generating responses and shedding light on mistakes made during pitching.
Subject line: Have you given up on this project?  
Hi FirstName,
It seems you've given up on this project?  If so, would you extend me the professional courtesy to let me know why?
It would help me to know what I could have done better or what I did wrong…  what's the ONE thing I could have improved upon?
Thanks Firstname!
Signature