Today, customer experience defines a brand. Quality, variety, and discounts are important. Yet, they are minor when it comes to customers' feelings.
According to MarTechToday, by 2020 customer experience will be the biggest factor in brand differentiation. It will leave behind both price and product. So, customer experience improvement remains the top priority for digital marketers. Brands who don't invest more in it won't be able to compete. 
To deliver outstanding customer experience, it's crucial to refocus on digital personalization. New technologies have changed a lot in the sales process, except customers. They are still ordinary people who want to be understood and cared about more than anything else. And understanding and care is what brands now need to offer.
Understanding the role of a personalized digital customer experience in sales
The idea of a personalized digital customer experience wasn't invented yesterday. It's been part of marketers' daily lives for a decade. Marketers have learned to send personalized emails, show different landing pages based on location, add chatbots to websites, etc. Those first steps worked for a bit, but not anymore. Not the way marketers want.
Customers are demanding more. They want brands to figure out what they need in less time than it would take them to say it. In fact, customers expect a brand to connect with them as fast as they connect with a brand's website. To be exact, about 71% of customers feel frustrated when they get impersonal service, according to a 2017 report from Segment. It's a big issue. Yet, that means even more room for improvement.
Implementing a personalized digital customer experience isn't cheap. But there is a fact that makes that bitter pill easier to swallow. After a personalized experience with a brand, 44% of customers say they will likely buy from that brand again, according to the same report from Segment.
Yes, a personalized customer experience turns almost half of new clients into loyal ones. As a reminder, loyal customers are responsible for generating about half of business revenue of an average company.
So, how can a brand increase sales by implementing a personalized digital customer experience? Here are five big developments in tech worth looking into.
 1. Artificial intelligence
Make customers feel more confident about their choices.
Robots will take over the world. No panic though. There is a simple rule: if you can't fight them, join them. To start, add artificial intelligence to your marketing routine.
Let's start with a simple example: It's been scientifically proven that when someone calls your name, it impacts your behavior significantly. Imagine you're in the center of a noisy crowd at a rock concert. Suddenly you hear your name. Wouldn't you turn to the source of the sound? I bet it would grab your attention.
Now imagine you don't just hear your name but feel chosen and valued. Imagine that someone learned your preferences, likes and dislikes, and principles. They've taken care of you and respected your individuality.
An excellent example of a company taking such an approach is a startup called Thread. This young fashion company decided to look at shopping from a different angle. They offer their customers clothes chosen by artificial intelligence.
To get stylish advice customers complete a few forms and answer some simple questions. After that, the "Thimble" algorithm does all the work. Thread emphasizes it takes only three minutes and you're free from making choices forever. Great deal, isn't it?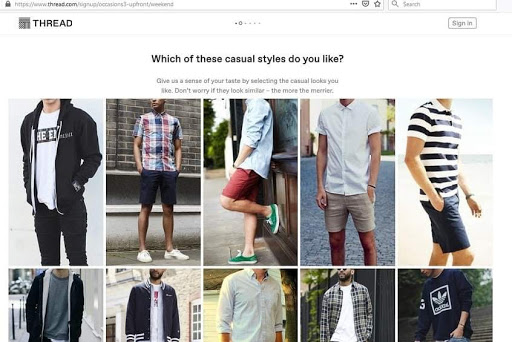 Customers get personalized recommendations they can approve or disapprove every time they visit. Thread's stylists use this data and the Thimble AI to find styles that match a customer's preferences and tailor their offers.
At the moment, the company has one million users. Sales are growing by almost 80% a year. And a quarter of the customers shop exclusively at Thread, says Alex Alcott, Thread's head of brand.
2. Augmented reality
Give offline shopping fans a recent to shop online.
In 2019 you don't need to go to a regular store to try on hiking boots. You can do it online while sitting cozily on your couch. Augmented reality (AR) improves customer experience by letting them see how shoes look on them or how a new cozy couch looks in their apartment.
Lacoste is already using it. Its app makes it possible to try clothes online and roughly see the look and fit.
AR is an inevitable next stage of retail development. Today, over 70% of customers would rather shop at a store using AR than one without it. And 40% agree to pay more for an item if they can experience it through AR.
In the US alone, the number of AR users will jump to almost 70 million this year, according to an eMarketer report from earlier this year. The same report predicts that number will be around 85 million in 2021.
Any retail operation selling online can't afford to miss out.
3. Location-based marketing
Make the best offer at the right time.
The main goal of this kind of digital marketing is to show the customer a highly relevant message at the most appropriate time.
Whole Foods proved this method works. In fact, the geo-conquest strategy helps them to increase their conversion rate to 4.69% – three times the national average.
Starbucks and Macy's use their apps to show the best offers to customers when they are nearby store locations.
When they are getting closer to a store, they can make an order online in advance. They don't have to wait in lines and can quickly buy exactly what they want with a flick of the wrist.
This feature saves customers time and increases their loyalty. It shows the brand is attentive to its customers' needs and values their time – a complete win-win for the brand and the
4. Personalized content
Choose relevant messaging and an individual approach over general marketing pitches.
"To make customers loyal, we need to identify their preferences and make the best offer. However, the best offer is not always a product we sell. It also could be a message that resonates with a certain person. Customers want to feel cared about, otherwise, they won't stay loyal", says Adam Simon, Head of Customer Service at LegitWritingServices.
It's crucial to know your customer and be able to make them feel valued and remembered. My Admissions Essay, for instance, always addresses its clients by name and tries to collect some personal information about its customers (it can be their cat's or child's name, their birth date, etc.). These little touches can, when used in a smart way, can have a big impact.
There are three levels of personalization that the company uses:
Sociodemographic (age, sex, family status, profession, education level)

Behavioral (email ads based on what a certain customer ordered before)

Situational (ads and promos that are linked to holidays and special events)
Sometimes it takes very little personalization to achieve better results. MyAdmissionEssay has recently managed to significantly increase the open rate and CTR of their referral program promotion emails. It was decided to add a little bit of personalization to the subject line of the email, as well as to the content of the email itself. As a result, the open rate increased by 28% and CTR by 17%, bringing more repeat orders and more profit. Take a look at how these emails differ.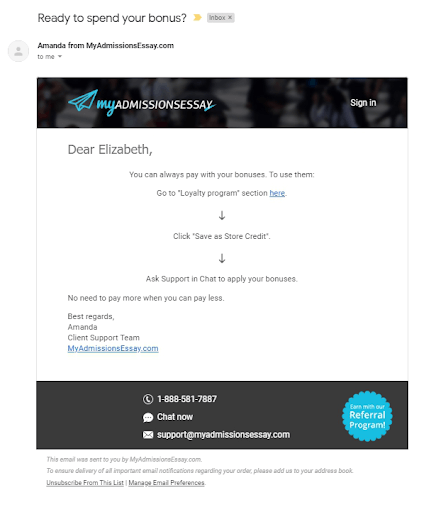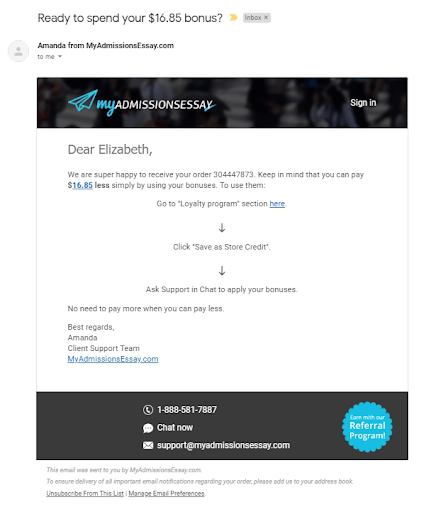 IBM shares the secret of efficient content strategy. Instead of sending cold emails, they invented amazing personalized content. It is delivered through different channels and doesn't seem generic.
Let's say, a customer viewed a sleeping bag in an online shop a few times. But they never made a purchase. In this case, they receive a personally crafted message about the upcoming hike season. Such email or SMS doesn't trigger negative emotions like when you receive blatant spam. On the contrary, it sounds like a thoughtful reminder to get ready for the season. And, obviously, to come back for the sleeping bag. 
Yet, content isn't just verbal information. For example, Netflix plays with shows posters. Different customers see different posters for the same shows. It depends on their preferences and searches history. 
And how does Amazon drive 35% of its sales? They never miss a chance to offer customers a supplementary product. A simple recommendation feature brings them a third of the income.
At first, a personalized digital customer experience may sound like an oxymoron. People have never been so far away from each other. Sure. And that's why they so desperately lack a personal approach. And surprisingly, the world of technology can give it to them. And even level it up. 
Now, to stand out from the mass of product and service providers and increase sales businesses have the only option. Listen. They should listen to their customers carefully. Nothing changed, after all. People still want to be heard. But this time we have modern technology that makes a process more challenging, yet, even more predictable.
Big companies and small startups already proved that personalized digital customer experience rules. So, artificial intelligence, machine learning, and crafted content are going to become digital marketers' satellites for at least the next few years.
You want loyal clients and higher revenue. Your customers want a personalized customer experience. Connect the dots and do what's needed.