Zapier integration with CRM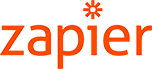 Automate your workflows and move information between web apps more easily. Zapier integration with CRM serves everyone; most especially busy sales people who use many apps to run their business smarter.
The powerful Zapier platform allows for the Teamgate Sales CRM integration with a number of other web apps; e.g. Gmail, Mailchimp, Jotform, Slack, Trello, Zendesk, and a lot more.
A Zap is a link between all of your apps on Zapier. For instance; through integration with Zappier adding a new Teamgate contact to your Mailchimp subscriber list would be an example of a Zap. Each Zap can have only one trigger, but multiple actions may be supported by this Zap.
You can easily set up Zaps as a beginner, with absolutely no knowledge of coding, and taking only a few minutes to have an integration with Zapier up and running seamlessly.
A trigger is something which happens in one app; e.g. a new contact is created in Teamgate CRM. Actions are what follow-on from that trigger, e.g. the contact is added to the list of subscribers in Mailchimp.
Zapier integration with CRM also supports Searches, which can be used on their own or combined with actions; they help to determine which records it is possible to lookup/search from a particular query.
Try Now
Capabilities of Teamgate Sales CRM
Teamgate CRM supports various triggers, actions, and searches. See the list below and customise your integrations exactly the way you need them.
Supported Teamgate Triggers:
New Person – triggers when a new person is created.
New Unqualified Lead – triggers when a lead is unqualified.
New Won Deal – t

riggers when a deal is won.

New Company – t

riggers when a new company is created

New Deal – t

riggers when a new deal is created.

New Lost Deal – t

riggers when a deal is lost.

New Lead – t

riggers when a new lead is created.

Lead Converted to Person – t

riggers when a lead is converted to person.
Supported Teamgate Actions:
Create Company – c

reates a new company.

Create Lead – c

reates a new lead.

Create Deal – c

reates a new deal.

Create Person – c

reates a new person.

Create Activity – c

reates a new activity.
Supported Teamgate Searches:
Find Company –f

inds an existing company. Optionally, create one if none are found.

 

Find Lead – 

finds an existing lead. Optionally, create one if none are found.

Find Person – 

finds an existing person. Optionally, create one if none are found. 
How It Can Help You:
Improve Your Lead Capture – You can integrate Teamgate CRM with an assortment of apps used to create Web Forms and Collect Leads; e.g. Wufoo, JotForm, ContactUs, FormStack, Gmail, and others. Integration with Zapier will help eliminate manual data entry – in just a few clicks it's possible to create a Zap which automatically imports a lead when a prospective customer completes a form. In addition, it's possible to automate not only a lead, but also a contact, deal, and even an activity or creation.
Better Communication with Your Team – Keep your team informed and updated using Zapier CRM software integration. Create Zaps to automatically send messages about deals won and lost, new leads and other Teamgate actions. You can also choose your preferred communication channel; e.g. Slack, Gmail or even SMS and quickly set up the integration. This helps ensure that important information reaches your team while it's still relevant. Also, the Teamgate CRM integration with Zapier is a great way to save time spent in status update meetings and updates by phone.
Find Information Easily – If you are using a number of tools and platforms to manage your business you are probably in need of a central information point. Teamgate Sales CRM can be just that, and integration with Zapier can help you to transfer information with Teamgate from various apps. If you use helpdesk support tools or email – recording communication history with clients, or you wish to directly invoice those clients, Zapier can help you integrate Teamgate Sales CRM using such apps as; Freshdesk, Zero, Braintree, and many others.
Transfer Teamgate Information – Integration with Zapier works in two-ways, allowing you to transfer information from Teamgate Sales CRM to other apps, along with triggering specific actions without leaving your CRM. For example; you can update lists of your Mailchimp subscribers when new leads are added, or you can add new cards to Trello ensuring that important tasks are never missed. Additionally, you can create a Dropbox folder for your newly converted contacts. It's all up to you, the possibilities are boundless.
Discover other integrations with Teamgate
Hi, I am Raimondas, Sales Manager here at Teamgate. I am responsible for ensuring that you drive maximum value from our tool. I would like to learn more about your main goals for using the CRM solution and to tell you how other companies are using our CRM. Please fill in the form and I will get back to you ASAP.