Email Requests And Newsletters
Client relationship management can be improved by storing communication history, categorizing leads or contacts, and carefully tracking newsletter campaigns. Use communication tools to collect, categorize and qualify your leads.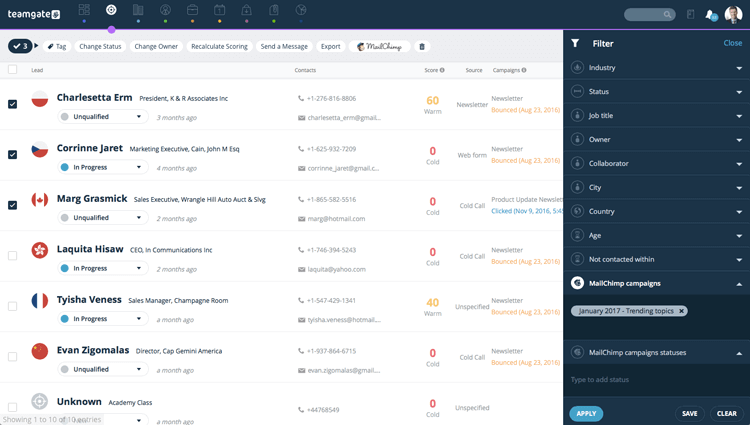 Capture Leads with Smart BCC
Connect your mailbox to Teamgate and get all your email requests as leads directly into the CRM. You can be sure that all communication with a particular lead is stored in the communication history. But the best part is that every new email request is automatically created as a new lead with a follow-up so that you would never miss it.
Tracking Newsletter Campaigns and Increasing Communication Effectiveness
Your communication with leads is brought to the next level by benefiting from the integration with the powerful newsletter automation platform MailChimp. You can tag, categorize, filter your leads and transfer them directly into your MailChimp recipients list.
Use this integration to track the history of your newsletter campaigns and set real-time notifications which bring a smart edge to your communication right in the leads section. Make sure your sales reps know when exactly their newsletter is opened or a link clicked.
Get to Know More
Reaching small segments can ensure that your emails are personalized and well-targeted.
Increase your sales and save time by choosing an inbound CRM. Read this post to know what else may help.
Some of the Email & Newsletters features in Teamgate
MailChimp integration allows you to send marketing emails, automated messages, and targeted campaigns to your Leads or Contacts using custom filters, and track your campaign status directly in Teamgate CRM.
learn more
Outlook / Thunderbird / Gmail
Teamgate users can forward and attach any email to Teamgate in just a couple of seconds. Any document, attached to an email, is saved to the communication history and files sections. It's a great way to keep exclusive files associated with a lead.
learn more
RUN YOUR SALES TEAM ON TEAMGATE
Your sales team deserves more than just a platform. They deserve a complete sales stack.
Hi, I am Ilmaras, Sales Manager here at Teamgate. I am responsible for ensuring that you drive maximum value from our tool. I would like to learn more about your main goals for using the CRM solution and to tell you how other companies are using our CRM. Please fill in the form and I will get back to you ASAP.