Lead Management
Nurturing new connections is a first step towards a successful sale. Have all your leads in one place for a convenient qualification process. Plan activities, interact and segment leads accordingly, finally, convert qualified leads to deals when ready. That's how we envision the proper lead management process.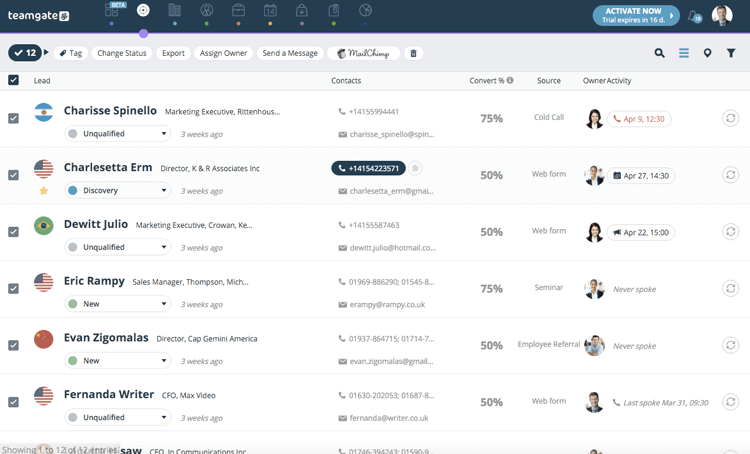 Manage Your Leads in the Most Comfortable Way
Whether it's a person, a company or a business opportunity that is neither confirmed nor added to your sales pipeline yet, you are able to manage your leads using Teamgate and eventually convert them to a contact or a deal.
A significant number of useful features, such as lead import, duplicate detection, filtering, global search, geolocation, calendar integration, and more, helps managing leads in the most convenient way.
Advantages of Teamgate Lead Management
It is a time-saving solution which allows you to avoid manual lead import.
It is built to match your business needs by creating custom fields for leads.
Number of features, such as calendar, reminders, and other, help to organize your work better and become more productive.
It is easy to keep your list of leads neat – duplicates are marked automatically.
Some of the Lead Management features in Teamgate
RUN YOUR SALES TEAM ON TEAMGATE
Your sales team deserves more than just a platform. They deserve a complete sales stack.
Hi, I am Ilmaras, Sales Manager here at Teamgate. I am responsible for ensuring that you drive maximum value from our tool. I would like to learn more about your main goals for using the CRM solution and to tell you how other companies are using our CRM. Please fill in the form and I will get back to you ASAP.