LinkedIn Shuttle
Anything which helps salespeople capture leads easier, is always welcome. Welcome to Teamgate-LinkedIn Shuttle, a simple, and easy-to-use CRM tool which allows you to automatically import leads, straight from your LinkedIn account. LinkedIn has over 500 million users, in over 200 countries, that's a lot of possible leads. The Teamgate-LinkedIn Shuttle lets you easily tap into this vast treasure trove of potential, with one click of a button. Valuable data capture really couldn't be more simple.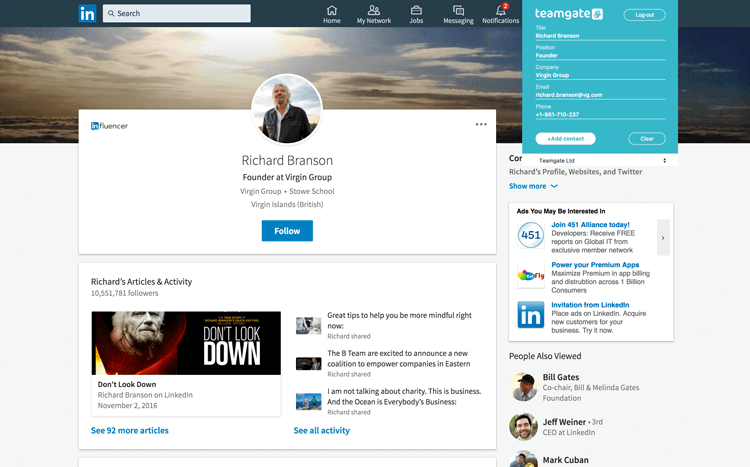 No More Manual Data Entry
With Teamgate-LinkedIn Shuttle automatic data capture – letting you extract contacts from LinkedIn – free yourself from tedious manual data entry. One of the most time-consuming processes in the life of a salesperson, is the task of manual data entry.
The automatic LinkedIn data extractor allows you to create new leads and contacts, using the data taken directly from a LinkedIn profile. Import LinkedIn contacts, and all of their information – name, position, company, email address, and even phone numbers, if available – with the easy-to-use LinkedIn Shuttle. With so many possible leads in one place, the ability to export LinkedIn contacts directly, and effortlessly, to your Teamgate sales CRM is invaluable.
Get the free experience – Teamgate-LinkedIn Shuttle is a Google Chrome extension. It's completely free and can be downloaded from Google Chrome Web Store.
How It Can Help You
Save time – Use the LinkedIn Shuttle integration to find quality leads and avoid time-consuming manual data entry. Use your valuable time more productively.
Collect more than a name

– Thanks to the Teamgate-LinkedIn Shuttle you can gather more information about your leads. This integration allows you to capture all the quality data available with LinkedIn profiles; including company information, position, email, or even phone numbers, when and if available.

Target the right leads

– Eliminate the prospect of capturing the wrong leads by directly targeting specific sectors and gathering the data with the Teamgate-LinkedIn Shuttle's great, and easy-to-use features.
Manage your sales time smarter – Sign up for your FREE TRIAL today
No credit card necessary
Hi, I'm Andrew, CEO here at Teamgate. Myself and my team pride ourselves in ensuring that our customers are powered to unlock their true sales potential. Speak with our team today so that we can learn more about your business and sales goals, and how Teamgate can be effectively utilized to help you grow faster.