Build a highly personalized relationships Worldwide
Teamgate is a easy-to-use tool to help businesses deal with the critical task of managing contacts, organizations, partners, vendors, and suppliers. Find customer data including key contacts, communication history, and much more — quickly and easily with Teamgate. You'll get a complete picture of every customer, from call records to campaign history, to deals they're involved in.
How it can help you sell more
History of communication
Keep track of all your communications with a contact. Whether there are emails, call logs, or simply comments, everything stays in one place and can be seen by your team members.
Segmentation and Filtering
Contacts can be segmented by various categories, such as customer, non-customer or past customer, which helps working with specific target groups. These categories are static, which helps to keep your database well organized. Note: customer status will change automatically when you close the deal.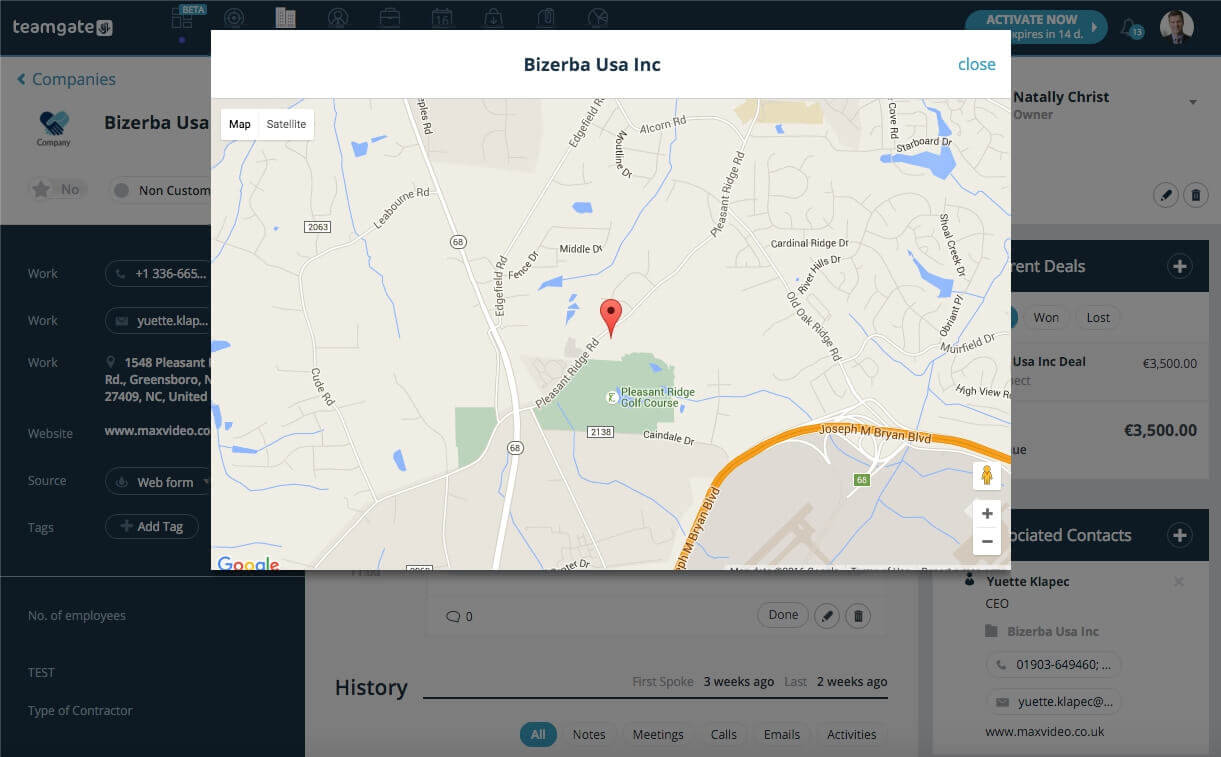 Geolocation
Want to have a clear picture of where your contacts are located? Powerful integration with Google Maps allows you to pinpoint geolocations of your contacts' database.
Duplicates
Contact list full of duplicates is every manager's nightmare, but now there is a simple solution for it. Teamgate automatically marks duplicates and asks if duplicating contacts should be merged or removed.
Collaborations
More than one person interacting with a customer? No worries, Teamgate allows you to nominate contact owner and add several collaborators, who will be able to spectate communication performance and add their input.
Customization
To accommodate various types of businesses, we created custom fields, so that each customer could enter information relevant to them. Fields can be pre-made or newly entered on the go. Filtering is also available based on new fields. Additionally, quick data entry is enabled, in the contact's car, for convenience and time saving.
SmartDialer™
Teamgate brings a new in-browser calling feature. It is equipped with auto-dialer, call recording, call routing and much more. SmartDialer™ is a perfect solution for a sales manager, that needs to stay available at all times.
File synchronization
Have exclusive files, that need to be associated with specific person or company? Upload it in the contact's card and file will be there for your future use. Great feature which keeps exclusive files in order exactly where they belong.
RUN YOUR SALES TEAM ON TEAMGATE
Your sales team deserves more than just a platform. They deserve a complete sales stack.
Hi, I am Amber, Sales Manager here at Teamgate. I am responsible for ensuring that you drive maximum value from our tool. I would like to learn more about your main goals for using the CRM solution and to tell you how other companies are using our CRM. Please fill in the form and I will get back to you ASAP.