Manage Leads to discover new horizons
Nurturing new connections is a first step towards a successful sale. Have all your Leads in one place for a convenient cultivation process. Plan activities, interact and segment appropriately and convert to a deal when ready. That's how we envision a proper lead management process.
How it can help you sell more
Teamgate-LinkedIn Shuttle
Simple and useful tool to easily import LinkedIn contacts directly to your Teamgate account. By one click you are able to create a new lead with the data absorbed from the LinkedIn profile – name, position, company, email address and even phone number (if available). This allows you to remove one of the most time-consuming processes in the CRM – manually typing of contact's data. It is absolutely free and you can download it from Google Chrome Web Store.
Activity management
Manage your scheduled activities straight from a Lead's list view. Create a new meeting or just add a note. It is available a one click away! In addition, you can have your pre-made scenarios saved and ready to add, which will eliminate need to manually type recurring actions.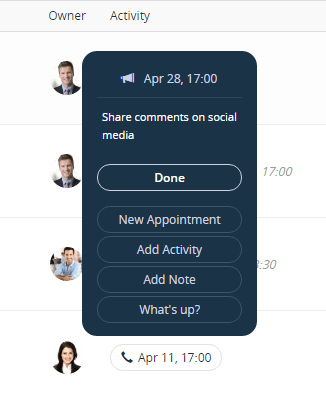 Reminders and follow ups
Never miss an action or an appointment, even if it's further in the future. Simply set automatic reminders (sent by email or sms) and always be on the top of your tasks.
Email attachments
Attach your email conversations to a lead card automatically, so that you do not have to browse through numerous emails in your mailing application, but can easily find the ones you need. Simple to attach, easy to find at any time.
Lead segmentation
For a daily work with target groups, save filters and work only with desired segments. No need to browse through cluttered list anymore, just specific ones one click away.
Email campaign tracking
In collaboration with MailChimp, leads can now be viewed and filtered based on email campaign sent. After successfully launching your email campaign with our Mailchimp integration, track results and follow which leads responded successfully.
Likelihood
One of the most important information fields, which allows you to know precisely where particular lead came from. On top of that, Teamgate will calculate Lead-to-Deal conversion likelihood, which will make it easier for you to asses the value of the source.
Calling
Teamgate brings a new in-browser calling feature. It is equipped with auto-dialer, call recording, call routing and much more. SmartDialer™ is a perfect solution for a sales manager, that needs to stay available at all times.
Leads import
In order to start off with Teamgate quicker, we offer flexible lead importing options, such as Google Contacts, Excel and our very own lead capturing form for your website. Cut precious time and stop entering data manually, let Teamgate do it for you!
Leads qualification
When a Lead qualifies, you can convert it to a New Business Opportunity (Deal). All the communication history associated with a lead will be transferred to a deal's card automatically, so there will be no lost information in the process.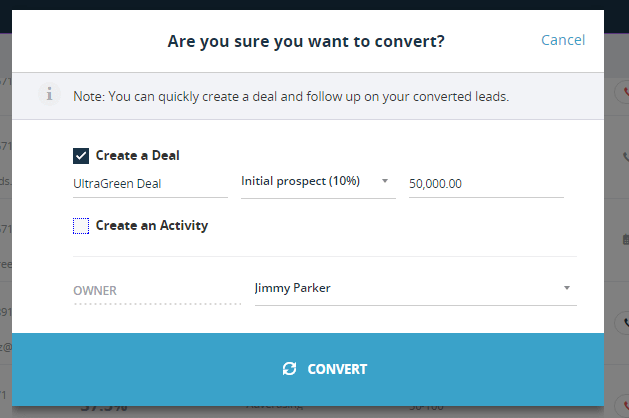 RUN YOUR SALES TEAM ON TEAMGATE
Your sales team deserves more than just a platform. They deserve a complete sales stack.
Hi, I am Amber, Sales Manager here at Teamgate. I am responsible for ensuring that you drive maximum value from our tool. I would like to learn more about your main goals for using the CRM solution and to tell you how other companies are using our CRM. Please fill in the form and I will get back to you ASAP.