In this article, you'll learn how to increase your chances of having your sales emails read and responded to positively. By understanding the behavior of your prospective customers and crafting your emails smartly, you can swing the odds in your favor. We'll provide you with practical guidelines, share the importance of using an intelligent CRM like Teamgate, and walk you through the four key steps to writing engaging sales emails that attract attention and prompt action.
Key Takeaways:
The subject line of your email is crucial for sparking interest and attracting attention.
Starting your email on a personal note can help you establish a human connection with the recipient.
The content of the email should be relevant, addressing a need that the prospect might have.
Your call-to-action should be clear and instructive, guiding the recipient on what to do next.
Utilizing a CRM like Teamgate can significantly enhance your email campaigns, making them more organized, trackable, and effective.
Wouldn't it be great if you could write sales emails that get read every time? And wouldn't it be even better if you could write sales emails that not only get read but provoke a positive response every time?
It sounds like a dream.
With over 125 billion business sales emails sent every day, the likelihood of the above happening with every email you send… Well, it's pretty slim.
But, if you're smart, and you really understand the behaviour of your prospective customer, you can swing the odds and increase the chances of your prospects opening, and responding to your sales emails more frequently than your competitors.
Knowing how to write sales emails that work is the first step. And it's not as difficult as you might think. A few simple easy-to-follow guidelines, a little common sense, and an intelligent CRM like Teamgate, will go a long way.
Once you know how to create those killer sales emails, your Teamgate CRM is ready and waiting to help you take the next step and begin the whole sales nurturing process.
Teamgate lets you connect your email account directly to the CRM software, to help you effectively track, schedule, automate and report on all your email communications, and marketing campaigns. Plus, with the Teamgate MailChimp integration, you get to see who's actually reading your emails.
The 4 steps to writing sales emails that grab the attention
Writing a cold email can be a daunting task. But it doesn't have to be. There are a simple set of rules to follow when writing every effective sales email.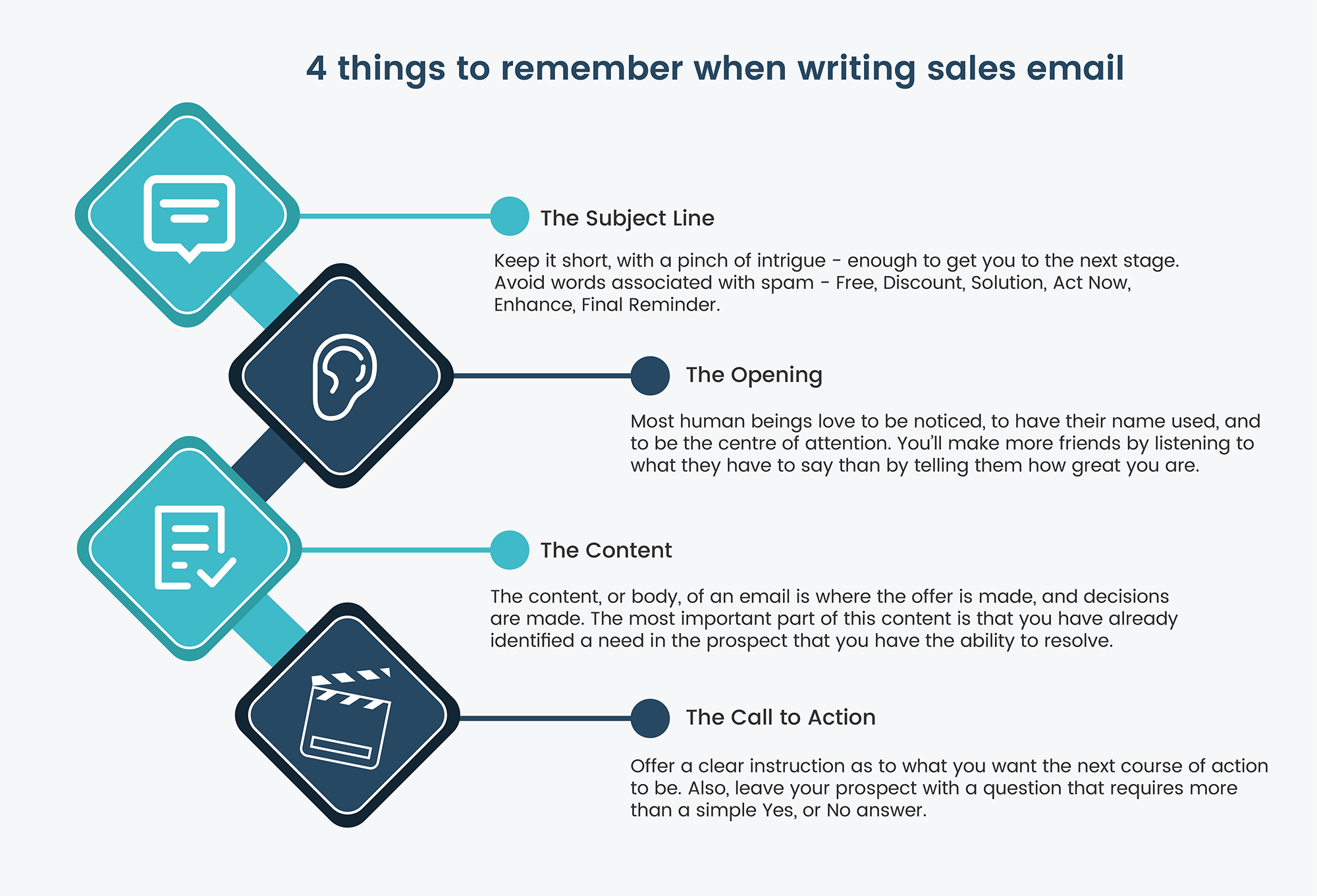 #1 The Subject Line
If your email never gets opened – no matter how great the content is – it hasn't done its job. That's where great subject lines come in, especially with sales introduction sales emails.
The objective of the subject line is to create interest and attract attention. Try to keep in mind how many sales emails busy business people get every day.
Give them a reason why yours should be the one they choose to open.
Keep it short, with a pinch of intrigue – enough to get you to the next stage. Avoid words associated with spam – Free, Discount, Solution, Act Now, Enhance, Final Reminder. (A good tip is to check your own spam folder and see what's lurking in there)
Good Examples:
Marianne, our mutual friend Lynn recommended I contact you

Alan, I have a suggestion you might like

Lisa, you might find this [white-paper/video/report] useful

Have you thought about [idea/pain-point/recommendation]?

Did you ever consider [solution to their problem]?

Live CRM solutions webinar Friday 17th

Our sales game-changer is ready for launch

Be first to read – 10 killer sales tips for 2019

Subject lines can also come under a variety of diverse topics – urgent, personal, listicles, how-to guides, trending, and many more – but the basic principles remain the same. Offer something of interest, something to grab their attention, and never let your subject line be a mere afterthought. To have a complete picture of how to compose attractive subject lines, take a look at Sales Handy latest article. 
A/B testing is a great way to see if your subject line is working. Send out the same content, with two different subject lines to a group of prospects, then measure and compare the actual open rate using your Teamgate-MailChimp integration (but more of that later).

#2 The Opening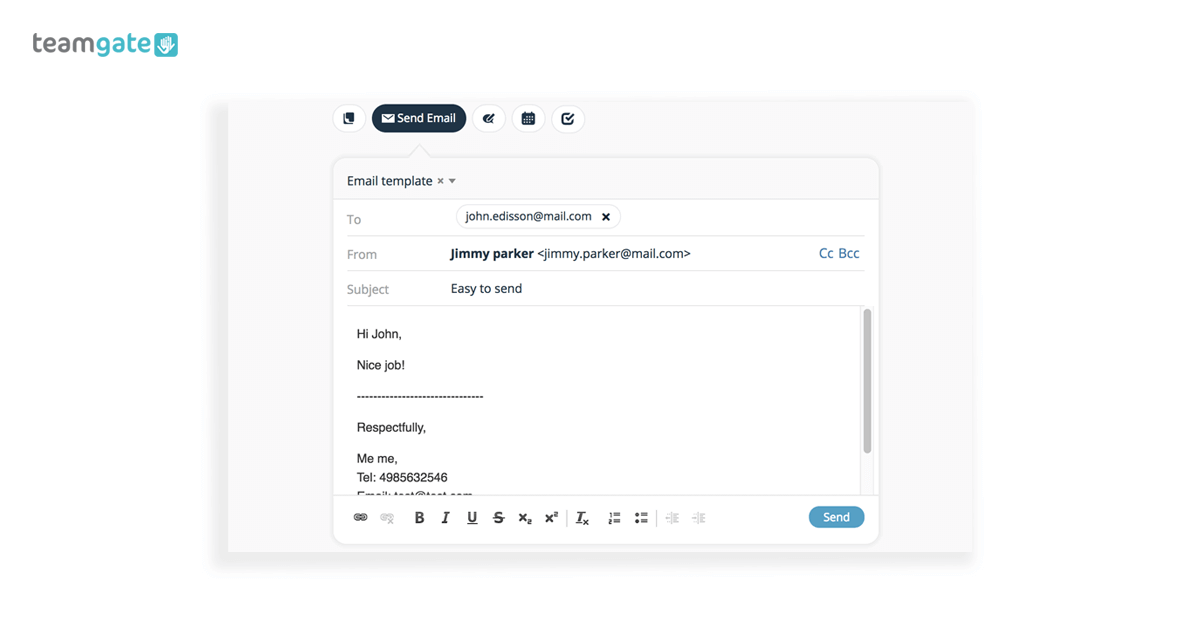 If you start your email with 'Hi, my name is_______', you're probably wasting your time.
We're all human, just trying to do some business and live our lives, so use that humanity when you reach out to others. Most human beings love to be noticed, to have their name used, and to be the centre of attention. You'll make more friends by listening to what they have to say than by telling them how great you are.
'

Dear Marianne,




I just saw news of your companies great win at the European Business Awards over on LinkedIn. What a great achievement and really well done

.'
It's no longer a cold email, you've created human contact, and the recipient most likely wants to read on.
#3 The Content
The content, or body, of an email, is where the offer is made, and decisions are made. But, you don't have a lot of time to accomplish that.
If you've already created that human connection with your opening, now's your chance to introduce the business of your email.
'As you're such a progressive company you might have some questions about [whatever your subject may be]'.
or
'It seems that you and your company are constantly striving for the best. That got me thinking that perhaps our [name solution or proposition] might be of real value to you and your goals'.
The most important part of this content is that you have already identified a need in the prospect that you have the ability to resolve. Using your CRM's landing pages you have identified the precise issue that the prospect was investigating. The emailed prospect quickly realizes that this is not some random cold email, but a real connection – that even if not useful at present – may be of use in the future.
#4 The Call to Action
The call to action (CTA) is the real business end of any sales introduction email – or even cold email – it's the real reason why you're here in the first place.
If you've created a great email and the reader is still with you at this point, it would be a shame to mess up here. Be sure you don't mess up, offer clear instruction as to what you want the next course of action to be.
If you've identified that this is the person you need to talk to, in order to get a result, be firm with your proposal. The amazing Teamgate-LinkedIn shuttle lets you target specific leads from LinkedIn and import all of their contact details directly into your CRM, with just one click.
'It would be great if you could let me know if [solution or proposition] is on your agenda at present, or if it's something you may give thought to in the future?
Like a good journalist, leave your prospect with a question that requires more than a simple Yes, or No answer.
'Would it make sense for us to talk further? If not, could you direct me to the right person to talk with?
Or
'I understand how busy you must be and want to respect that. Perhaps you have time to take a ten-minute call on [date/time]. I'm sure I can answer quickly any questions you might have?
You've written the perfect sales emails now let Teamgate make them work
Teamgate, as a powerful and modern CRM, is perfectly designed to work in conjunction with email campaigns and to manage all email communications.
You no longer have to spend hours trying to track who has answered or reacted to your sales emails. With Teamgate you have instant access to all your sent emails – and other communications – directly from your contacts' cards. Plus, there are a host of other ways Teamgate CRM software can smartly manage all aspects of your email campaigns.
Here's how Teamgate can manage your emailing smarter
Connect your email with Teamgate
Connect your business email provider with Teamgate CRM and be certain that your entire email process is under control. Teamgate

email integration

lets you keep track of all communications by storing copies of all sent and received sales emails directly in your contacts' cards. With an advanced filter and search facility, you know where everything is and stay email organised at all times.
MailChimp/Teamgate Integration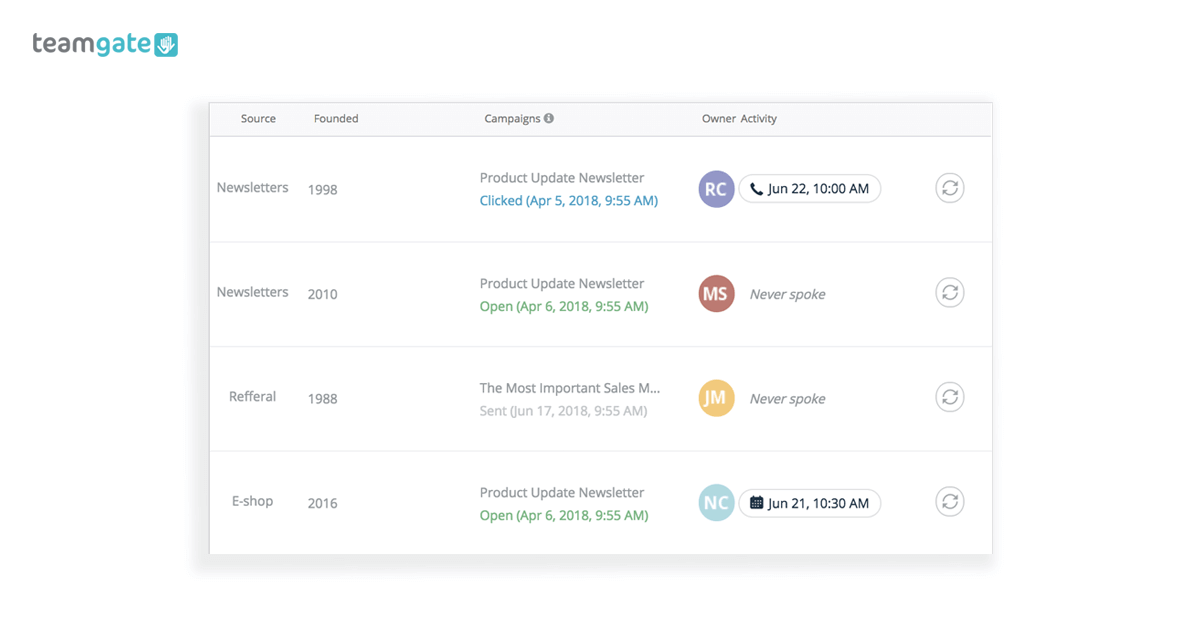 Teamgate's integration with the leading email automation platform, MailChimp, manages every stage of your email marketing and lead-generation campaigns.
Personalize the message

– Send personalized, targeted emails to specific groups of prospects, or leads. Using your contacts in Teamgate, pick the groups you want to target, write your killer email, and schedule the time for automatic sending

(Your Teamgate/MailChimp integration will help you determine which is the best time for your business).



See the reaction to your email – Again, using your Teamgate MailChimp integration you have instant access to the actions taken by email recipients; were they opened, subscribed, unsubscribed, or clicked on? All valuable information to help you determine your next course of action.
Integrated communications

– The integration also simplifies tracking every marketing or lead-sourcing email. Each email is updated to your contacts card and includes the status of campaigns, dates, and all other important data. Know the status and result of every email, instantly, using the integration.
Directly from Teamgate
Use Teamgate to manage lead capture campaigns directly from your CRM

Track actions from all email campaigns directly within your leads cards

Store all your sales emails where they're mostly easy to access – in your contacts' cards

Send emails directly from your CRM, even while mobile

Receive and organize all inbound email communications in one place
See who's opening your sales emails
Now that you know how to create the type of effective sales email that your prospects are more likely to open and respond to, take your entire emailing strategy to the next level.
Teamgate CRM software can greatly increase the effectiveness of all sales email and communications strategies.
No more sitting and wondering if a prospect saw your email, or how they responded. Use your Teamgate CRM to take control NOW of what happens next in your marketing and sales process.
Teamgate sales CRM gives you that power. Why not try it today, and see who's opening your sales emails, and when. 
FAQs: Writing sales emails
Q: How can I write sales emails that get read?
A: First, write an intriguing subject line to spark interest. Make your opening line personal, creating a human connection with the recipient. Ensure the content of the email is relevant and addresses a need that the recipient might have. Lastly, include a clear call-to-action that guides the recipient on what to do next.
Q: What role does the subject line play in sales emails that get read?
A: The subject line is crucial for grabbing the recipient's attention. It should create interest and give them a reason to open your email. Keeping it short and adding a pinch of intrigue can increase the chances of your email being read.
Q: How can I personalize my sales emails to ensure they get read?
A: Personalizing your sales email starts from the opening line. Make sure to use the recipient's name and mention something relevant to them, like a recent achievement or shared interest. This establishes a human connection and makes the recipient more likely to read on.
Q: How can the content of my sales email increase the likelihood it gets read?
A: The content should be relevant and address a need that the recipient has. It should demonstrate that the email isn't just a random cold message, but a real connection that could be beneficial for them, now or in the future.
Q: How does a CRM like Teamgate help in writing sales emails that get read?
A: Teamgate CRM allows you to track, schedule, automate, and report on all your email communications. With its integration with MailChimp, you can also see who's reading your emails, allowing you to tweak your approach as necessary and improve the effectiveness of your email campaigns.
GET READY TO OWN YOUR WORKDAY
with the most user-friendly CRM on the market.
Start Free 14-Day Trial
Painless setup, no credit card required