What are sales opportunities?
The old sales adage goes: "Sales opportunity is a deal that you have the possibility to close." In all fairness, there is no set-in-stone definition of what a sales opportunity is, but the industry agrees that a sales opportunity is a qualified lead. Now, the process you choose to qualify a lead is entirely up to you and your sales team. Many bases their qualification process on the BANT (Budget, Authority, Needs, Timeline) method and use their CRM's smart lead scoring to weed out leads who aren't likely to turn into opportunities and later, into paying customers.
The basic criteria for a sales opportunity are always the same:
it's a potential customer that you have already met or contacted;

you have also established that there is a pain point;

the customer shows interest in solving that pain point (quite urgently);

you have confirmed a technical fit.
Once these criteria are met, you can confidently call this an opportunity and move it along the funnel.
Also, it is worth mentioning that sales opportunities are very closely related to the Sales Velocity formula which is used to calculate your sales speed at which sales opportunities and leads turn into revenue, month over month.
What is the difference between a lead and a sales opportunity?
Many seem to be using the terms interchangeably, but it's far from being correct. The best way to think about the difference between these two stages is in terms of their place in the funnel and also as a part of the qualification process.
A lead

is a contact or an account that you know very little about. Those business cards you bring back from trade shows and conferences are a good example of leads – you've swapped introductions, exchanged business cards, and agreed to catch up later. That's all you've got. Essentially, a lead is the first step on the ladder towards a sale. Before you declare this lead an opportunity and climb further, you'll need to qualify it. Generally, there are far more leads in a sales pipeline than there are real sales opportunities. That's why setting up a robust lead scoring and qualification process to nurture leads into opportunities is so critical.

An opportunity

is a contact or an account that has been qualified. There is a real potential that a sales opportunity will translate into a sale because it has been weighed against the most important criteria: there is a budget, a need for a solution, your product is the right technical fit, the customer is ready to buy now and you're speaking to the right person. Once a lead gets to the opportunity stage, there are only two possible outcomes – won sales opportunity or lost sales opportunity.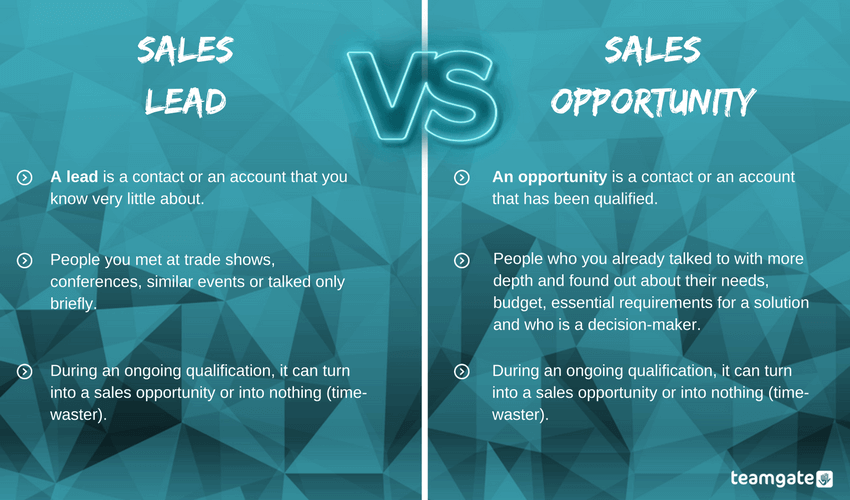 Place of "opportunities" in the sales funnel   
There's plenty of fish in the sea, but you're only going to catch a few. At the top of the sales funnel, you have all the cold and warm leads that have expressed some interest in your product. The common scenario is that prospects choose to pay with their email for various types of content offer that you might have on your site, including eBooks, templates, webinars, and other. Once you have their email address, all you need to do is throw an effective bait to attract some of them into deeper waters.
Progressing down the funnel, we pass two more stages – marketing qualified lead (MQL) and sales qualified lead (SQL) – before we reach the opportunities stage. In terms of positioning in the sales funnel, opportunities are just before the most favorite stage of all sales teams – customers.
INCREASE SALES VELOCITY USING TEAMGATE
Find opportunities vs. Create opportunities
Simply put, there are two types of customers – those who come through the door themselves and those who you need to convince to enter. So when you think about your marketing and sales functions, you need to consider and strategize for both types.
Find opportunities. Unfortunately, for most B2B businesses, "find opportunities" make up only up to 12% of prospects. Generally speaking, these prospects are well educated about the problem they have and its negative impact on their business (it's enough to make them seek to change) and they are actively looking for a solution. They typically have a strong opinion about the price they are willing to pay for the right product, too. To nudge them in the right direction, businesses can use such marketing tactics as advertising, content marketing, and SEO. On the sales side, BDRs (business development reps) are often deployed to find and qualify these opportunities for sales reps to seal the deal.
"Find opportunities" could also be interpreted as those that:
Are about to renew services;

Can switch products;

Can be easily educated or intrigued;

Have well-known problems (when new solutions are developed).
Create opportunities. Depending on your product, you may fall into three different realms on the demand spectrum: new concept, new paradigm, or established market (see the image reference below).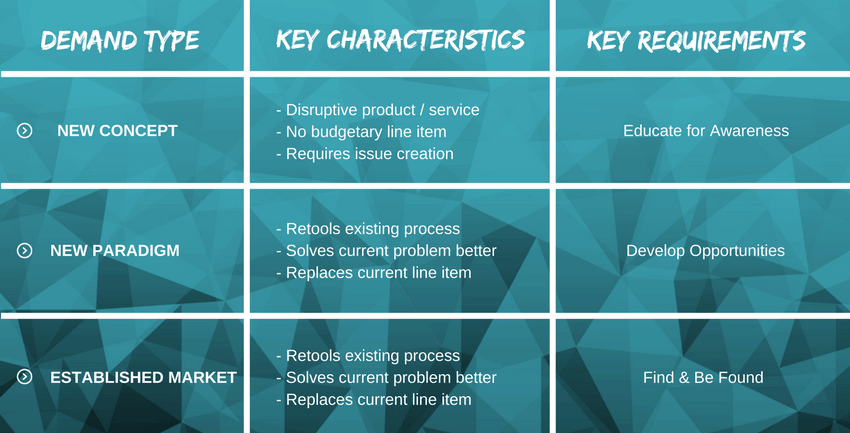 "Create opportunities" approach is fit for your business if you belong to either the new concept or the new paradigm category. Essentially, there are three factors associated with creating opportunities:
Buyers need to understand the problem.

The most likely scenario is that buyers aren't looking for your product because they're not aware they have a problem that needs solving. It's also likely that they know the problem exists, but they don't fully comprehend the impact it's having on their business and aren't prioritizing it.

Buyers need to understand the causes of the problem.

It's not uncommon for the causes of the problem to get misdiagnosed. The buyers might be actively looking for a solution in a wrong place.

Buyer misperceptions about product implementation, team competencies, etc. need to be addressed. Buyers often have deeply rooted misperceptions and biases that need to be addressed and overcome to create a sales opportunity.
By targeting your lead generation efforts to these segments, your sales team can position your product as the perfect fit and create solid opportunities.  
Now, the important thing to mention here is that you would use the same tactics to create opportunities as with "find opportunities" (inbound marketing, SEO, content marketing and advertising), only you would look for companies with a problem that you can solve, people who understand the problem you're solving, and people and conditions where they are ready to solve the problem. 
From sales opportunity to customer: techniques to close the sale
Every sale is different, so there can't be one universal closing technique. But there is a bunch of bulletproof closing tactics that you can master and adapt to your unique situation to have all the bases covered.
1. Five types of Socratic questions. Socrates was a master of questioning. He devised a robust technique for getting to the bottom of the truth and controlling the discussion.

Questions to clarify your clients' thinking: could you elaborate? Why do you think/say that?What exactly does this mean?
Questions to challenge your their assumptions: why do you think that this assumption holds here? You seem to be assuming that… What would happen if…?
Questions to probe their evidence/reasons: What would be an example of…? Why do you say that? Is there a reason to doubt this…?
Questions to explore their viewpoints/perspectives: what are the alternative ways of looking at this? What if you compared… and…?
Questions to uncover implications/consequences: How does… affect…? What would happen if…?

Mastering this technique will give you the means and the confidence required to smoothly progress towards the close of a sale.
2. Focusing on Value vs. Cost. It's a self-explanatory approach that promotes a healthy pricing strategy. Discounts and low prices are great until they hit a point where customers find the product untrustworthy or even unappealing. To close a deal, you must be able to justify your price by differentiating your product and demonstrating its value to the customer. A different value-based price should be implemented in all segments. 
3. Play the "enormous bonuses" card. Impress your prospective customers with great extras and bonuses, such as free coaching, consultations, implementation support, or something as imagination-catching as lifetime support. Although an extra commitment on your side, it can prove to be that extra oomph you needed to seal the deal.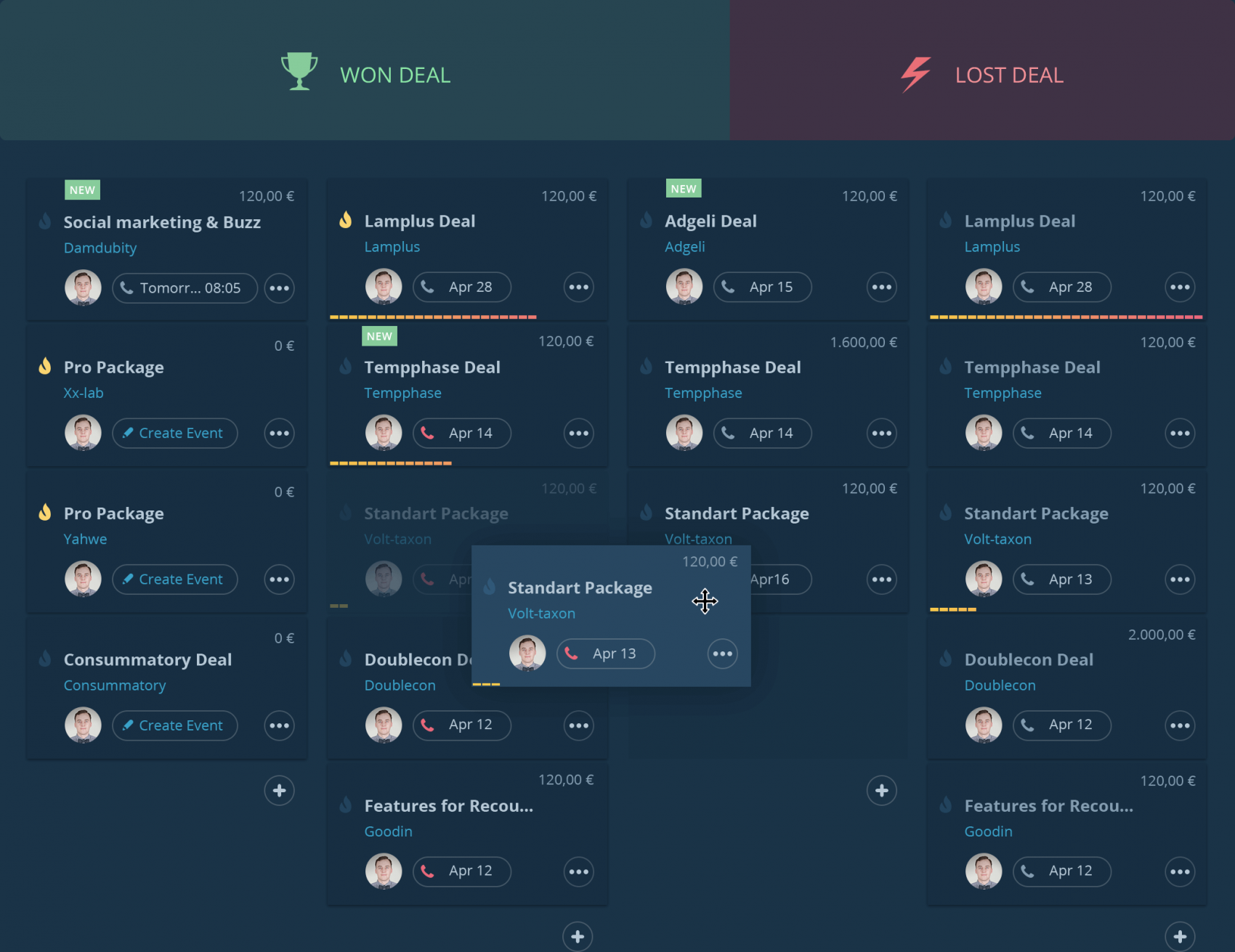 Conclusion
A robust lead qualification process is what helps companies ensure they're not wasting their valuable time chasing people who are never going to buy. Sitting down with your sales and marketing teams to agree on and define the criteria for every stage in the sales funnel is the best way to avoid a bloated pipeline and misleading forecasts. Everyone involved in your sales process should know when and why a lead is converted into an sales opportunity. Once you've got that consensus, you can unleash your sales force and bring those deals home.