Roll up! Roll up! Roll up! Nothing for sale!
If you're involved in sales you might have wondered about this for some time.
Every Christmas and holiday season you come across the big name high-street department stores, with half a mile of street frontage, all advertising what appears to be NOTHING in their windows. At least nothing saleable that is.
OK, I agree (after all, I used to work in the business for a long time) the window displays themselves are spectacular, dazzling, traffic-stopping affairs; looking more like a big bucks Broadway production, or the set from a 1940's Ziegfield Follies movie than a means of selling products. Money seems to be no object with these lavish creations.
So what's going on? 
Where's the value behind these extravaganzas which often take more than a year or two to design, plan, and execute?
A brief history of sales showmanship
Believe it or not lavish window displays began in the mid-eighteen hundreds, with the introduction of, wait for it… plate glass. I kid you not.
Suddenly, retail architects had the means to do something they couldn't do before: to create window spaces that ran the entire length of a city block, places where the owners could visually attract the attention of the passerby in any way they fancied.
And that's just what they did.
All of a sudden a new band of creative professionals – charged with maintaining the look of these commercial window spaces – appeared on the scene. At the time, they were known simply as window trimmers.
These window trimmers ensured that the products on display were arranged and shown in their most appealing and stylish manner. Many of the trimmers – coming from backgrounds in the arts, theatre, and fashion design – employed ever more creative techniques to appeal to the whims of the consumer. 
Specialist signwriters were tasked with extolling the benefits of the product in ever more fanciful ways. 
Lighting designers ensured the products always looked their best on the skyscraper darkened streets of the world's major cities. 
Carpenters, painters and other craftspeople created specialist 'sets' to complement the season or product type. 
Some of the most famous artists of the day stylised props and backdrops with which to give life to the imagination of the window trimmers. 
Slowly but surely the profession evolved from being purely commercial to what it is today – a multi-layered crossover between psychology, science, salesmanship, retail management, and the arts. 
Visual merchandising was born. 
And then things changed
In 1874 R.H. Macey & Co. become one of the first recorded retail outlets to feature a designated holiday window display. The display was short on product, but high on imagination, playing out scenes from the hugely popular Harriet Beecher Stowe book, Uncle Tom's Cabin across the entire shopfront and throughout the store's interior. 
The crowds it drew were enormous and so was born the fiercely competitive battle for supremacy of the Holiday Season Window Display.
Things got ridiculous – and ever more fanciful – as Macy's battled Marshall Fields, Lord and Taylor battled Neiman Marcus, and across the Atlantic, Selfridges battled Harrods. 
All was fair game, right up to the point in 1958 when Woodward & Lothrop – the progressive Washington DC department store – arguably stole the crown with a seasonal window display featuring LIVE PENGUINS, borrowed from the National Zoo. 
The gloves were off and the results can still be seen each holiday season in every major city around the world.

The black and white behind penguins and sales
But what have live penguins, winter wonderlands, scenes from a space-age fantasy, or display spaces adorned with nothing more than pure imagination and artistic playfulness got to do with the billions of dollars derived from sales each year?
The answer is simple. LOTS!
Whether you employ sales CRM software, website landing pages, email marketing and cold calling, or trade shows and social media, every business wants to get their brand name out there, recognized, and respected. And, they want to sell.
The truth is that glamorous high street retail outlets don't really hope to sell diamond encrusted unicorns (as much as they'd like to), life-sized reindeer-drawn sleighs, or even live penguins. What they hope to sell is brand loyalty that spans the generations.
And that's what you should be doing too.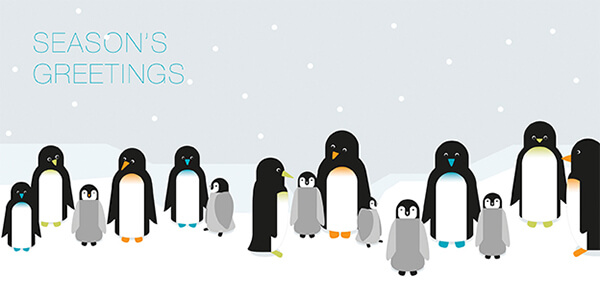 Think of your customer success management strategy as your high street window display. 
Your customer success team is doing the job of even the most creative holiday window display artists, week in and week out throughout the year.
Instead of ribbons and bows, fairytale scenery populated by elves and woodland nymphs, or whims of fantastic imagination, your customer success people are out there every day creating the brand loyalty that you need to succeed.
Traditional window displays might attract prospective customers into your store, but that's only the start of the journey. 
It's the one-on-one conversations that they have with your sales and customer success team that get the job done and the cash registers ringing. That's where customer success management is paramount.
Without the properly trained and suitably tooled human touch, no matter how many visitors you attract to your doors, the product is unlikely to sell itself.
In the busy high streets of B2B selling, sales and customer success teams armed with modern CRM software, are already aware of your customers' journey, right up to the point of walking through the door of your sales process. 
Thanks to customer success SaaS systems they already know the customer's background, their pain points, their persona, exactly what it is that's attracted them to your premises and not your neighbors', along with a whole lot more. 
That's way more information than a sales assistant in a high street store is armed with, and the pivotal advantage that gives your people the edge.
Creating a sales wonderland all year round
Modern sales technology like website landing pages, CRM software bristling with tools, features, apps and AI integrations, all go a long way towards attracting the attention of the customer. These are the 'plate glass' windows that allow the public to see your product.
But, never forget, it's the great people you surround yourself with that give your brand the voice that will ultimately attract prospective customers through your doors. 
Your sales and customer success team are the real window displays of your company. The ones who create and nurture the brand loyalty that will see you and product through the years ahead.
Season's greetings and happy holidays to you and yours from all of us here at Teamgate.