At Teamgate we've learned that customer success management is one of the most important functions of our whole sales process. Now, we'd like to share our experience, and success with you.
How focusing on customer success really helped us to build
In case you didn't know, at Teamgate we design and sell CRM sales software solutions which help salespeople sell faster, and smarter. But that's just the tip of the iceberg.
Since our humble beginnings, we've come to learn some really important lessons, about ourselves, and about our product:
Finding the right customer is great

Selling to that customer is amazing

But, retaining that customer, while building brand loyalty, is beyond words, and that's where customer success management really shines
The first thing we realised is that the sale is not the end of the journey. Of course, every sales team know that by now, but to learn that lesson for the first time, comes as quite a revelation.
That revelation required a whole change of mindset at Teamgate.
It required a change of focus, from simply selling the product in order to make a profit, to the bigger picture, and the long-term view of the entire customer experience process.
We care about the customer's experience, and we've discovered that most of our customers really appreciate that care. In order to gain that appreciation, we had to begin somewhere.
Teamgate focus on customer experience led us to question our whole process:
Were we sourcing the most valuable leads – not just in monetary value, but in forming the right product/customer relationship?

Were we really listening to the customer's needs and concerns?

Were we supplying the most relevant tools which they could really benefit from?

Were we relaying their concerns to our product development team?

Were we there for the customer throughout the whole onboarding process?

Did we offer the training and support they needed, and were we there to follow up on any further concerns?

Did we offer them the value they could afford, and not the value that we wanted to sell?

Was our product as scalable as our customers need

If they were using a competitor's product, why were they doing that? What could we do to change the situation?
With the onset of this customer-centric focus, a new, and rejuvenated Teamgate experience was born.
How did Teamgate's customer success management focus change?
Now, our customer success managers are equipped with the very same array of tools, which you can use to manage your customers' experience.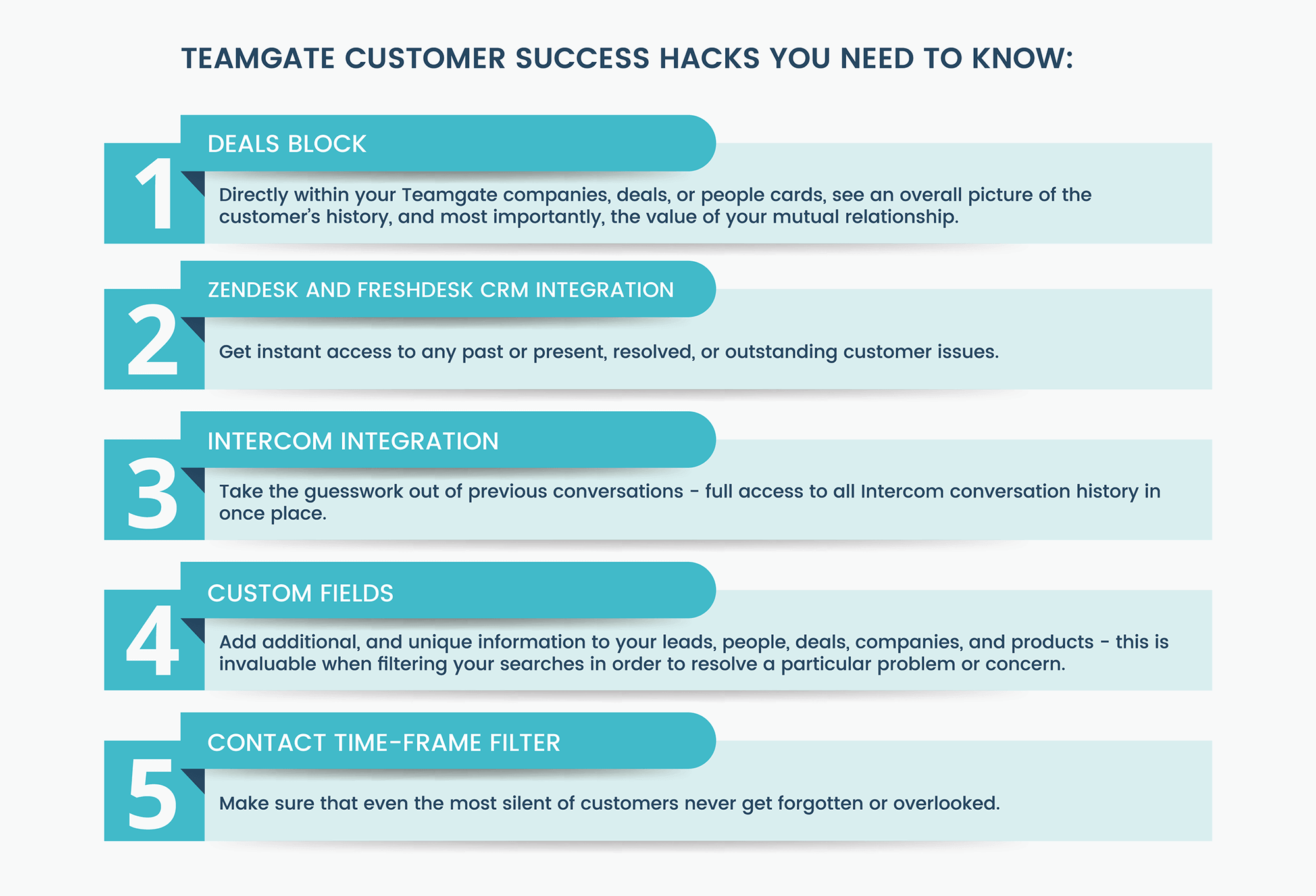 We designed them that way because we listened to what our customers wanted. Because of the attention we paid to our customers' comments, we can be sure that our Teamgate solutions work.
Teamgate includes a bundle of simple-to-use features which have become firm favourites with customer success managers, right around the globe.
These features proactively help us, and you, to keep your customers engaged, far beyond the sales process itself.
We know that if they work for us, we're sure that they'll work for you.
The Teamgate features designed to manage your customer success
Having listened closely to our customers' needs, Teamgate introduced a host of time-saving features allowing our customer success managers to ensure that customers remain satisfied, engaged, and which continuously offered value, long after the initial deal is done.
Vitally, they help you to reduce your churn rates, increase the opportunity for upselling, and promote continuous customer loyalty, advocacy and customer happiness.
In fact, we care so much about customer happiness, that by means of a focused and consistent approach to measuring customer satisfaction after resolved ticketing issues, Teamgate customer success team raised the satisfaction rate from 95.1% (2015) to 97.2% (2017).
So how did we do that?
Teamgate customer success hacks you need to know:
#1 – Deals block – Directly within your Teamgate companies, deals, or people cards those charged with customer success management can quickly and easily analyse all won, lost, and postponed deals.
This information can then be brought to the table in an effort to enhance the relationship between you and your customer. It will also offer an overall picture of the customer's history, and most importantly, the value of your mutual relationship.
#2 – Zendesk and Freshdesk CRM integration – Zendesk and Freshdesk come as two of the leading customer support ticketing solutions. They offer you instant access to any past or present, resolved, or outstanding customer issues.
Armed with information on all ticketing issues – reporting bugs, log-in problems etc. – our Teamgate customer success managers can address any issues directly with the customer, assuring them of problems solved, updates, software patches, and recording their concerns.
#3 – Intercom integration – The Intercom and Teamgate integration allows customer success managers full access to all conversation history in one place.
This takes the guesswork out of previous conversations and gives customer success managers a running start when dealing with customer experience issues.
#4 – Custom fields – Custom fields are a means of adding additional, and unique information to your leads, people, deals, companies, and products. This is invaluable when filtering your searches in order to resolve a particular problem or concern.
At Teamgate our customer success managers use the actual value of sales at a particular time, dates which contracts were signed, and the duration of contracts, as some really useful custom fields.
#5 – Contact time-frame filter – Within your CRM sections; leads, companies, people, or deals, Teamgate offers you the oddly named 'Not Contacted Within' filter.
This feature lets you select contacts with no 'live' activities – to-do's, calls, or meetings – over a chosen period of time. This is really relevant for customer success managers when making decisions on which course of action to take next. This is almost like a Teamgate secret weapon, making sure that even the most silent of customers never get forgotten or overlooked.
The real value of engaged customer success management
Teamgate's customer success leader, Gintare Pasaulyte, fully realises the importance of keeping customers engaged. Her experienced outlook on the subject of continuous CRM customer success, is as follows:
"We see our customers as invited guests to a party, and we are the hosts. It's our job every day to make every important aspect of the customer experience a little bit better, by knowing our customers, their personalities, buying habits, and even hobbies in order to increase their satisfaction and loyalty."
Every positive attempt a business makes towards engaging with their customers, is essential for growing revenue, creating prolonged customer loyalty, instilling product advocacy, and maintaining the continued potential for growth.
Customer success management is not just for today, it's for life
Customer success management is an overall approach to managing the value of your customer, through a variety of positive means, over the complete customer lifetime.
At Teamgate we recommend that you try to think past the sale, the real value comes from winning a customer for life, and, having the right tools to do that is hugely important.
Perhaps you'd like to see for yourself just how Teamgate CRM and customer success software can help you grow your business, long after the sale has been won.
Sign up for a Free Demonstration today, and let us show you how it's done.
Do you have a CRM that keeps you organised?
The most user-friendly CRM on the market. 14-day free trial.
Start Free Trial
Painless setup, no credit card required