Contact Management
Quickly and easily find customer data, including key contacts, companies, communication history, and much more. You get a complete picture of every customer, from call records to the history of campaigns, to the deals they're involved in.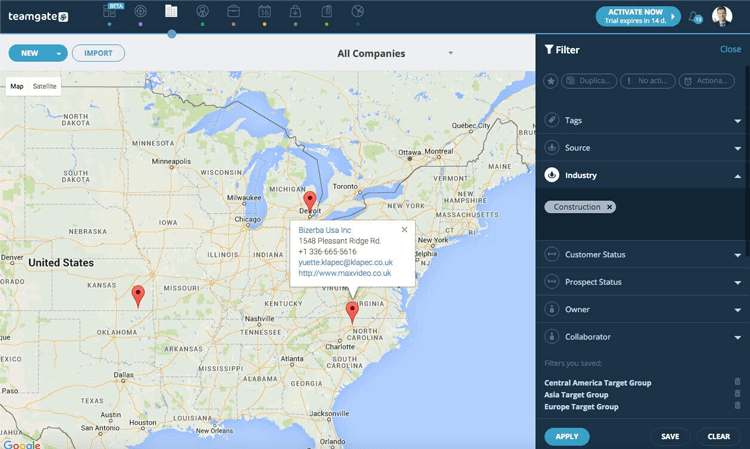 Build Highly Personalized Relationships
There're two contact sections – People and Companies – available and each of them holds different types of contacts. But, most importantly, these sections are related: we assure you that business information will stay connected with the individual details. Adding new contacts is easy – you can conveniently convert qualified leads into contacts, import them or add manually.
Contact cards contain valuable information, which can be enriched by adding custom fields. Contact info, notes, tasks, communication history, deal details, and more – we want to make sure that whatever type of business you run, you can manage your contacts in the most convenient way.
Manage Your Time
Plan your time, take action and win. Whether you need to create a new meeting, follow-ups, or just add a note, it is one click away. Managing and scheduling activities is possible cross-section. Available features, such as activity feed, calendar management, event sync, to-do list, and other, concentrate on supporting your sales process.
Advantages of Teamgate Lead Management
Reaching out to qualified prospects and moving them through the whole sales cycle is convenient. Teamgate supports prospecting with various features, such as Smart Dialer, MailChimp integration, follow-ups, reminders, and more.
Keep track of your communication with a contact. Emails, call logs, or comments, everything stays in one place and can be seen by your team.
Contacts can be segmented by various categories; this helps when working with specific target groups. The categories are static, which allows keeping your database organized.
Cross-section global search helps you finding and accessing contacts easier from within the system.
Some of the Contact Management features in Teamgate
Save time and quickly import contacts by uploading files from your computer, or sync Teamgate with your Google, iCloud, Outlook, or LinkedIn address books
You can add custom fields to enrich contact information. For your convenience, fields can be pre-made or added on-the-go
To avoid duplicates in the contact lists, Teamgate automatically marks suggested duplicates and enables you to manage them quickly
Every file, which needs to be associated with a specific person or company, can be uploaded to the contact's card and stay there for the future use
You can easily filter lists of contacts by a number of criteria. This allows to work with specific target groups in just a few clicks
Powerful integration with Google Maps allows to pinpoint geolocations of your contacts' database
RUN YOUR SALES TEAM ON TEAMGATE
Your sales team deserves more than just a platform. They deserve a complete sales stack.
Hi, I am Ilmaras, Sales Manager here at Teamgate. I am responsible for ensuring that you drive maximum value from our tool. I would like to learn more about your main goals for using the CRM solution and to tell you how other companies are using our CRM. Please fill in the form and I will get back to you ASAP.