[rev_slider_vc alias="tour"]
COLLECT
CONVERT YOUR VISITORS INTO QUALIFIED LEADS
Drive more traffic to your key landing pages via user-friendly, highly potent, and effective lead sources. In just a few clicks, you can empower your inbound strategy by adding proven lead capturing forms to your web pages, using a palette of easy-to-use widgets, online CRM tools, and fully automated integrations. Sit back and watch your page conversion goals meet their targets, while greatly improving your ROI.
LEAD CAPTURING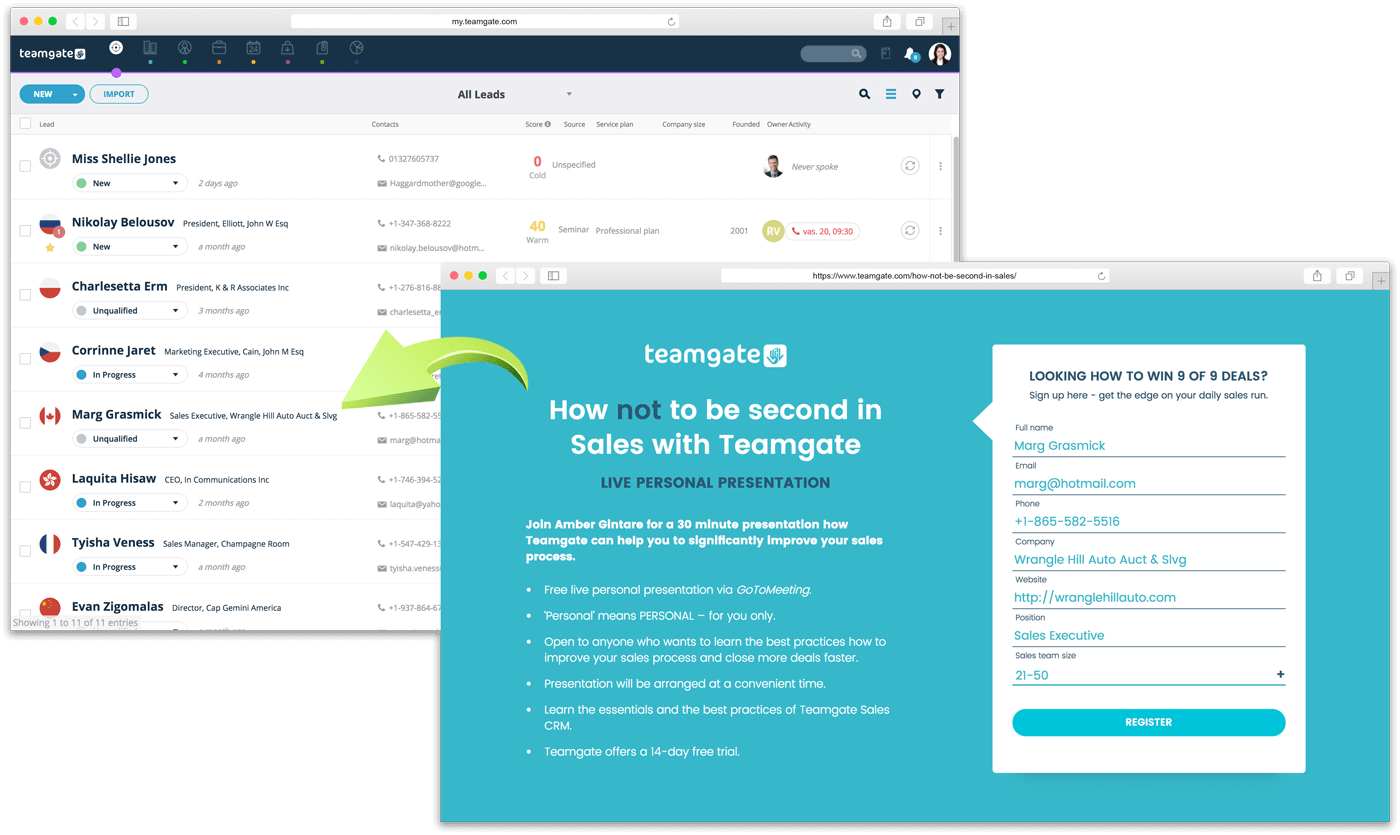 COLLECT
GRAB LEADS FROM SOCIAL CHANNELS, EMAIL REQUESTS OR MISSED CALLS
Get the most from the communication tools you use daily by integrating them with Teamgate. Eliminate the manual data entry process by using Teamgate+LinkedIn Shuttle. Also, you may automatically transfer email requests to the Sales CRM as new leads, ready for assessment and action by your sales qualification team. Finally, never again worry about missed calls, they'll simply appear as new leads, awaiting your attention and action. Teamgate arms you and your team with the very best CRM tools for small business.
TEAMGATE-LINKEDIN SHUTTLESMART DIALEREMAIL REQUESTS AND NEWSLETTERS
CONVERT
IDENTIFY, ORGANISE AND QUALIFY YOUR LEADS EFFECTIVELY
Using the best CRM tools on the market, prioritise your leads more strategically in order to grow revenue. Lead scoring allows you to focus on the right leads, at the right time, and get the most from targeted sales.
Teamgate and its comprehensive CRM tools list are designed and created to meet all of your business needs. The more information you have about your leads, and the manner in how you manage that information, can help qualify and convert them to contacts without losing any of that valuable information. You can also rediscover missed opportunities by applying the right sales CRM tools to requalify those leads.
LEAD MANAGEMENTLEAD QUALIFICATIONLEAD SCORING AND PRIORITIZATION


CLOSE
MANAGE AND ACCELERATE YOUR SALES
With Teamgate it's possible to use multiple sales pipelines for different processes – allocating separate reporting options for each one. Our sales CRM has an easy-to-use drag & drop interface, it supports multiple-currencies, provides real-time reporting, offers product catalogue functionality, and many more powerful CRM tools.
Teamgate not only helps you to manage your opportunities, it can also accelerate your sales – visibly. As part of a unique package of analysis features, the unique Sales Pipeline Movement report can greatly support the velocity of your sales process.
SALES MANAGEMENTSALES ACCELERATION
CLOSE
BUILD HIGHLY PERSONALISED
RELATIONSHIPS WORLDWIDE
Using Teamgate it's possible to create a complete snapshot of each and every client; from contacts to communication history, right up to the deals they're directly involved in. Building a contact database is quicker and easier than you could imagine – simply importing your contacts from a variety of external sources. You can also individualise each contact's data through the use of custom fields. Teamgate supports prospecting using various inbuilt features and the best CRM tools, allowing you to manage your qualified prospects the whole way through the sales cycle.


INSIGHT
IDENTIFY OPPORTUNITIES, BOTTLENECKS, AND LINKAGE BETWEEN SALES ACTIVITIES AND OUTCOMES
A number of reports in the Teamgate insights section allow you to analyse the performance of your team and review its impact on actual sales results. Insights and other useful CRM tools help you boost sales by improving performance, sourcing available opportunities and identifying bottlenecks.
Visualised data is one of the most valuable strategic weapons in your armoury, so we made sure to provide you with only the very best in analytics features.
SALES ACTIVITYPIPELINE MANAGEMENT
INSIGHT
TRACK PERFORMANCE AND BOOST MOTIVATION
Tracking and sharing key performance indicators and business metrics can help you boost healthy competition and keep your sales team motivated. Using Teamgate, and some of the best CRM tools on the market, easily track the trajectory of your sales and profitability while identifying the sales landscape across the board, from loss reasons to top customers.

Manage your sales time smarter – Sign up for your FREE TRIAL today
No credit card necessary
Hi, I am Mindaugas, Director of Sales here at Teamgate. I am responsible for ensuring that you drive maximum value from our tool. I would like to learn more about your main goals for using the CRM solution and to tell you how other companies are using our CRM and increasing their sales performance. Please fill in the form and I will get back to you ASAP.