According to recent data, the average car buyer only visits two dealerships when looking for a new vehicle. In fact, many shoppers are taking their search online.
What does this mean for you as an auto dealer? You must do what it takes to capture every lead from varying sources, including in-person or online. A CRM for auto dealers can help you do just that.
The best automobile CRM software platforms allow you to run omnichannel marketing campaigns and deliver a personalized buying experience to every lead. In this guide, we'll help you pinpoint the right CRM to fit your dealership.
Key Takeaways:
Maintaining customer relationships is key to repeat business for auto dealers. But as the customer base grows, relationship management becomes overwhelming. A CRM can help.
CRM platforms for auto dealers help generate and nurture leads throughout the funnel, from lead to sale and beyond.
Automobile CRM software streamlines relationship management by centralizing leads from multiple sources, such as website forms and online ads.
The best CRM platforms include a wide range of features, configuration options, and integrations. They're also easy to use with robust customer support.
Some of the top auto dealer CRM platforms on the market today include Teamgate, DealerSocket, Dominion Dealer Solutions, ProMax, Selly Automotive, VinSolutions, Datacar CRM, and AutoRaptor.
Contents:
Teamgate
DealerSocket
Dominion Dealer Solutions
ProMax
Selly Automotive
VinSolutions
Datacar CRM
AutoRaptor
What Is Automobile CRM Software?
Automobile customer relationship management (CRM) software is a system that helps capture and nurture leads and improve the customer experience. CRM software offers tools for creating marketing campaigns, tracking sales, communicating with customers, and moving leads through your pipeline efficiently.
Let's walk through an example of a CRM in action. Suppose a customer just had their car serviced, but then they notice a decline in fuel efficiency after the service.
The customer may call one of your representatives to book an appointment. Your rep can then raise a ticket in the CRM. The CRM would then automatically notify the servicing team and add a record of the complaint to the customer's profile. If you've configured an autoresponder, the customer will receive an email with ticket and appointment details.
Without a CRM, all of this would need to be done manually, and your customer may not have the same seamless experience.
How to Evaluate Automobile CRM Software
There are many automobile CRM platforms on the market today. However, not all of them will be a solid fit for your dealership. As you shop around, there are a few key things to consider, including the CRM's feature set, configuration options, integrations, ease of use, and customer support options.
Feature Set
An auto dealer CRM should include specific features such as lead management, contact management, analytics and reporting, sales and marketing automation, task management, and various communication tools.
Configuration Options
CRMs that offer configuration options allow auto dealers to use the CRM in a way that fits their needs without investing in a fully customized platform.
Integrations
CRMs must be able to exchange data with other third-party apps and services like ERPs and DMS solutions. Information exchange facilitates process automation and helps improve the data in the CRM.
Ease of Use
CRMs with a steep learning curve demand time and money for training and maintenance. The best CRMs include an intuitive interface that's easy to use.
Customer Support
Support options are critical. When you need help, how fast can you reach support, and how quickly can they provide solutions? The best platforms offer a range of support options, from phone support to online resource centers.
1. Teamgate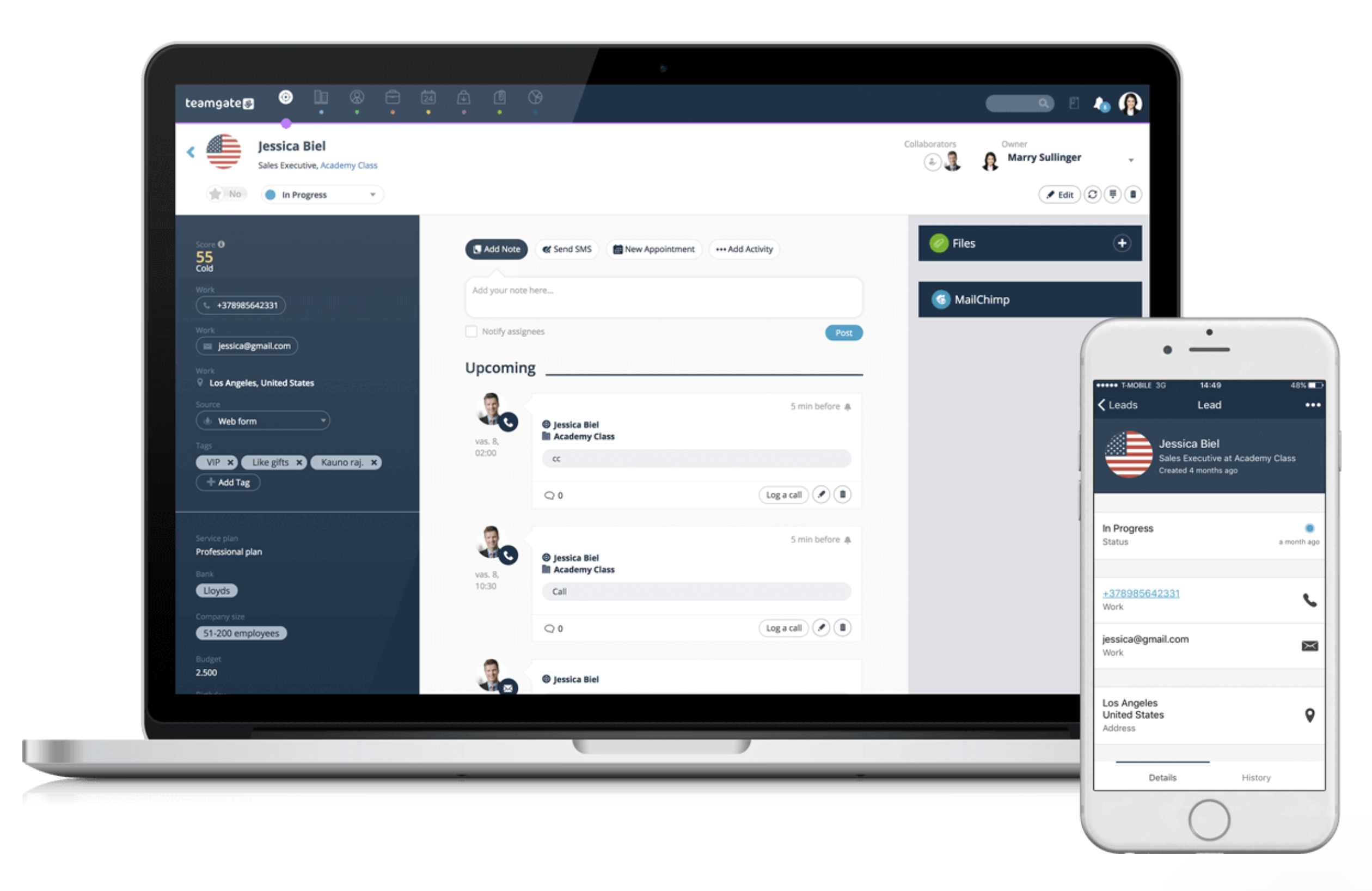 Rating: 4.4/5 (G2)
Key Features:
Easy to use and configure CRM with a simple interface
Dashboards for visualizing sales at a glance
Drag-and-drop sales pipeline
Built-in analytics with robust reports
Integrations with business apps like Xero, Slack, and Mailchimp
Ability to track KPIs like conversion rates to see how effectively you're converting leads into customers
Native call management feature called SmartDialer
LinkedIn integrations for engaging with customers on social media
Teamgate is a complete CRM platform perfect for dealerships of all sizes. It offers various features like lead management and comprehensive reporting to streamline and improve an auto dealership's processes.
The smart, easy-to-use CRM has a sales dashboard, native call management (SmartDialer), and contact management features to build and nurture relationships with customers. These features can help personalize the customer experience from the moment you receive a test drive request to the time customers schedule their first service.
Plus, Teamgate offers easy access to historical sales data and assists you with forecasting sales over the next quarter or year. This can simplify vehicle inventory management, which is critical for your dealership. You can even use the Teamgate mobile app to capture leads and contacts while in the lot.
2. DealerSocket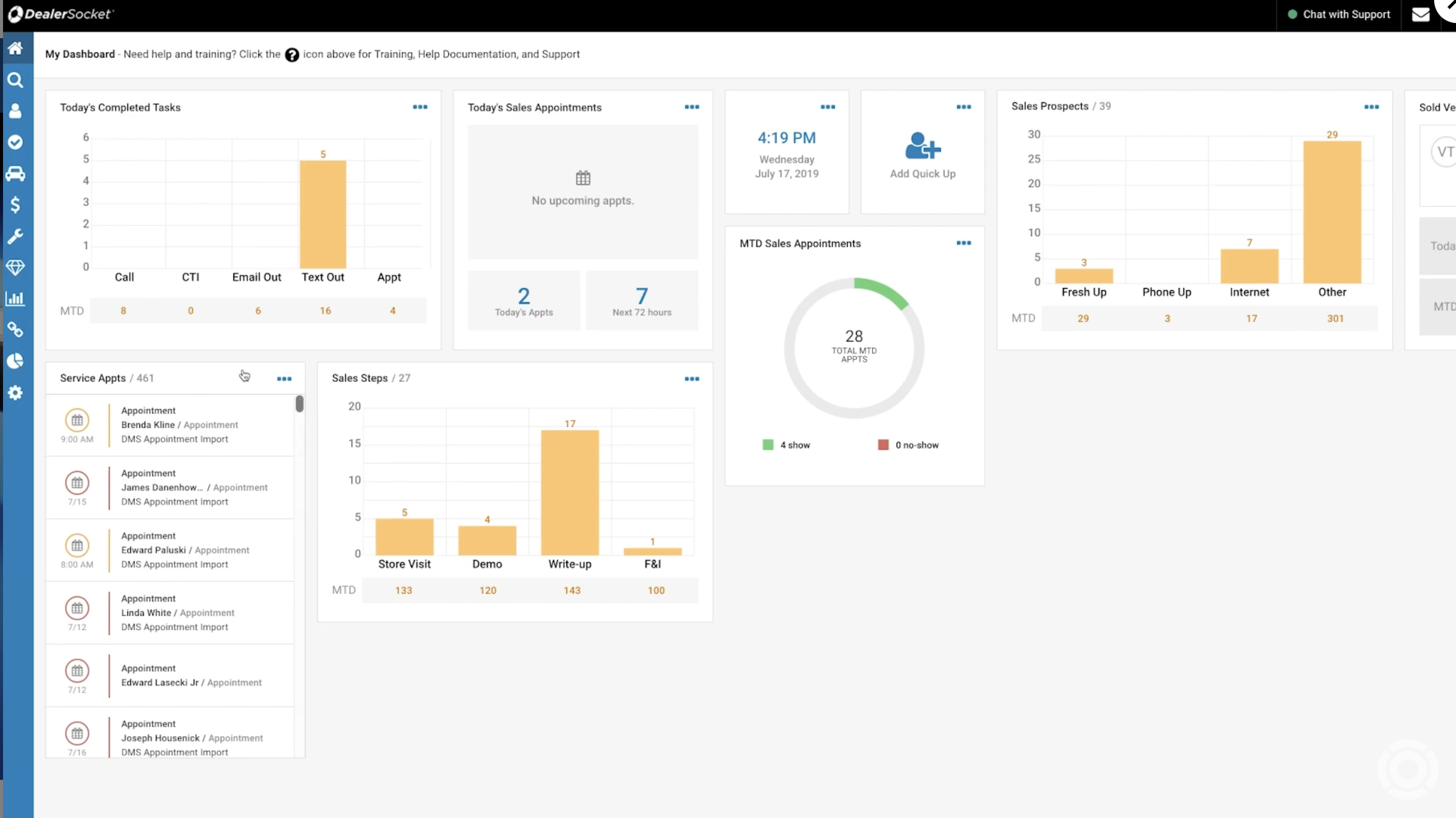 Rating: 3.8/5 (G2)
Key Features:
Built-in integrations with OEM systems
Service appointment scheduling via phone, text, or email
Marketing automation tools
Equity mining
DealerSocket is tailor-made for auto dealerships. It can help you manage marketing campaigns, streamline sales processes, and improve customer satisfaction.
The platform offers robust sales tools, including lead management, mobile sales capabilities, call management, and credit qualification. Other key features revolve around service management, which enables you to create a self-service portal for your customers, balance appointment capacity, and more.
The platform also offers automated marketing templates, vehicle lifecycle tracking, and web-based inventory management designed for independent and BHPH (Buy Here, Pay Here) dealerships.
3. Dominion Dealer Solutions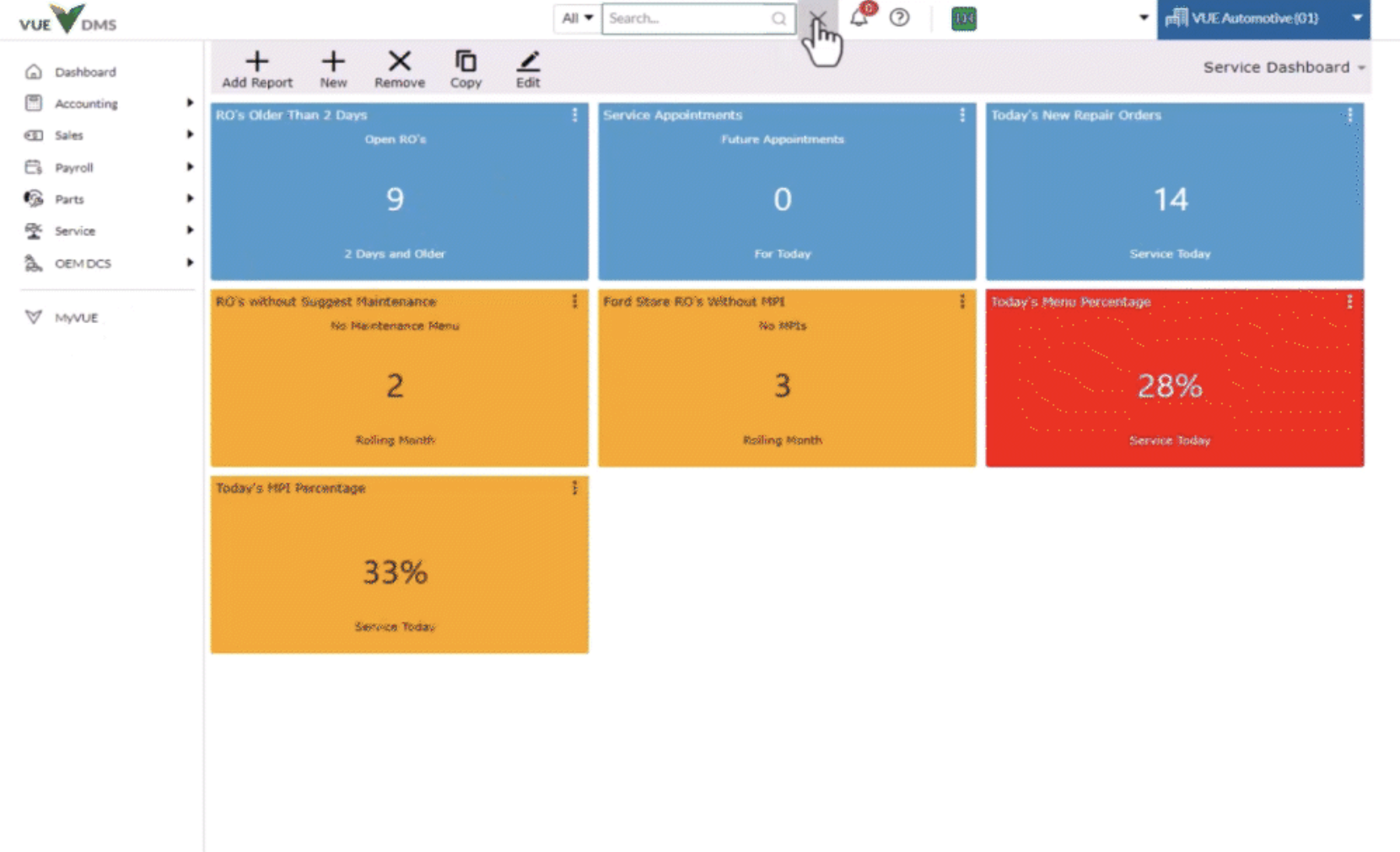 Rating: 4.2/5 (G2)
Key Features:
Inventory management for car dealerships
Built-in sales dashboards, closing deal alerts, and other useful features
Dealership lot management features, including pictures and video tours
Dominion Dealer Solutions is a dealer management system (DMS) with CRM features. For example, it helps pull sales and service leads from multiple sources, including the shop floor, phone, and internet, into the platform.
The web-based platform offers a range of tools for inventory management, lead generation, and customer retention. With DMS and CRM tools, it's a solid choice for both franchised and independent dealerships.
4. ProMax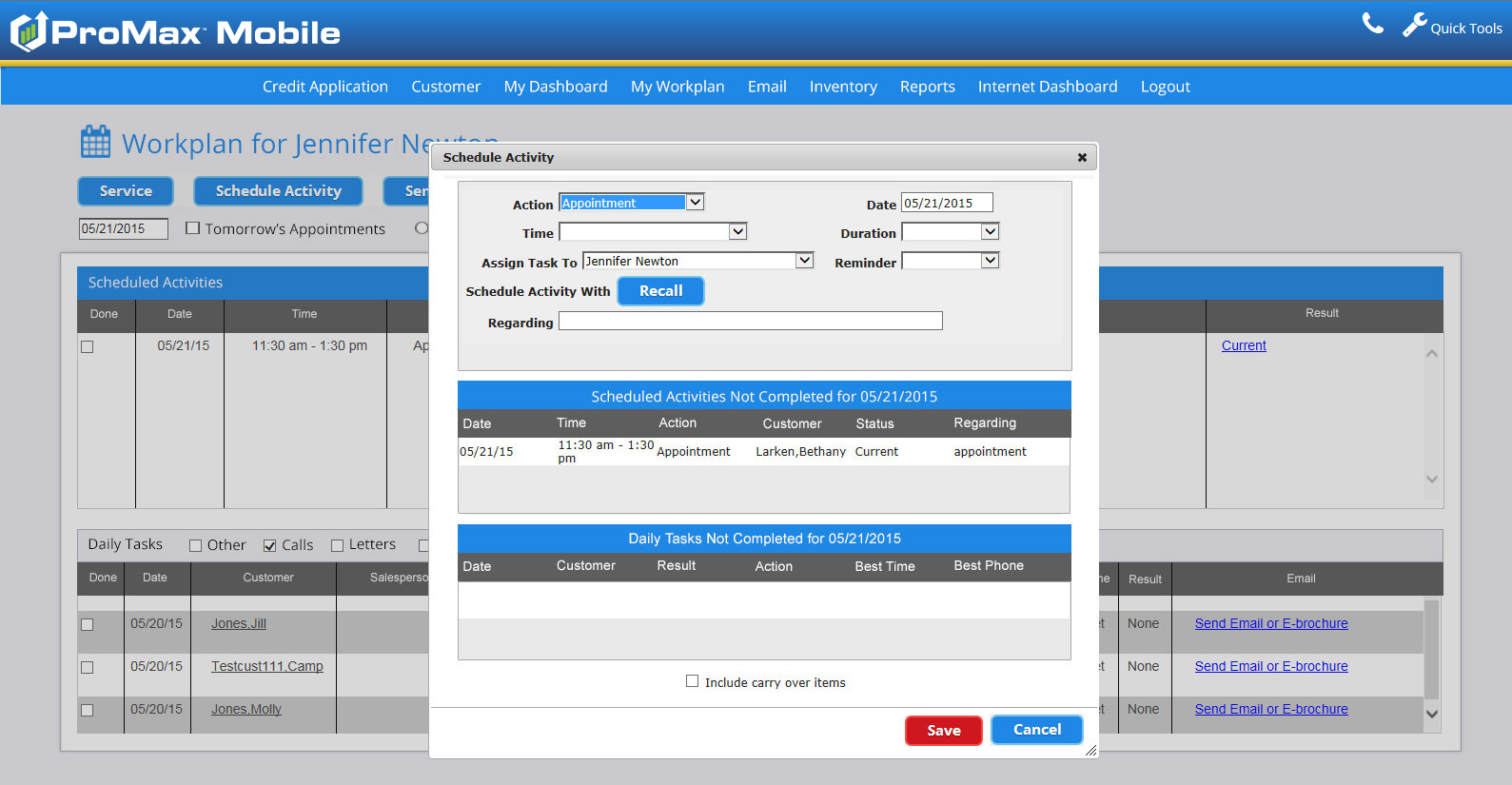 Rating: 4.5/5 (G2)
Key Features:
Customizable lead management tools
Certified OEM lead manager
Email marketing features like customizable templates, analytics, and A/B testing
Inventory management
ProMax is an award-winning CRM. A notable feature is its lead management tool, which is customizable to fit your specific sales processes. Plus, it offers customizable lead activity monitoring, reports, and notifications, so you can easily track sales performance.
The CRM is available for virtually all devices, including desktop and mobile devices. This is great for using the platform from anywhere, whether you're in the office, the shop, or the lot.
5. Selly Automotive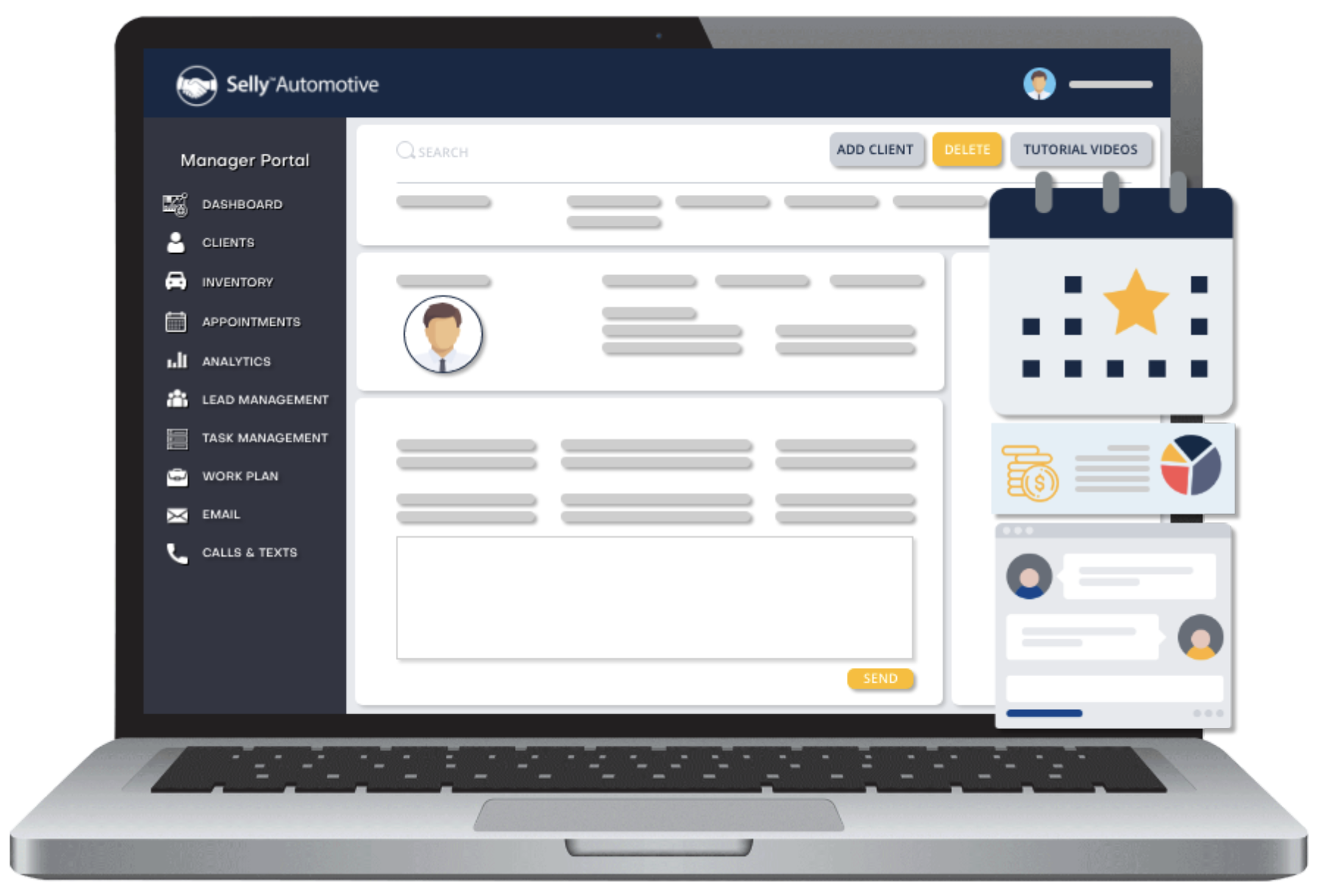 Rating: 4.8/5 (Capterra)
Key Features:
Excellent support
Automated workflows, responses, and reminders
Built-in texting interface
Lead capturing via Facebook and Messenger
Selly Automotive has created a beginner-friendly solution specifically for independent auto dealers. The platform includes robust lead management tools, workflow automation, lead source tracking, text blast tools, and built-in call recording.
Selly Automotive's best selling point is its customer support. The onboarding team helps set up the system and supports you in training your employees. All users get access to phone support and the resources in Selly Automotive's Help Center.
6. VinSolutions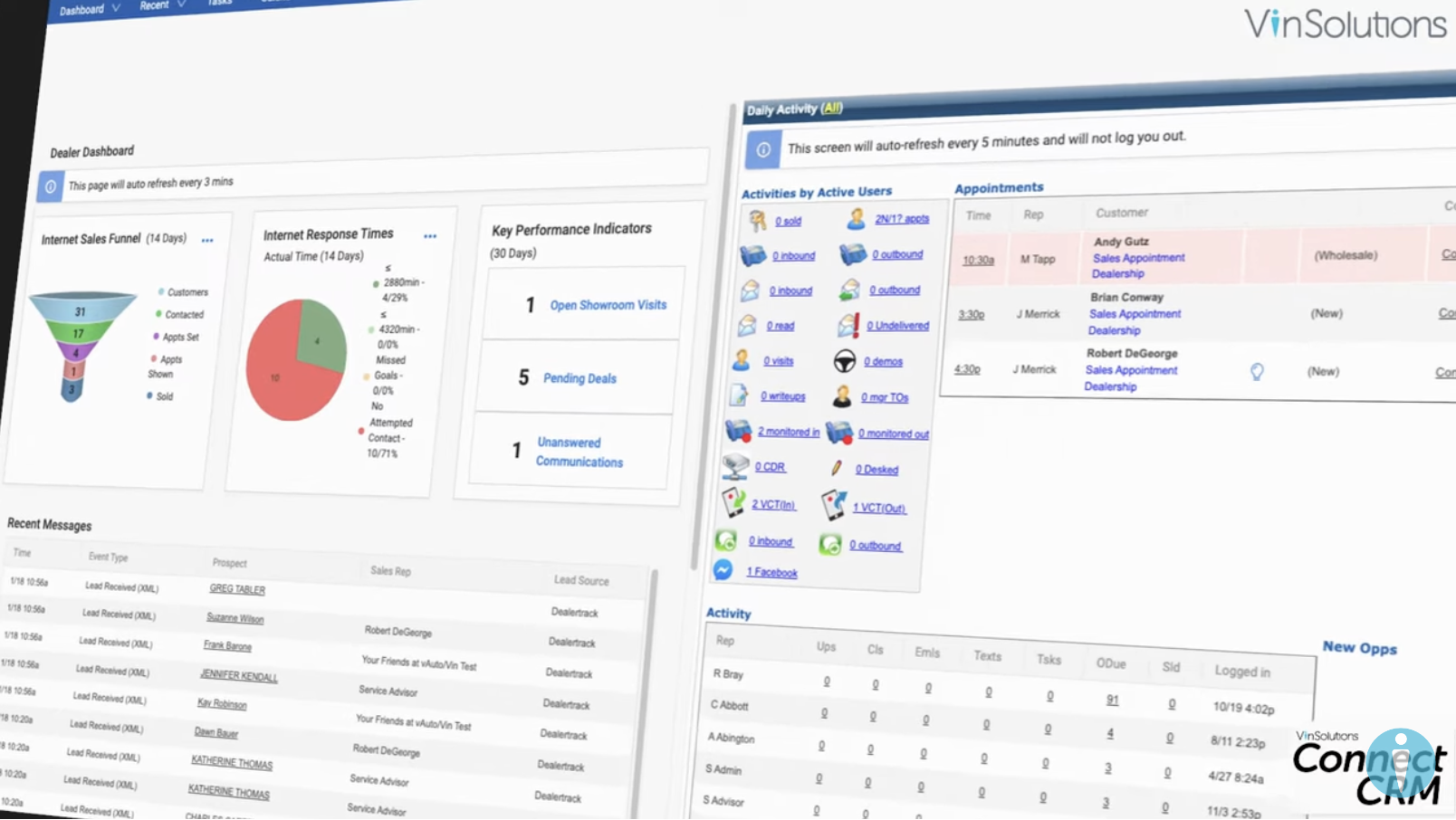 Rating: 4.2/5 (G2)
Key Features:
Dedicated performance manager
Detailed sales reports for all leads
Ability to monitor and record conversations between team members and clients
Integrations with tools like Dealerstack DMS, Accelerate My Deal, Dealer.com, IntellaCar, and Xtime
VinSolutions is a CRM built specifically for auto dealers. One standout feature is the support you receive from a dedicated performance manager who will partner with you to improve your sales processes.
Beyond this key feature, VinSolutions offers other critical features of a robust CRM, including built-in reports, marketing campaign development, and customizable workflows.
The CRM integrates with various automotive platforms, including Dealerstack DMS, Kelly Blue Book, and Dealer.com. This allows the VinSolutions Connect CRM to pull data from these apps and offer deep insights for your automobile dealership business.
7. DriveCentric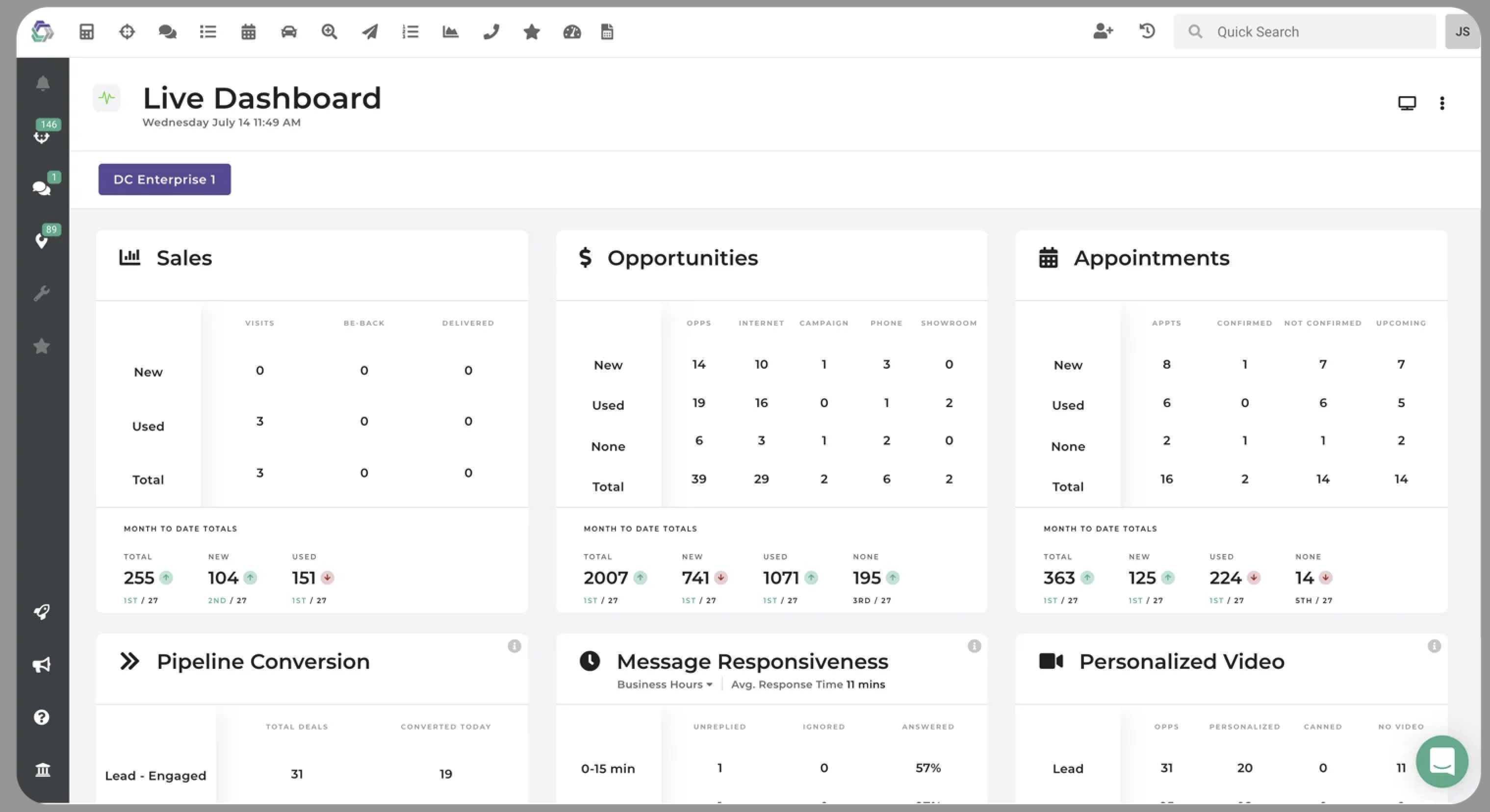 Rating: No rating available.
Key Features:
Communication tools for tracking customer interactions
Inventory management tools for streamlining the vehicle acquisition process
Lead generation module for capturing, tracking, and nurturing leads
Advanced analytics for deep insights into customer behavior
DriveCentric offers a simple and intuitive CRM platform. The software features simplified sales pipelines built to focus on the most important data, enabling your sales team to get more work done. Plus, you'll benefit from its incredible inventory management tools that ensure the inventory your customers see online is what's shown in your CRM.
The platform's extensive analytics enable you to make data-driven decisions, while the customer communication tools allow frictionless interactions with customers across their preferred channels.
8. AutoRaptor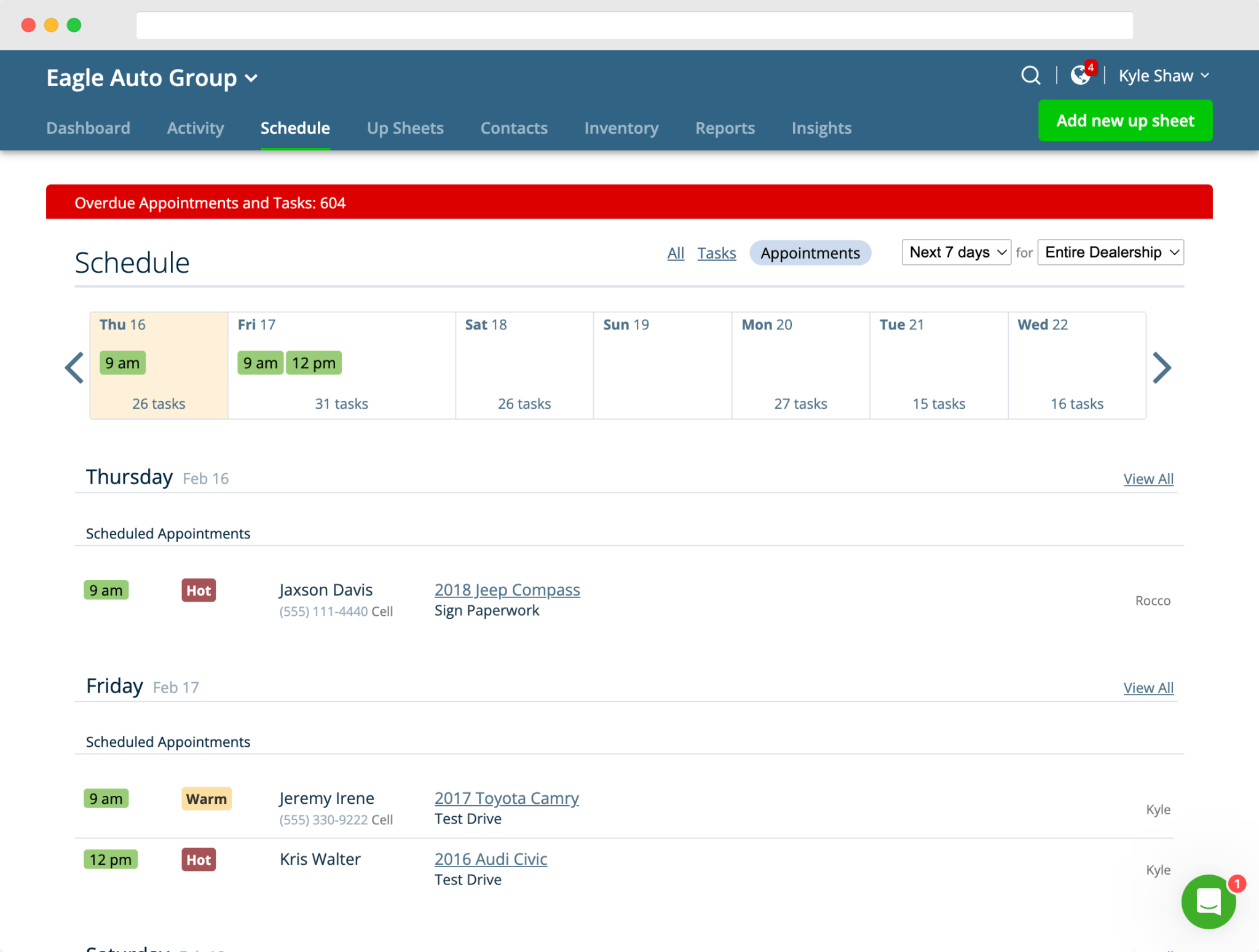 Rating: 4.6/5 (Capterra)
Key Features:
Customizable sales processes and daily work plans
License and VIN scanning
SMS, email, and phone communication tools
Email and SMS campaign automation
AutoRaptor helps independent dealers manage leads and customer relationships. The CRM displays leads and customers, their activities, and their position in the pipeline. This allows sales teams to improve conversion rates and manage customer relationships more effectively. The CRM also includes the option to create no-code round-robin rules for effective lead distribution.
AutoRaptor also features automated and customizable sales process features, enabling you to customize your processes to fit your needs. You can also automate follow-up emails and texts so your dealership stays top of mind for your customers.
Take Advantage of Teamgate: The CRM for Auto Dealers
Modern auto dealerships compete based on service quality, so managing customer relationships is mission-critical. Automobile CRM software enables you to deliver richer client experiences and streamline your processes.
Teamgate offers an extensive customer relationship management solution with an easy-to-use, intuitive interface and a powerful feature set. The platform allows you to organize customer data, access deep insights, and track customer interactions.
See what Teamgate can do for your auto dealership by signing up for a 14-day free trial today!
FAQs: CRM For Auto Dealers
Q: What is a CRM for auto dealers?
A: A CRM (Customer Relationship Management) for auto dealers is a software system designed to help dealerships manage customer relationships, generate and nurture leads, and streamline various processes. These platforms centralize leads from multiple sources like website forms and online ads, enabling dealers to conduct omnichannel marketing campaigns and deliver a personalized buying experience to each lead.
Q: How can CRM software help auto dealerships?
A: CRM software helps auto dealerships by automating several tasks related to customer relationship management and lead generation. For example, when a customer contacts a dealership for a service, a CRM can create a ticket for this request, notify the relevant teams, and keep a record of the complaint. CRM software also helps track sales, create marketing campaigns, and communicate efficiently with customers. Without a CRM, many of these tasks would need to be performed manually, potentially affecting customer experience.
Q: What are some key features to look for in a CRM for auto dealers?
A: Key features to look for in a CRM for auto dealers include lead and contact management, analytics and reporting, sales and marketing automation, task management, and communication tools. The CRM should also be configurable to fit a dealership's needs, be able to integrate with other third-party apps and services, be easy to use, and offer robust customer support.
Q: Can you name some of the best CRM platforms for auto dealers in 2023?
A: Some of the top CRM platforms for auto dealers in 2023 include Teamgate, DealerSocket, Dominion Dealer Solutions, ProMax, Selly Automotive, VinSolutions, Datacar CRM, and AutoRaptor. Each of these platforms offers a unique set of features and tools, tailored to support various aspects of dealership operations.
Q: How does Teamgate benefit auto dealerships?
A: Teamgate is a comprehensive CRM platform ideal for dealerships of all sizes. It offers features like lead management, sales dashboard, native call management, contact management, and comprehensive reporting to streamline and enhance a dealership's processes. It also provides easy access to historical sales data and aids in sales forecasting. The Teamgate mobile app allows capturing leads and contacts on the go.