In this article, you'll get a comprehensive guide to 100 powerful inbound marketing tools that can skyrocket your business growth. We'll explore a variety of tools to automate, optimize, and enhance every facet of your inbound marketing strategy, ultimately leading to more leads and prospects.
Key Takeaways:
Learn how to streamline your marketing efforts using a multitude of automation tools.
Discover the importance of analytics and the top tools to get the most detailed insights into your marketing performance.
Uncover the potential of blogging and SEO tools in increasing your online visibility.
Understand how design and visual resources can play a pivotal role in your inbound marketing strategy.
Get introduced to the best tools for managing leads, social media, and streaming.
Nothing makes a marketer happier than seeing their efforts and hard work pay off. And there's little we wouldn't be prepared to do to see those leads trickling in.
We'll write eBooks, spend weeks chasing influencers for three-line quotes and comb through pages and pages of data to string together sleek-looking infographics to get the prospects to notice us. Because every lead counts.
So let's face it, if there was a way for us to amplify our inbound marketing efforts and raise the lead gen game, we'd snatch that opportunity with no questions asked.
And as the luck has it, we've gathered one hundred powerful tools that will help you automate, optimize and enhance your inbound marketing strategy and win more business.
Make yourself happy, dig in.
Research tools
Buzzsumo is a powerful tool for content marketing and is particularly helpful with finding trending content by any topic. It saves a lot of time that you would usually spend on browsing and googling popular topics. Buzzsumo will also show you many convenient statistics, like how many people are talking about a specific subject.
Keyword Planner is a completely free tool created by Google that researches the best keywords for your ads, video ads, etc. With this tool, you can build a completely new campaign or improve an existing one. It is an effective tool for both experienced and completely new advertisers.
Looking for a new Entry
This used to be Klout.
Do you have a CRM that keeps you organised?
The most user-friendly CRM on the market. 14-day free trial.
Start Free Trial
Painless setup, no credit card required
Mention makes sure you keep track of all the real-time social media mentions and always stay in the know of what people are saying about you online. It also lets you follow and analyze your competitors and similar businesses. Mention also has some awesome features like Custom Insights and Find Influencers.
The TrustRadius marketing TrustMap is a two-dimensional chart that compares marketing products based on end-user satisfaction ratings and research frequency by prospective buyers. You can use the tool to compare different marketing tools and read authentic reviews from real users.
SurveyMonkey is one of the best online survey tools used by millions. With this tool, you will gather useful information and insight about your target audience and clients by creating original surveys. Choose from more than 15 different question types, branding options and much more.
AYTM is another survey tool that provides professional market research. The main key components and features include the survey platform that lets you host, program and analyze your surveys, a proprietary panel with an access to 25 MM all over the world and the research services.
Quora is a well known question-answer type of website that makes any research much easier. Here, questions and topics can be organized into boards that can be followed – this will help you keep up with your competitors and news in your market. With Quora, you can also follow relevant questions and discover many other ways to do research.
Analytics tools
Google Analytics is a very popular and effective analytics tool provided to you by Google. When integrated with Google AdWords, it becomes an even more powerful tool that lets you analyze and track your website and conversions. The main analytics data is displayed on the main page of Google Analytics, but you can also find and use such features as Advanced Segments, Location Demographics and much more.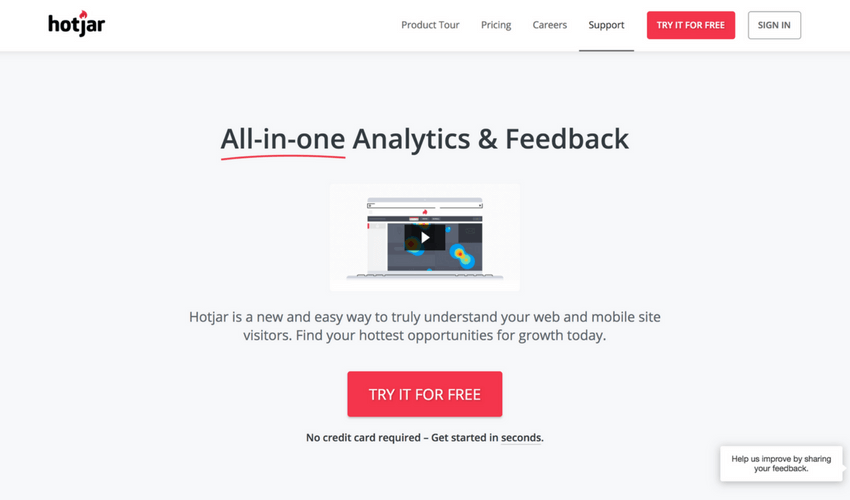 Hotjar is an amazing tool for analyzing the online behavior of your users by studying heatmaps, visitor recordings, feedback polls and conversion funnels. This tool combines two most important things – feedback and analysis to make the analytics as accurate as possible.
SumoMe is an extremely user-friendly WordPress plugin that can serve as an efficient analytics tool. The main goal of this tool is to help you grow your website traffic and email list. It offers many free tools for you to choose from, so by using them, you can analyze your content, users, visitors and much more.
Adobe Analytics is a part of Adobe Marketing Cloud (AMC) that offers many online marketing tools. With Adobe Analytics, you can assemble, coordinate, organize and analyze your customer's activity. Real-time analytics, segmentation, and predictive marketing through all Adobe channels.
Want more traffic? Ubersuggest shows you how to win the game of SEO. Just type in a domain or a keyword to get started.
Crazy Egg is another brilliant online application to analyze user activity on your website. This tool suggests useful features like heat maps, scroll maps, overlay reports, and confetti, which lets you determine all the clicks that have been made on your website and analyze them by search term and referral sources.
By choosing the ethical alternative, Matomo, you won't make privacy sacrifices or compromise your site. You can even use Matomo without needing to ask for consent
Mixpanel is a very advanced analytics tool that gives you the opportunity to analyze every action your user takes – not just the clicks. With this tool, you can also see when someone uploads a picture, shares a post, etc. Here you can also experiment with the A/B testing to reach the best results.
SimilarWeb is a universal tool for any insights – both web and app. It works with a wide range of sources to receive as accurate data as possible and convert it into useful insights. SimilarWeb offers website analytics, industry analytics, and app analysis. Besides all this, you can also see traffic and engagement data and much more.
[optin-monster-shortcode id="cvfuxuhchvywm9wl2q6w"]
Quick Sprout suggests a direct connection with Google Analytics to offer you a reliable and accurate information and data. This tool will help you understand and use Google Analytics to the maximum – you will be informed about important activity on your website every day and receive personalized website alerts.
Blogging tools
Triberr is both a tool and a community to help you grow the traffic on your blog. It is segmented into categories called "Tribes" that are differentiated by topics. You can follow the tribe you are interested in to see all the newly published posts, interact and engage with other bloggers.
WordPress is a very popular and widely used tool for website and blog creation that has a wide range of templates and plugins for you to choose from and use for your own benefit. It is a very powerful tool, yet very user-friendly and easy to use. It is so huge that it supports more than 60 million websites.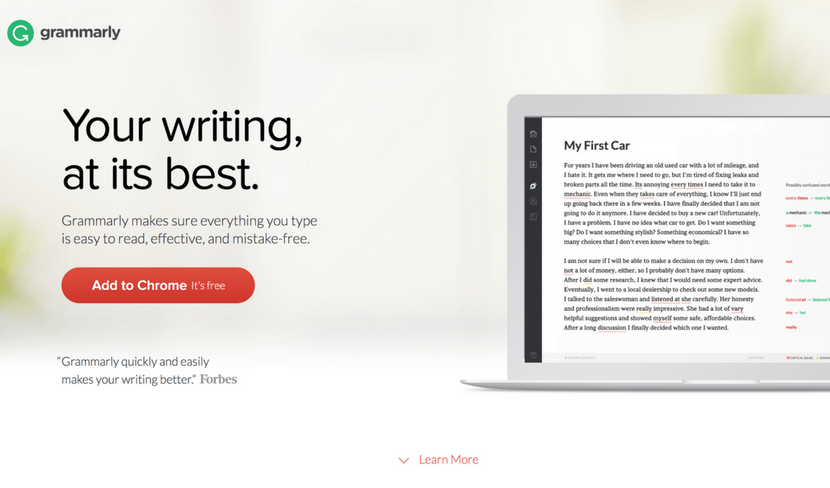 Grammarly is a proofreading tool that can also be used as a plagiarism-detection application. Besides creating content and driving traffic to your website, it is also crucial to make sure that your content is free of grammar mistakes, so this super simple tool will help you out with that.
Yoast is a SEO tool for WordPress users. Its main cause is to help people with their website optimization through many different courses, e-books, software and plugins like Yost SEO, Video SEO,  Local SEO, News SEO, Local SEO, Yoast WooCommerce SEO and other analytics, metric, comments, and functionality plugins.
Readability Test Tool is an application to check the readability of a specific article, post or the entire website. You can check it by entering the URL of your content and clicking the button "Calculate Readability". The tool is useful not only for bloggers but also for SEO experts, copywriters, and other specialists.
Portent Title Maker is a great tool when you need to come up with an original idea for your article title name. Simply enter your subject in the field and choose one of the generated titles. To get the best results from this tool, don't capitalize keywords and use singular version of your keyword.
Hubspot Blog Topic Generator helps you create great titles for your post. When you visit the website, you will have to enter three nouns that describe what you're writing about (or what the article is about) and press the button below. You will then be given a few popular blog topic ideas that you can use for your piece.
Toggl is a perfect tool for busy bloggers who like to keep on track with their time management. With this tool, you can see how much time you spend on each task and discover what is most time-consuming. Here you can also track how many time you spend on different projects, clients and analyze reports.
Hemingway App is an advanced text editing tool that is also available as a desktop app. It highlights your sentences in different colors that indicate sentences that are too hard to read, phrases that have simpler alternatives, etc. In the online mode, you can also edit your document and the desktop version offers such cool features as publishing directly to WordPress and much more.
Design tools
Canva is a widely known and used tool among social media and other digital marketers. It offers many beautiful templates that can be used to create social media posts, covers, cards, PDF's, infographics and much more. It lets you save the created files as images, PDF's or PDF's ready for printing.
Freebiesbug is a website where designers can find a number of free graphic resources for their designs. It is full of app designs, icons, mockups, website templates, illustrations, fonts, sketches and much more. You can browse by the category, use the search field or upload a freebie of your own.  
Adobe Spark is a tool by Adobe Systems that offers three different design apps: Spark Page, Spark Post, and Spark Video. Here you can create social and website graphics like Travel Journals, Quotes, Announcements, Advertisements, Pitches, Animated stories and much more.
Xtensio is a platform every team or business needs to create beautifully crafted online presentations, reports, slides, or any documents. It functions with an easy-to-use drag and drop feature so users can do customization, living up to their brands.
Apart from being user-friendly, it ensures real-time collaboration and privacy of shared documents.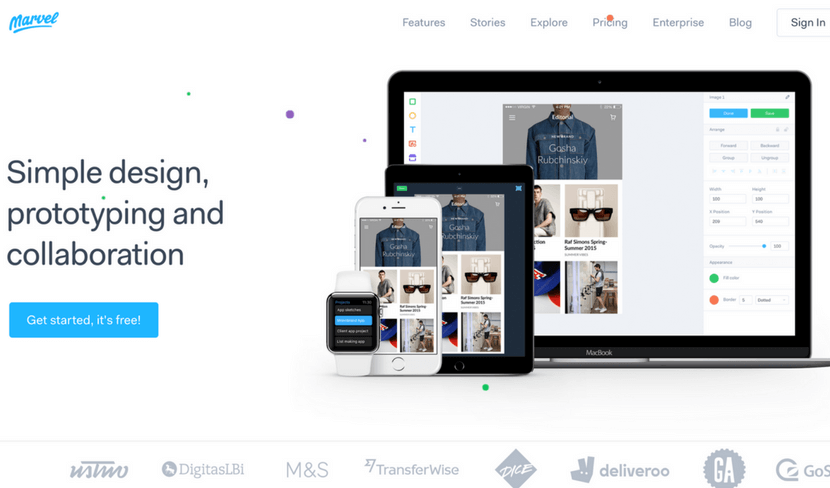 Marvel is a prototype creation tool for apps and websites. You can create straight in Marvel or transport your images from the cloud storage, Sketch, or Photoshop. The tool has a user-friendly editor that lets you link your designs and create prototypes for iPhone, iPad, Apple TV, Apple Watch, Desktop, and Android.
Ceros is a cloud-based tool with a digital canvas that can be accessed by the entire team. Ceros allows you to create amazing, interactive infographics and animated designs. The tool is very convenient for both designers and marketers. After creating a unique design, you are able to see the insights of its performance.
Figma is a collaborative design tool that gives you the ability to work on a design together with your team. Here you can create icons, interface design, responsive layouts and much more. Figma is very easy to use so you won't waste your time trying to understand the tools and it also allows the integration with Sketch app.
Fuse is a design tool for creating apps on Android and iOS. An effective and quick way to create for teams, developers, and designers. With Fuse, adjust animation, UI, layout or anything else you like and test changes in real time. It makes it easy for people that are new to app development and is also very useful for the experienced ones.
Placeit offers more than 2500 mockups and demo videos. It is super quick to use and works as a great substitute for Photoshop when you want to place a screenshot of your website on a screen of a computer or a phone. You can choose between many different devices or simply use the search field.
VSCO is a very popular photo editing app available for both iOS and Android. It lets you edit your photos and images, add many different trendy filters and share it with other users of the app. The app is widely used by photographers and the youth and constantly updated by its developers.
PicMonkey is an online tool for design making and photo editing. It has some paid features, but even without them, the tool is pretty powerful. Besides designing and editing, you can also create beautiful collages, or use the "Touch up" feature that can whiten teeth or remove wrinkles in a photo.
Infogr.com is an application meant for creating stunning, interactive charts and infographics. You are free to choose between more than 35 charts, over 500 different maps and over 20 ready-made templates for infographics. Besides that, you can edit the style, colors and many other things in your design.
Visual resources
Unsplash is a photo stock library that lets you download, edit and use all the photos for free without any copyright. The website is believed to be one of the leading photography websites in the world. Here you can browse new photos, view collections or simply use the search field.
[optin-monster-shortcode id="u0wiahzfsrgu4dsbbxsb"]
Pixabay is an international website that offers more than 870,000 stock photos that are completely free. Here you will also find vectors, illustrations, and videos of high quality. All of the content you will download on this website is completely copyright free, so feel free to edit and distribute it the way you like.
StockSnap.io is full of beautiful stock photos in high quality. It is also copyright free so no contribution to the author is required. When you visit the website, you can see the most popular searches that are displayed as tags under the huge search field. You can also view the trending and recently added photos or add them to your favorites.  
Life Of Pix is another brilliant place to find free stock photos. Some photos are features, so you can browse them straight away when you visit the website or choose to use the search field. If you find it time-consuming to preview photos on a big display, you can simply switch to a different viewing display.
SplitShire is a great resource of visual content: free images, photos, and videos. Besides the search field, you will also discover many convenient categories to choose from: animals, fashion, landscapes, mockups and much more. In free videos section, you can scroll down and view all the amazing video content that you can easily download.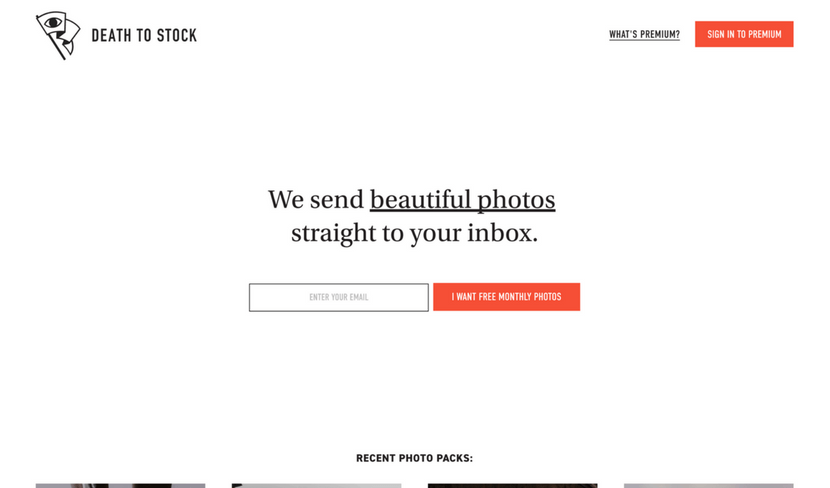 Death To Stock has a lot of content you can use for your creative projects and designs. It has a very convenient feature where you can subscribe to receive a monthly email with beautiful photos. On the website, you can also browse themed photo packs on a specific subject.
PhotoPin is a completely free tool that might come in handy both for designers and bloggers. In PhotoPin you will find millions of photos with Creative Commons licensing. A very neat feature that this tool offers to its users is that when you download a picture, you receive a contribution link at the same time, so there's no need to search for it separately.
Freepik also offers some free stock photos but is mainly focused on free vectors, icons and PSD files. This website is probably one of the most popular free graphic resources among experienced and new designers. You can use the search field, or browse the vectors by popularity or recency.
Flaticon is probably the biggest database full of icons in PSD, EPS, SVG, PNG and BASE 64 formats. Here you will discover more than 310,000 icons that can be customized to a specific color code before downloading. If you are working on a specific project and you need your icons to have the same style, you can find some icon packs as well.
Automation tools
IFTTT is an amazing tool that lets you connect and create chains of applets. Applets are useful features that different apps are able to offer to their clients. For example, using a certain applet, you can set it up to receive an email when an Instagram picture with a chosen hashtag is posted.
Zapier is a great web automation tool for busy people that seamlessly connects one's apps and automates the processes. Apps are linked in seconds and when data is shared, Zapier passes the data to "Zaps" that represent your workflows. This will help you to finish your tasks and processes faster than usual.
Moosend is a powerful email marketing and marketing automation tool. Its features are easy-to-learn and easy-to-use and it promises a minimal learning curve with maximum potential, due to its sophisticated automation, personalization and analytics features.  From designing beautiful email newsletters and landing pages with zero code knowledge to segmenting your email list and making educated decisions through data and analytics, this all-in-one marketing platform gives your business more for less.
Skyvia is a tool that offers a cloud data integration service. It also lets you backup, manage and access your data from all your apps by using only one tool. Cloud data management is processed through SQL so you don't need to bother about native web API's of different cloud sources.
Looking for new tools recommend
This used to be Hooks
CloudHQ synchronizes your apps and your data and lets you integrate your apps with cloud platforms you are using at the moment, including Google apps, like Google Drive and Google Email. The tool offers real-time backup of any data that is in your cloud. It also lets you integrate your dropbox with Evernote, Gmail, Sharepoint, and Basecamp.
Automate.io is a tool that is able to connect all the apps that are located in your cloud. This helps you to automate such processes as marketing, business, and sales. Automated processes include sending automated emails, automate follow-ups and much more.
Looking for new tools to recomend
This used to be CloudWork.  
Integromat is a powerful workflow optimization and automation tool. With it, you will be able to connect different devices, apps, and services. The main advantage of this tool is that it can integrate and automate almost any app that' been created. It can be used in various fields: social media, online stores, customer support and project management.
Management tools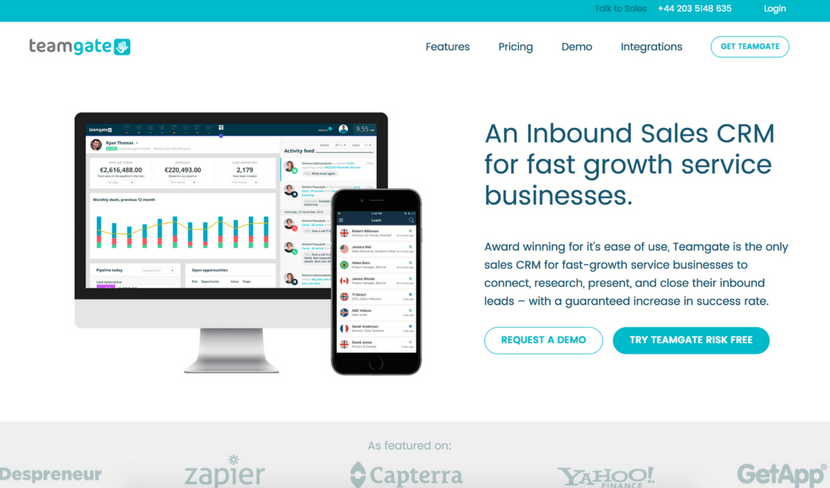 Teamgate is a powerful CRM tool that can be developed especially for you and your team – no matter whether you work alone, run a small business or manage a big team. It helps you curate and plan daily tasks, schedule your calls and appointments, create individual goals and view how close you have gotten to your goal. It also has a neat feature where you can view insights of your team's sales score and an evaluation on how much better or worse you are doing compared to last year, month or week.
Bitrix24 is a widely used management tool because of its many features and other tools like CRM, task and project management, document and time management, calendars, chats and much more. It also offers a telephony service so you can call anywhere – domestically or internationally.
Coppers CRM is a user-friendly, simplistic management tool that is focused on teams and interactions. It makes it really easy to keep on track with what your team is working on and keep an eye on the sales.
Teamleader is another management tool focused on small businesses that also has the invoicing feature. It helps teams and companies track and control their sales, manage contacts, tasks, meeting and project planning. With this tool, you can build sales pipelines and follow up with your leads.
Salesflare is a CRM that stands out due its focus on technological development. The tool is integratable with Office 365, Gmail, iCloud, Zapier and Exchange. It offers useful insights on sales and assists you with follow-up opportunities. The Salesflare takes care of all the data input so you can focus all your attention on sales and profits.
Act! is a CRM and a brilliant management tool for managing customer relationships and contacts. This CRM is mainly meant for individuals, sales teams, and small businesses. Here you can choose between three different plans to suit your needs: Act! Pro, Act! Premium and Act! Essentials.
The name of this CRM tool speaks for itself – it can offer you many useful insights on your sales, team workflow and many other aspects. The tool is also packed with an array of great features, such as contact and lead management, task, events, reports, email integrations and so much more.
Lead collection tools
AeroLeads is one of the most powerful prospecting software on the web used by over 5000 businesses. It finds all the details of a business or person that includes Email, Name, Phone Number and social profiles. It also provides you with the service of giving you the email list or email database as per your requirements.
OptinMonster is an amazing and very popular lead generation tool, especially for WordPress. It helps you convert visitors into subscribers by creating convenient and smart signup forms. It works with MailChimp, AWeber, Infusionsoft, GetResponse, Constant Contact and many eCommerce platforms
Leadfeeder is a simple lead collection tool that helps to turn your visitors into subscribers. It is mainly focused on the B2B market and works by connecting to your Google Analytics account where it collects useful data about your website visitors. Offers integration with MailChimp.
Leadpages will generate leads through social media, emails, web and text messaging. Here you can choose from a selection of high quality and performance templates and then customize them to your own taste. The customizable templates are mobile friendly and the tool itself can integrate with MailChimp, Salesforce, Infusionsoft and many other tools.
Leadformly is a website that lets you create interactive lead generation forms and use them to capture more leads. After you choose a template you like, you can redesign it as you wish, then simply add the embed code to your website and wait for the results. It integrates with Salesforce, Sugar CRM, Infusionsoft, MailChimp, HubSpot, Marketo etc.
Lead Forensics is a tool that will turn anonymous traffic into leads. With this tool, you can identify the leads in real-time and reveal such information as contacts, business name, financial data, demographics, etc. It also lets you analyze each case from the first click to sale.
LinkedIn has a special tool called Sales Navigator that is packed with features focused on social selling. It gives you custom lead recommendations, imports Salesforce data, constantly informs you with real-time sales updates and lets you measure your social selling stats and efforts. On their website, you will also find success stories and useful resources.
Social media tools
Buffer is a social media scheduling tool for Twitter, Facebook, Instagram, Pinterest, LinkedIn, and Google+. It will help you to save loads of your precious time and focus on your strategy.  You can easily schedule by using the website, installing the browser extension or on the go – with apps for iOS and Android.
Quuu Promote enables you to share and promote your generated content via Facebook, LinkedIn, Twitter and Google+. The entire system consists of three steps: first, you create a post using URL address, second, you select the most relatable topic and lastly, monitor and track your promotions via Quuu.
Hootsuite is social media management tool that works with more than 35 popular social networks. It has many different tools that include Publisher, Engagement, Analytics, Insights, Campaigns, Platform, Amplify, and Ads. These tools are best for fields, such as social selling, marketing, customer service and Employee Advocacy.
MeetEdgar is a tool for social media planning and scheduling. One of the cool features of MeetEdgar is that it does not throw away your published posts, but keeps them in a safe library so you can analyze, edit and repost them later. Here you can also place your scheduled posts in different categories.
Looking for a new tool
This Used to be Mentia
Tagboard is a social search platform based on hashtags. It searches through social media content and finds relevant content in seconds. The tag search is processed through such platforms as Facebook, Twitter, Instagram, and Flickr. A very convenient feature is that you can automatically promote any posts you like.
SharedCount is a very simple service and a tool for social media analytics. Its main feature is to quickly track URL shares and likes across the internet. After you enter the URL of your post, you will see how many shares, likes and comments it has collected on Facebook and how many times it was shared on Google+, Twitter, Diggs, LinkedIn, Pinterest, StumbleUpon, and Delicious.
Agora Pulse is an amazing yet simple tool for social media management. It brings all the most popular social media networks to one place where you can easily track and manage the engagement. The tool offers many useful stats and insights and has a feature that allows you to run contests and promotions.
GET READY TO OWN YOUR WORKDAY
with the most user-friendly CRM on the market.
Start Free 14-Day Trial
Painless setup, no credit card required
EveryPost is a simplified social media publishing platform and an app for both iOSand Android. With this great tool, you can manage your content, edit your posts, collaborate, schedule, publish and study the social media analytics to come up with even greater solutions for your business.
Sprout Social is a powerful social media management tool. It has many advantages to offer: Smart Inbox, Monitoring, Social CRM, Publishing, Analytics, Collaboration, Account Structure and Mobile – all these features in one simple tool. Sprout Social works perfectly for social customer service and social media marketing as well.
Bitly is a widely used and well-known URL shortener. Nothing is uglier than a long URL on social media or your website. Besides its main features, Bitly lets you optimize and share the links via Bitly, API or other partner integrations. With this tool, it's also possible to track link analytics and stats.
Tailwind is a free scheduling platform for Pinterest and Instagram. With this tool, you will be able to discover new interesting content, schedule your social media posts in advance, curate conversations and study analytics to reach better results in the future. You can use the free version or choose from plans meant for small businesses and large organizations.
With Tweepi, you can Tweet faster and more efficiently. This tool was specially developed for one social media channel only with a greater focus on it and its capabilities. In the year of 2017, it already has more than 1,500,000 users. With this tool, you can follow relevant users, follow back, schedule tweets and much more.
SEO tools
Übersuggest is a tool that generates loads of keyword ideas for you. Simply enter one of the main keywords that describe your business and receive hundreds of similar suggestions. Besides that, you can also choose other options, such as browsing in the web, images, shopping, YouTube, and News section.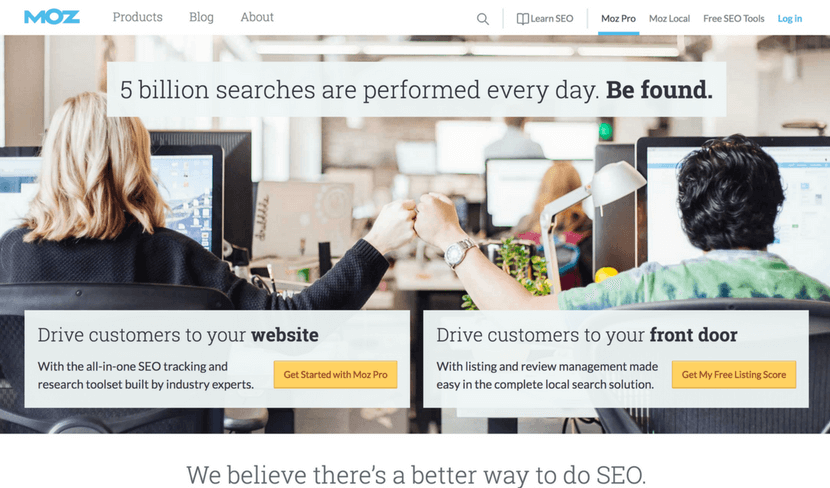 Moz is a great SEO tool and a software that performs 5 billion searches each day. It has two main services: one is called "Moz Local" and focuses on local searches by using your location information. The other service is called "Keyword Explorer" that lets you find the best keywords and offers many intuitive suggestions.
SEMrush is another tool to help you find more keywords that are relevant to your business. Besides this useful tool, SEMrush can also offer SEO audit, position tracking, semantic core collection, backlink audit and much more. Next to SEO, the company also works with paid traffic, social media, content management and PR.
Ahrefs is a tracking tool for mentions across the internet, keywords, and backlinks. By using Ahrefs, you also gain access to other tools, such as position, size and content explorers, position tracker, crawl report and alerts that make sure you never miss a new mention.
Backlinko is a place where you can find many marketing and SEO tips, tricks, guides, ebooks and blog posts about it. In general, the website helps you master the link building process, lift up the user experience, optimize and promote your content. You can also sign up for free updates and the newsletter to make sure you don't miss a thing.
Wordtracker is a tool with the main focus on longtail keyword search. While researching the keywords, you can choose a specific time period and region so that the result would be more relevant. This tool also lists some advantages why it's better than Google Keyword Planner: not grouped keywords, results are not banded, SERP comparison and much more.
Keyword Tool is a substitute and an alternative for the Google Keyword Planner. It finds the most searchable keywords that your potential customers type into Google Search Box. Every search term is estimated to receive at least 750 keyword suggestions, it is absolutely free and you can freely use it without any registration.
Looking for new Adition
Used to be Keyword Eye
Streaming tools
Crowdcast is a simple and dynamic streaming tool that lets people share content via webinars, live courses, summits and Q&As. It's very quick and easy to get started because you don't have to download any files, the setup is very easy and there's only one URL.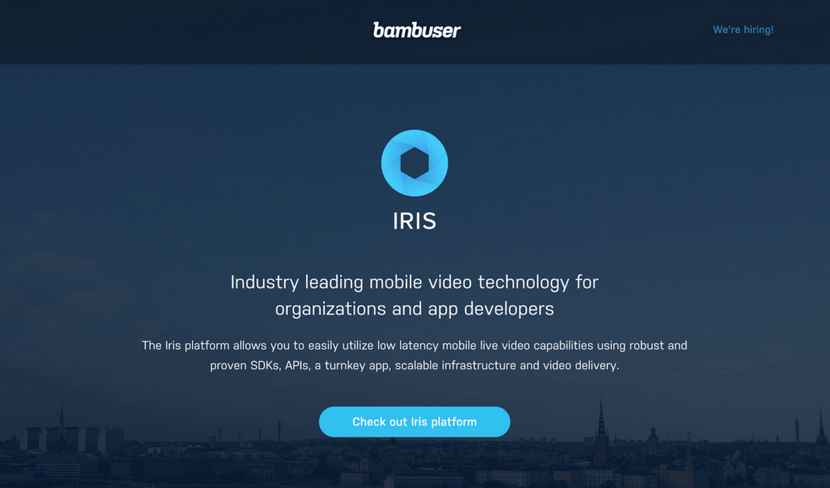 Bambuser is an interactive platform for live streaming. It benefits from another tool called "Iris" that focuses on simple mobile live videos. This tool can help you to create professional live videos, organize and manage them via Content Dashboard, and publish them through Player SDKs.
Google Hangouts is a very popular streaming tool provided by Google. Through this tool, you can message your team or a single person, make a video or an audio call. In one chat, you can connect up to 100 people which is a pretty large number. To make your interaction even more fun and accurate, you are free to use emojis, maps, photos, stickers, and GIFs.
Tinychat is a simplistic live video chat platform that can also be used as an app for iOS and Android. It is called a video chat, but it does not obligate you to participate in a conversation, you can just observe and watch. To start a chat room, simply click on the bright blue button that says "Instant Room".
Livestream is a powerful and a highly developed live streaming tool. It has a high-tech live video solution with tracking and analytics so you can track the engagement, end to end hardware and software, 24/7 support and many different product solutions, developed for distinct needs.
Twitch is a streaming website with more than 9.7 million daily users and mainly focused on video game streaming. It has a few listings that show the most recent top live channels, Top PS4 Channels and Top Xbox One Channels. To start streaming, you can try a free trial to test out the features. 
YouNow is a broadcasting tool where people can stream live. On the left corner of the website, you will always find trending topics and in the middle section – trending broadcast that you can view freely. It is completely free and available both for iOS and Android as an app.
Youtube has a live streaming section called "Live" where you can stream videos of your own and watch other live streams of people gaming, playing music, racing, etc. You can choose between two different streaming options: "Stream now" that lets you send content and stops it at the right time and "Events" that gives you more over the content.
Final Thoughts
Growing a business is a day-to-day mission and we should take all the help we can take. Leveraging the right inbound marketing tools is crucial for the success and growth of your business. These tools not only help streamline processes but also optimize and enhance the effectiveness of your marketing strategy.
Make the most of the insights you've gained from these 100 powerful inbound marketing tools and watch your business soar to new heights.
Now that you're armed with this knowledge, take the next step to further boost your marketing efforts – try Teamgate CRM.
It's an innovative solution designed to perfectly align with your inbound marketing strategies, ensuring you harness the full potential of every lead and customer interaction.