At Teamgate, we're big fans of building a repeatable sales process that guides and supports sales teams through the entire sales cycle from the first touchpoint with a prospect to the close of a deal.
According to Marketo, when sales and marketing teams are in sync, companies become 67% better at closing deals, but only 30% of CMOs have a clear process or program to make marketing and sales alignment a priority and a mere 44% of companies are using any kind of lead scoring system.
To reach the kind of synchronization state that drives higher sales, a company needs to follow a clear-cut process with explicitly defined rules and criteria. A Harvard Business Review study found that there is an 18% difference in revenue growth between companies that define a formal sales process and companies that don't. So it seems that creating a reliable, scalable sales process is of utmost importance to all companies that have their eyes set on growth.
If you're wondering how to pull this tricky task off, we've gathered the most pertinent advice that will guide you the right way.
Do you have a CRM that keeps you organised?
The most user-friendly CRM on the market. 14-day free trial.
Start Free Trial
Painless setup, no credit card required
Understand and document your current sales cycle
The average sales cycle length is the amount of time it takes to close a deal, measuring from the first touchpoint with a prospect to the conversion point, averaged across all won deals.
An analysis of pipelines of hundreds of companies has revealed that the average length from Lead to Opportunity (or from MQL to SQL) is 84 days and the average length from Opportunity to Close (or from SQL to Deal) is 18 days. That puts the average sales cycle length at 102 days. This, of course, varies significantly based on the source of the opportunity, the quality of leads, the complexity of the sale, and so on.
However, before anything else, it must be said that there is no single right sales cycle. Different markets, products, and internal team dynamics mean that the only way to develop a world-class sales process is to know your typical customer sales cycle like the back of your hand.
The most important step to building a killer sales process is to audit your baseline and document every step that a lead goes through until it converts. If you've never done this before, you'll be surprised to see how much chaos and confusion can cloud what seems like a straightforward process. Only by knowing what needs to be changed or improved can you confidently begin implementing new tactics and strategies.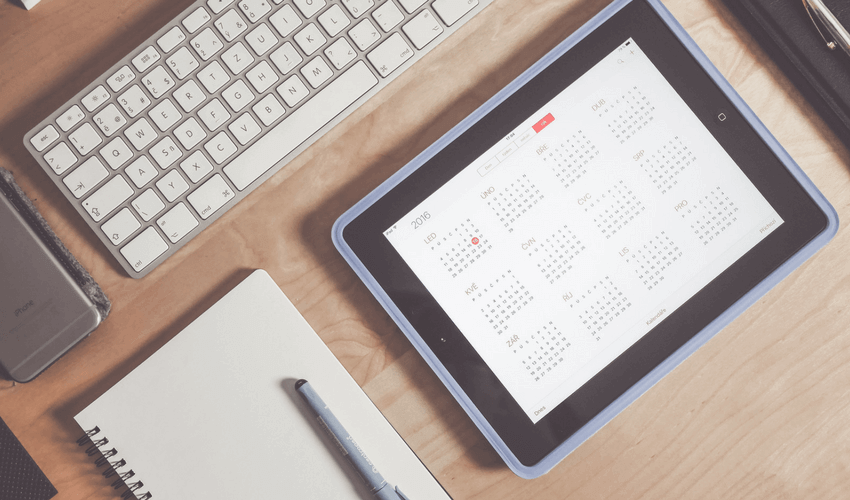 The average sales cycle length is 102 days. Image Source: Pexels
To trace back the steps your sales reps took with each lead, accurately answer these questions and you'll quickly see a clear picture of the current state of your sales cycle.
How did you learn about new leads? When were you notified? How were they distributed?

What was the initial form of contact – a phone call, an email, a face-to-face contact? How long after they came in?

What questions were asked and how were they answered during the first conversation?

When were you able to make contact with the new leads (1st call or email, 1st follow-up, etc.)?

How did the sales rep handle and coordinate the follow-up? Did they use a reminder tool, made a note in your CRM system or relied on their memory?

What sales material did the lead receive? At what stage in the cycle was it given to the lead?

What was the main reason for your closed-lost leads?

Roughly, how long did it take for the lead to move from one stage to another?
Knowing where you stand before you make any changes to your sales process will help you measure their impact and ensure the right decisions are made along the way.
The goal of every sales team is to shorten their sales cycle. The shorter a company's sales cycle, the faster they make money, simple as that. That's why sales cycle length is one of the most important metrics measuring the efficiency and effectiveness of a company's sales team. Poring over the sales cycle statistics to find points in which leads slow down or speed through in the hopes of discovering ways to optimize the process, is a number one priority for sales operations professionals. Here are three ways how to measure the length of your company's sales cycle:
When a lead is created.

The most obvious way to recognize the beginning of a sales cycle is to track when a lead is created in your CRM. Then, to know the length of your sales cycle, you simply look at when that deal is closed. It's worth noting, though, that lead duplication issues and the variability of when leads are created and when they're worked can skew your analysis.  

When an opportunity is created.

Some sales teams choose to consider the time when a lead is converted into an opportunity as the beginning of the sales cycle to have more contextual information on their deals in the CRM and reduce the time it takes to clean the leads. Because the changing of the lead status is a manual task carried out by a sales rep, there is often a risk of it not being created along consistent criteria. Enforcing strict rules for the process when a lead should be converted to an opportunity is crucial to ensure you have an accurate view of your pipeline.

When the sales conversation starts.

Measuring the actual conversation length of closed-won deals is probably the most accurate gauge of how long it takes for a lead to convert. However, this method also carries the human error risk, as it relies on a sales rep to update the CRM for every email they send or every prospect they target.
The solution that many sales teams are finding is to automate the entire process. And it can be done by choosing a modern sales software like Teamgate that can analyze conversation length, automate CRM data entry, and create reports by rep, deal, team or company to reduce the burden of sales cycle analysis.
The typical stages of a sales pipeline and how to create one
Think about sales stages as milestones in your sales process, signaling how far from the typical conversion point your leads are. Although the exact stages and their names vary from company to company, the basic idea is the same – leads are either in an open stage or in a closed stage, such as won or lost.
As an example, here are the default stages in Teamgate. You can customize them as you like.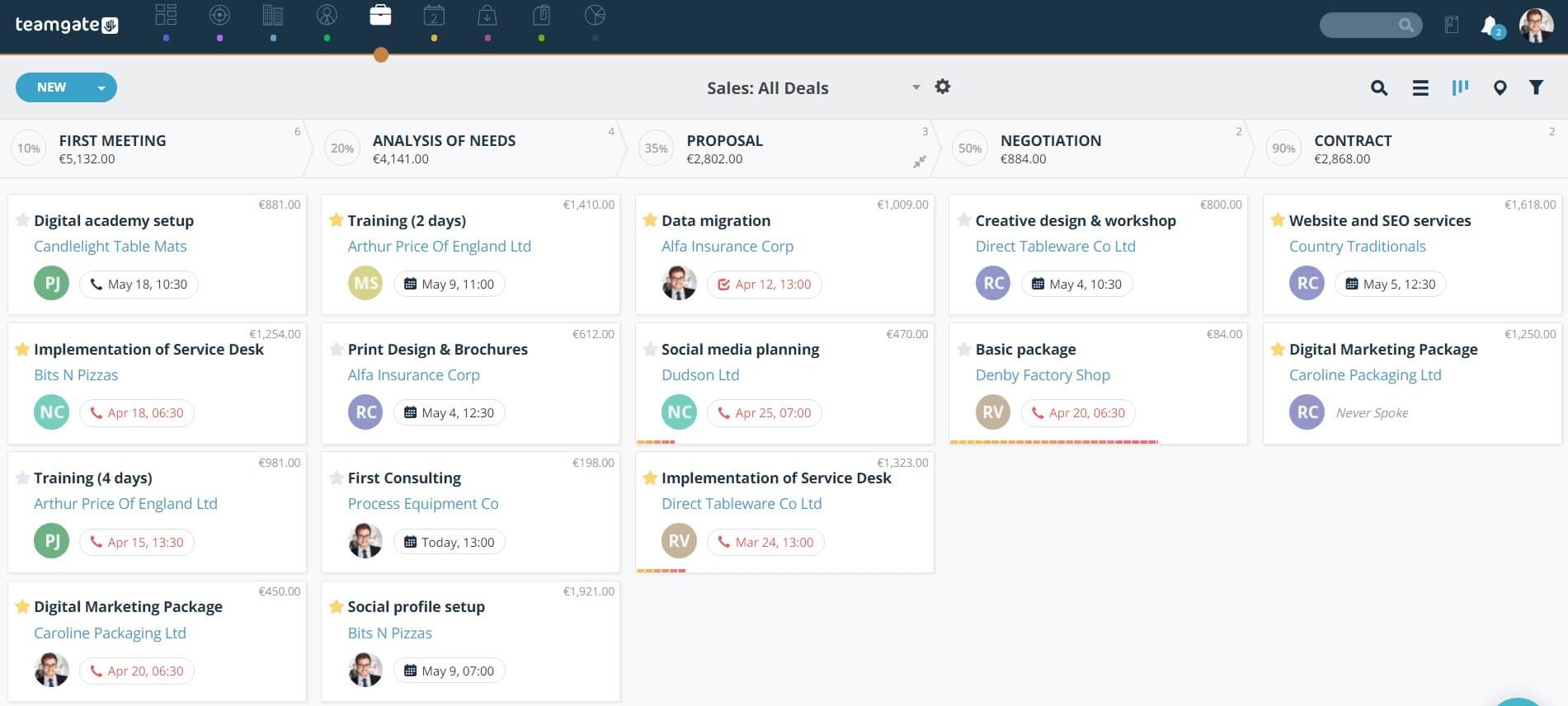 For the sake of this article, let's focus on the typical stages of a sales pipeline:
Lead generation.

At this stage, a company focuses on finding and attracting new prospects through marketing campaigns, aiming to capture their contact information (inquiries). The most effective B2B marketing methods used to generate leads include email, events, and content.

Lead nurturing.

Once a lead expresses an interest in a product or service, they're usually entered into a lead nurturing campaign to establish the pain points and continue to foster the relationship. Marketing automation is the go-to tactic to further qualify leads and send the best ones to sales. According to Forrester Research, companies that excel at lead nurturing generate 50% more sales-ready leads at 33% lower cost.

Marketing Qualified Lead (MQL).

Based on your definition of a marketing qualified lead, your CRM can use lead scoring to track meaningful activities and behaviors to determine which leads are more likely to become customers. This is a vital stage in your sales process that will help you ensure your sales team is fed high-quality, sales-ready leads.

Sales Accepted Lead (SAL).

Once sales receive a lead from marketing, they need to check if it matches the key targeting criteria and either accept it or decline it. Typically, SALs are identified as having a verified propensity to buy.

Sales Qualified Lead (SQL).

SQLs represent a quantifiable business opportunity with a clarified need, timeline and budget. They are close to making the final purchase decision and can either move to closed won or closed lost opportunities.  

Closed deal.

At this stage, around

27%

of opportunities convert to deals, according to Capterra. Assisting with implementation is one of the tactics that sales reps use to improve and speed up the conversion process.
Post sale.

A sale is not the end of the pipeline, as the customer relationship continues to develop and both sales and marketing teams should work to further engage buyers and add value through loyalty programs, upsells and cross-sells.
If you're just creating your sales pipeline, there are a few basic rules you can follow to build clearly defined sales stages and a smooth process:
Remove ambiguity.

Make sure each stage of your sales cycle is self-explanatory and immediately clear. The best way to examine the current status of your sales cycle is to test it on a new hire. If a new sales rep can't see a difference between Stage1 and Stage2, it means you have a problem.

Define stage criteria.

One of the factors that will determine whether your sales stages are easy to understand is knowing the 'trigger' that moves a lead from one stage to another. To maintain consistency and clarity in your pipeline, ensure that every sales rep knows why and when to change the status of a lead.

Take on the buyer perspective.

The new school of sales teaches that the sales process should reflect how a customer buys, not how a sales rep sells. This means your sales stages should be part of a buyer's journey, not the seller's steps. Map out your buyer journey to identify the key stages and replace seller-centered milestones, such as "Demo Completed" and "Trial" to buyer-driven stages, such as "Evaluating solutions" and "Technical Fit Assessment".

Ditch the linear way of thinking.

The order in which milestones are achieved is becoming less and less important, as sales reps start recognizing that different customers make decisions differently. Rather than sticking to a rigid, linear process, allow your buyers to progress through the funnel as they like, even if that means they sign up for a trial before watching a demo. Focus on the list of activities that need to happen to make the sale possible and let the buyer follow their own path.   

Monitor and iterate.

Since every company is unique and follows a different sales process, there is no single optimization strategy that can kick your business into higher gear. However, you should make it a priority to track the time leads spend in each stage of your sales cycle to quickly identify optimization opportunities. If you notice that leads tend to linger at one stage or even drop out altogether, you will be able to put some measures in place and prevent deal loss.
The benefits of a daily routine for your sales team
Poor time management will always result in disappointing sales performance. Sales reps are often masters of multitasking, but even the best can benefit from a daily routine that helps to set the priorities straight and ensure the key tasks are accomplished on time. To help your team drive the sales performance through the roof, introduce some practical habits that will become part of their daily schedules.
Review and plan before you wrap up for the day.

Take 10-15 minutes at the end of each day to review your pipeline and prioritize the next day's to-do list. Check your calendar events, meeting notes and emails to ensure no important information falls through the cracks endangering your ability to close.


Here's an example of Teamgate's agenda that comes in handy for busy salespeople. 
Start your day strong.

While you're sipping on your first cup of coffee, review your to-do list from the day before and scan through the inbox to see if there are any high-priority issues that need to be addressed immediately. The key here is not to get distracted by the gazillion of low-importance emails and requests. Sticking to a plan will help you stay on track no matter how many tasks you have to juggle.

 
Group your tasks.

The best way to tackle the most important tasks during your most productive time of day is by organizing your tasks into groups. Instead of handling each task independently, set time aside for a set of tasks that require a similar level of energy and type of approach to reduce the time wasted on readjusting and refocusing your attention. By carving out a certain amount of time for each group of tasks and scheduling them into your calendar, you will be able to better manage your time and keep your mind focused.

 
Automate where possible.

With so many useful tools at their fingertips, salespeople are learning to free up time in their schedules and focus on doing what they do best – engaging with customers and closing deals. Leverage technologies available to you to make sure your time is spent on activities that have the best ROI.   



Conclusion
The biggest mistake you can make is to treat your sales process as a one-and-done project. Making a habit of tracking your sales performance metrics on a daily basis and reevaluating the sales process every five to six months is a surefire way to ensure your sales process map is regularly updated and remains a work in progress, as it should.
Instead of wasting your time on manual data entry, cold leads and tasks that detract your attention from the most important task at hand – selling, improve and modernize your sales process with the help of a smart CRM that will keep you at your game.