Smart lead qualification and scoring within your CRM allows your sales team to spend more of their valuable time focused on leads which are more likely to convert to deals.
What is a qualified lead?
A qualified lead – or marketing qualified lead – is a prospect whom you have identified and who has shown or registered an active interest in buying into your product or service. This lead is required to pass a set of qualification criteria to enable them to progress through your sales pipeline.
What is lead scoring?
Sales people and sales teams use their CRM in order to analyse the value which each lead represents to a company, ranking them against a pre-established set of values. The score which they receive determines their value and are ranked and arranged in order of importance and priority accordingly.
With the goal of spending less time on leads which possess a lower likelihood of converting to deals, lead scoring offers you prime analysis facilities to focus on the leads most important to your pipeline.
What are the lead scoring and qualification processes?
Lead qualification and lead scoring go hand in hand, but what happens before a lead becomes qualified?
So, by means of landing pages on your website, personal networking, seminars and trade-shows – or any of multiple other sources – you've managed to acquire a lead's contact details. But, how do you qualify that lead, and is it even worth you time?
Based on previous experience, and the criteria you've set for yourself in your CRM, you can score your lead and prioritise the likelihood of that lead making a purchase. In short, the Teamgate sales CRM will smartly direct your efforts on how to qualify lead via analytical lead scoring. Plus, using source and industry tracking you can move prospects through the sales pipeline as they qualify using the simple drag and drop feature. Status of individuals and companies can be changed easily via another simple drop-down menu.

The Teamgate CRM is uniquely designed to make lead qualification and lead scoring a simplified and intuitive process. As all of your lead contacts, communications history and information are stored within your CRM and offer you the valuable possibility of evaluating and scoring the possibilities for each lead to qualify.
Lead scoring is a fully automated process controlled directly within the Teamgate CRM and managed according to your priority scoring parameters. Differing scores may be allocated to different categories of targeted leads. When the lead is transferred to Teamgate the CRM calculates the score, saving you valuable time and enabling you to react accordingly.
The information taken into account during the lead scoring process ideally doesn't need to be too detailed in the initial stages of lead prioritisation. The criteria used for lead scoring can be added to as you grow and gather new avenues of information. It's up to you to decide which criteria you will use to prioritise your leads more effectively – past examples of qualified leads will help you greatly with this process.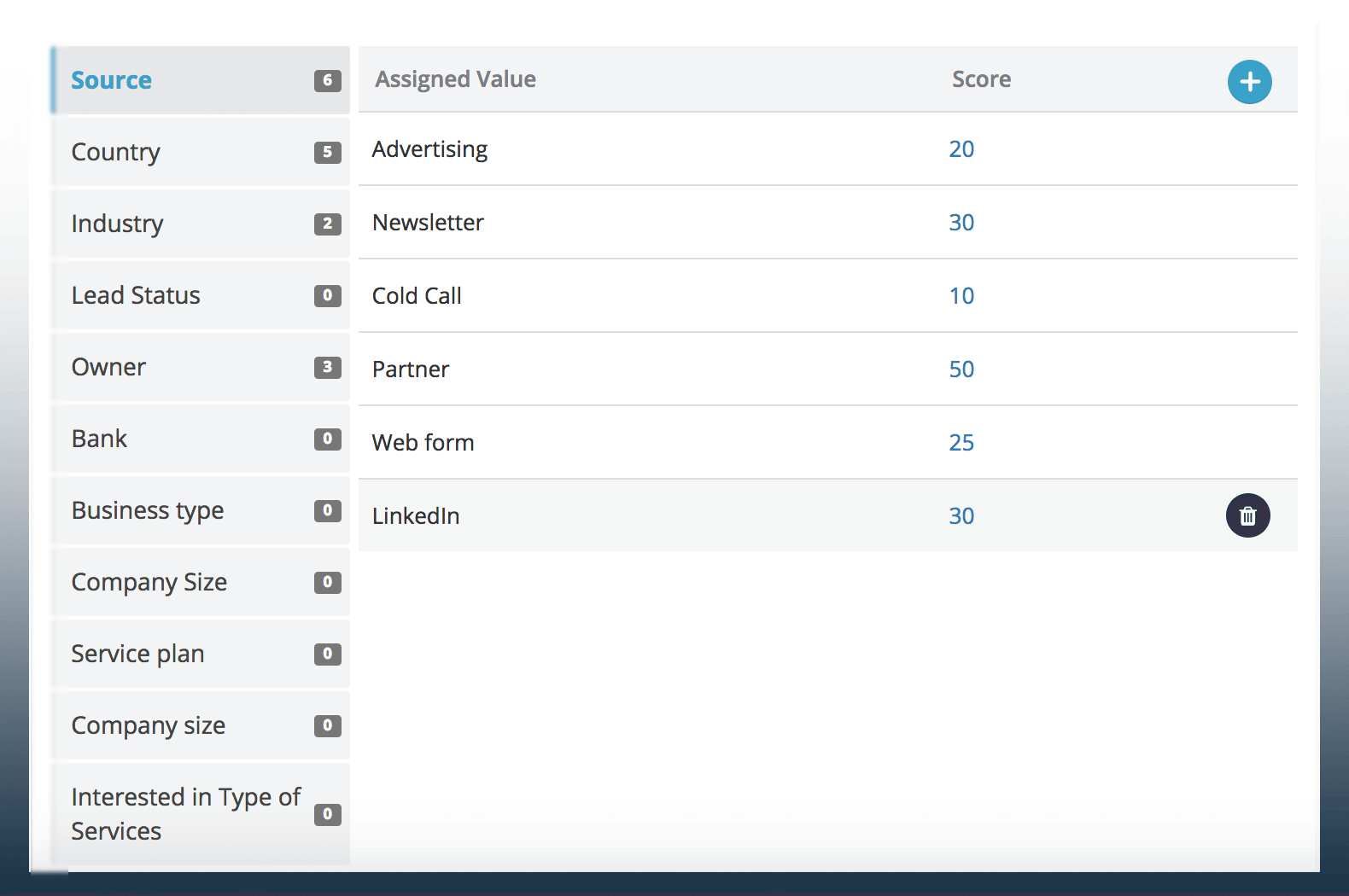 The scoring system you use when you qualify leads is decided by you, depending on criteria specific to your industry, past experience, or other factors; meaning that you decide your ideal customers' profile. Within the Teamgate sales CRM the information you add about your marketing qualified leads will help you decide if a lead can be converted into a deal, or whether to unqualify. It's worth remembering, that even unqualified leads may be recycled at any time as all the information will still exist in your CRM. Teamgate offers you the smartest set of tools to convert and re-qualify your leads at any time. CRM lead management and qualification analysis are the truly smart tools for the truly smart modern sales team.
Value to the client and how to measure it
An intuitive lead qualification process aids sales managers, sales teams, marketing professionals, and business development professionals determine and distinguish if leads are interested enough, are the correct fit, and are ready to be moved through the sales pipeline. The Teamgate CRM drag and drop pipeline model manages the whole sales process in a clutterless and interpretively visual and analytical manner, leading to better sales performance and higher profitability.
Do you have a CRM that keeps you organised?
The most user-friendly CRM on the market. 14-day free trial.
Start Free Trial
Painless setup, no credit card required