If you're looking for new business leads, you would love the treasure mine LinkedIn.
LinkedIn has emerged as one of the best platforms to discover new leads and build up your marketing campaign. You can connect with more than 400 million professionals across the world. It's easy to optimize and boost lead generation sales of your company.
Unlike traditional models of business, there is no need to worry about how to make the right connections. Your employees would be more productive when it comes to gaining new leads. And you would know who are more likely to be interested in what you've to offer.
Here is how you can use LinkedIn to create more sales leads.
Optimize Your Profile
Your LinkedIn profile needs to have your social media handles. Getting some recommendations from satisfied customers will boost up your reputation. You can also use descriptive titles rather than posting links to your websites.
Here is how you can find promising sales leads.
Find the Prospective Lead
Use the search option of LinkedIn. Discover people by their title, company, location, names and through keywords. You just need to click on the 'Advanced' option beside the search box.
If you get a paid account, you can narrow down the search results. Use premium filters like groups, function, interested in, company size and other details. Mix up the filters and use different keywords. This will help zero in on the prospective leads and decision makers.
Search by area, names, positions or just the industry. For a B2B business, it helps search and know other business needs better. There are other tools in LinkedIn that you can use to bring in leads.
You should consistently answer questions asked in LinkedIn Answers. It's where people go to get business advice. You can establish yourself as an industry expert by answering. You can also connect to people you helped and also get discovered by promising leads.
LinkedIn Ads is a great way to direct people to your business website. You have to bid and pay LinkedIn to place your ads in the search results.
LinkedIn applications can be a good place to grow your leads. You can put your blog posts, interesting apps, or your interests. This tool can also be used to set up polls to discover your target audience's preferences and habits.
The paid account of LinkedIn gives you option of saving your searches. Anyone who joins LinkedIn matching your search is tracked, and you get instant notifications.

Engage in Groups
LinkedIn groups are a great place to meet prospective customers and gain insight into your market. Target and join multiple groups of your industry. Include some external ones to broaden your reach.
[optin-monster-shortcode id="kandoug21absj0ox"]
For example, if you're selling printers, a group on printing would be apt. Start discussions in the group and provide a link back to your company website in suitable cases. The groups are great to grow and expand your network from which leads are generated.
Breaking the Ice
First, track your list of potential leads. Now, you've to establish contact. Do not be shy to connect with people whom you don't know. After all, LinkedIn is a place for establishing networks.
It's not a good idea to send in a request to people you don't know. However, you can send in an InMail if you've a premium account. You can also ask any first or second-degree connections to introduce you to the potential lead.
Alternatively, you can set the option of 'Friend' when adding connections. Do not though, that this latter way may not go down well with all prospective leads. 
Do you have a CRM that keeps you organised?
The most user-friendly CRM on the market. 14-day free trial.
Start Free Trial
Painless setup, no credit card required
We would suggest you to use the InMail service though. InMail is a paid service that lets you send emails to anyone's inbox. Some other ways can also help to optimize sales leads:
Add any promising lead you meet in real life on LinkedIn. You can send your company updates and product information easily.
Unless your profile is set to anonymous, you can see who visited your profile. Such connections are great for establishing a contact. You can see who has visited your profile. Search by industry connections. Check if any potential lead has visited your profile. If so, you might want to connect with them.
Join in an industry group. You would find plenty of them. Discussions can bring in leads if you are consistent with your activity. Share opinions and views, and answer the questions on a regular basis. Chances are someone would send across a message to you soon.
So let's Jump Right In
You can use these methods irrespective of the nature of your business. Check out the tools added in LinkedIn Toolbox to gain insights. The time is right to start using LinkedIn. Start generating and nurturing your new and current leads.
Teamgate-LinkedIn Shuttle: No More Mechanical Data Entry
Teamgate always adapts to the newest and smartest solutions designed for smooth sales process. That is why we created Teamgate-LinkedIn Shuttle – simple and useful tool to easily import LinkedIn contacts directly to your Teamgate account. 
Teamgate-LinkedIn Shuttle appears in your address bar anytime you are on a page eligible to be imported. Simply click the icon and voila – the contact, with all visible information will be imported into your Teamgate CRM account. By one click you are able to create a new lead with the data absorbed from the LinkedIn profile – name, position, company, email address and even phone number (if available). This allows you to remove one of the most time-consuming processes in the CRM – manually typing of contact's data.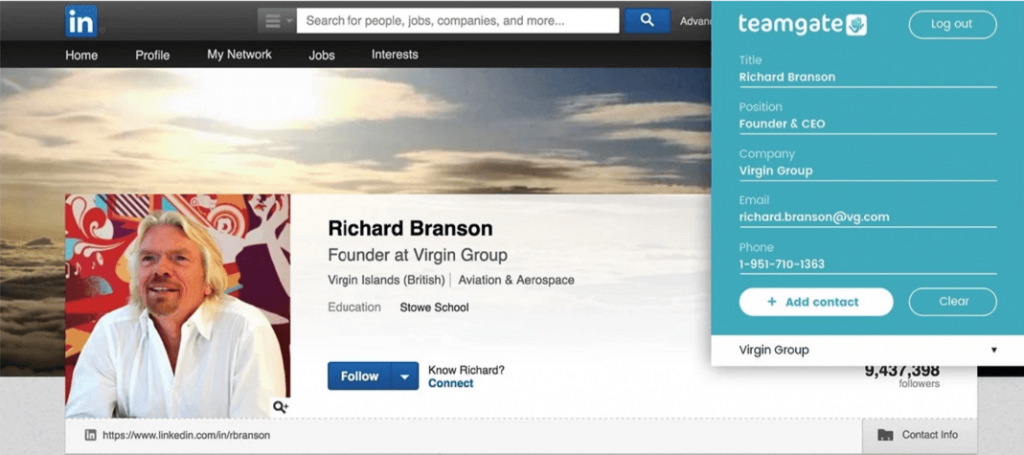 It is absolutely free and you can get it here at Google Chrome Web Store.