This article provides insights into the sales management process and how to optimize it for success. From lead generation to post-sale customer care, readers will learn key strategies and best practices for each stage of the process. Additionally, the article highlights the role of CRM software, such as Teamgate, in streamlining and enhancing sales management.
Here are the 4 main stages of the sales management process:
Stage One: Lead generation + lead qualification
Stage Two: Lead conversion
Stage Three: Sales management + deal closing
Stage Four: Post-sale
What is a Sales Management Process?
Sales management refers to the process of planning, organizing, directing, and controlling the activities and resources involved in achieving sales goals and objectives. Sales management involves overseeing the sales team, implementing strategies to drive revenue, and ensuring effective sales operations. Sales management encompasses various aspects, including sales planning, lead generation, sales forecasting, sales process optimization, performance monitoring, and customer relationship management. Effective sales management involves aligning sales activities with business objectives, motivating and training the sales team, analyzing sales data and trends, and continuously improving sales strategies and processes.
Stage One
Lead Generation:
With Teamgate our salespeople employ marketing campaigns designed for lead generation to capture the contact information we need. Using the ever-popular WordPress platform we create – without any programming knowledge – simple, template-based web forms directly on our Teamgate landing pages enticing interested prospects to sign-up for additional information. This is used in conjunction with selective emailing, designated events, and helpful, problem-solving content.
Lead Qualification:
The process of converting your leads into contacts and deals in Teamgate couldn't be easier. Teamgate's lead conversion solution simplifies the lead qualification process by fully automating the data entry and transfer process. The lead has expressed an interest in the product, their information has been entered and is ready to be moved to the next stage of the sales pipeline management process.
Stage Two
Lead Conversion:
Lead conversion is the process of moving a qualified lead to a deal. With just one click in the Teamgate CRM a qualified lead is converted to a deal, creating a person and/or a company associated with it that deal. All the relevant information, such as tags, custom fields etc., will be automatically transferred. Using the drag-and-drop function moving a deal through the stages of the sales process is simply managed.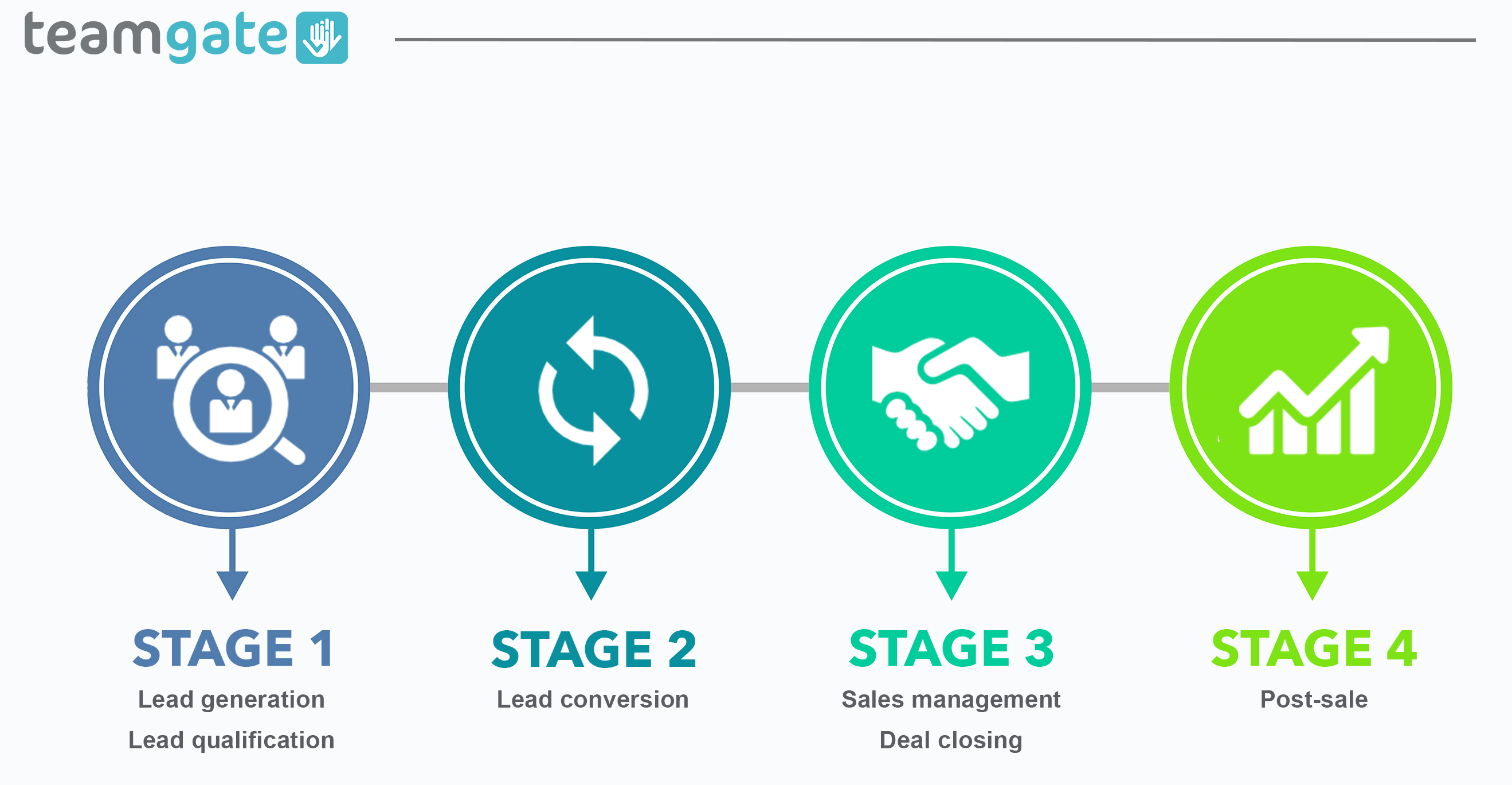 Stage Three
Sales Management:
This stage of the sales opportunity management process is where the real work gets done. This is where to sale is won or lost. In order to control your deals, it's recommended that you set an estimated closing date for each – allowing you to see the exact condition of each deal in your pipeline.
Teamgate offers multiple functions for sales management. When dealing with companies in different countries Teamgage allows you to assign a specific currency to the deal. It also allows you to create multiple sales pipelines.  All information associated with a deal can be managed in one place; communication history, shared files, records of calls and meetings etc., are all close to hand even when mobile. Deals can also be assigned owners and collaborators. Geographic locations of deals are recorded via a maps integration, simplifying on-the-road meetings. Calls may be even be made and even recorded, directly from Teamgate, making it the most convenient Sales CRM on the market. In short, a deal holds all communications and actions between you and your contact.
Deal Closing:
This is the point in the sales pipeline where a decision is made and the sale is either won or lost. If the sale is won it is then moved to the payment stage with any comments or notes recorded in the deal card. If the deal is lost, reasons for loss are noted and the card is closed, to be used for future analysis and/or recycling purposes.
Stage Four
Post-Sale:
Just because the sale has been made and the deal done the process doesn't end there. At Teamgate when a new client signs up they become the responsibility of our customer success team who is there to guide them, answer their questions, and offer any support or assistance they can. Not only does this personal care help the client through the initial adaptation process, but it helps foster a stronger and closer relationship. This connection significantly improves the customer's user experience and also helps us to increase our chances of future recommendations.
Streamline Your Sales Management Process with Teamgate
In order to establish an effective sales management process, it is crucial to understand the unique challenges and requirements of your business. By examining your current sales pipeline and identifying areas for improvement, you can design an ideal sales process tailored to your needs. 
With Teamgate, lead generation, and qualification become streamlined, and lead conversion becomes a seamless process. Our comprehensive sales management features enable you to control and monitor deals effectively, with the ability to assign currencies, create multiple pipelines, and manage all deal-related information in one place. Request a demo today, or get started with a 14-day free trial.
FAQs – Sales Management Process
Q: What is a sales management process?
A: A sales management process refers to the systematic approach and set of activities designed to oversee and guide the sales cycle of a business. It involves identifying problems, generating leads, converting them into deals, managing the sales pipeline, closing deals, and providing post-sale support.
Q: Why is a sales management process important?
A: A sales management process is essential for businesses to effectively manage their sales operations and drive success. It helps streamline the sales cycle, improve lead conversion rates, optimize sales team performance, track and manage deals, and enhance customer relationships.
Q: How can I identify the problems in my sales cycle?
A: To identify the problems in your sales cycle, examine your current sales pipeline and thoroughly understand each stage of the process. By analyzing bottlenecks, inefficiencies, and areas where leads may be lost, you can pinpoint the challenges that need to be addressed.
Q: How can a CRM software help in designing an ideal sales process?
A: A CRM (Customer Relationship Management) software like Teamgate can be instrumental in designing an ideal sales process. It allows you to automate lead generation, qualify leads, convert them into deals, manage sales pipelines, track communication history, assign owners and collaborators to deals, and facilitate deal closure. These features enable businesses to create a customized sales process that aligns with their specific needs.
Q: What are the main stages of the sales management process?
A: The main stages of a sales management process typically include lead generation, lead qualification, lead conversion, sales management, deal closing, and post-sale activities. Each stage plays a crucial role in ensuring a smooth and successful sales cycle.
Q: How does Teamgate simplify lead conversion?
A: Teamgate simplifies lead conversion by automating the data entry and transfer process. With just one click, a qualified lead can be converted to a deal in the Teamgate CRM. This conversion creates a person and/or a company associated with the deal, transferring all relevant information such as tags and custom fields automatically.
Q: How does Teamgate support sales management?
A: Teamgate provides multiple functions for sales management. It allows you to set estimated closing dates for deals, create multiple sales pipelines, manage all deal-related information in one place, including communication history and shared files. Teamgate also offers features like mapping integration, on-the-go accessibility, and call recording, making it a convenient and comprehensive sales CRM solution.
Q: What happens in the post-sale stage with Teamgate?
A: In the post-sale stage, Teamgate ensures that a new client receives personalized care and support from their dedicated customer success team. This team guides clients through the initial adaptation process, answers their questions, and offers assistance whenever needed. This post-sale connection strengthens the customer relationship, enhances the user experience, and increases the likelihood of future recommendations.
Q: How can I get started with Teamgate?
A: Getting started with Teamgate is easy. Simply visit our website and sign up for a free trial to experience the benefits of our comprehensive CRM solution. Explore the features, streamline your sales management process, and drive business success with Teamgate.
Do you have a CRM that keeps you organised?
The most user-friendly CRM on the market. 14-day free trial.
Start Free Trial
Painless setup, no credit card required
Other articles that might interest you.
The ultimate guide of creating a sales process. 
How CRM can reduce sales churn and keep your sales on track.
How to go hand in hand with technologies in sales process in 2019.