The first step when setting up a CRM sales management process is to identify the problems you need to solve within your sales cycle. However, every business is different and requires its own solution to its own demands.
The best means of doing this is by examining your current sales pipeline, and thoroughly understanding every stage of the process. Understand the pipeline and you will understand the problem stages. Through acknowledgment of improvements required you can confidently design your ideal sales process in your CRM software program.
At Teamgate we have identified our selling process priorities and implemented a best practice sales opportunity management mechanism to suit.
Stage One
Lead Generation:
With Teamgate our salespeople employ marketing campaigns designed for lead generation to capture the contact information we need. Using the ever-popular WordPress platform we create – without any programming knowledge – simple, template-based web forms directly on our Teamgate landing pages enticing interested prospects to sign-up for additional information. This is used in conjunction with selective emailing, designated events, and helpful, problem-solving content.
Lead Qualification:
The process of converting your leads into contacts and deals in Teamgate couldn't be easier. Teamgate's lead conversion solution simplifies the lead qualification process by fully automating the data entry and transfer process. The lead has expressed an interest in the product, their information has been entered, and is ready to be moved to the next stage of the sales pipeline management process.
Stage Two
Lead Conversion:
Lead conversion is the process of moving a qualified lead to a deal. With just one click in the Teamgate CRM a qualified lead is converted to a deal, creating a person and/or a company associated with it that deal. All the relevant information, such as tags, custom fields etc., will be automatically transferred. Using the drag-and-drop function moving a deal through the stages of the sales process is simply managed.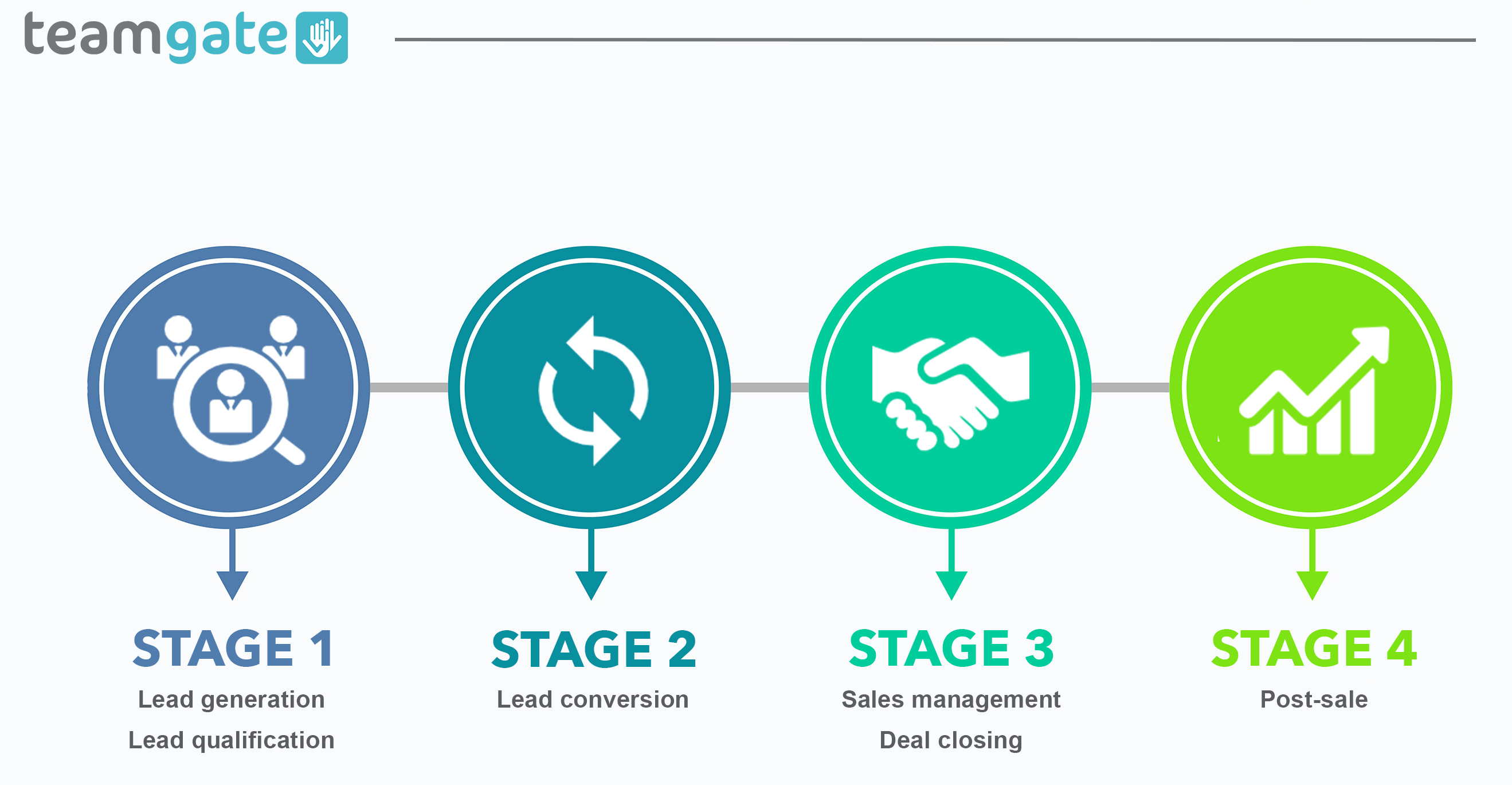 Stage Three
Sales Management:
This stage of the sales opportunity management process is where the real work gets done. This is where to sale is won or lost. In order to control your deals, it's recommended that you set an estimated closing date for each – allowing you to see the exact condition of each deal in your pipeline.
Teamgate offers multiple functions for sales management. When dealing with companies in different countries Teamgage allows you to assign a specific currency to the deal. It also allows you to create multiple sales pipelines.  All information associated with a deal can be managed in one place; communication history, shared files, records of calls and meetings etc., are all close to hand even when mobile. Deals can also be assigned owners and collaborators. Geographic locations of deals are recorded via a maps integration, simplifying on-the-road meetings. Calls may be even be made and even recorded, directly from Teamgate, making it the most convenient Sales CRM on the market. In short, a deal holds all communications and actions between you and your contact.
Deal Closing:
This is the point in the sales pipeline where a decision is made and the sale is either won or lost. If the sale is won it is then moved to the payment stage with any comments or notes recorded in the deal card. If the deal is lost, reasons for loss are noted and the card is closed, to be used for future analysis and/or recycling purposes.
Stage Four
Post-Sale:
Just because the sale has been made and the deal done the process doesn't end there. At Teamgate when a new client signs up they become the responsibility of our customer success team who is there to guide them, answer their questions, and offer any support or assistance they can. Not only does this personal care help the client through the initial adaptation process, but it helps foster a stronger and closer relationship. This connection significantly improves the customer's user experience and also helps us to increase our chances of future recommendations.
Do you have a CRM that keeps you organised?
The most user-friendly CRM on the market. 14-day free trial.
Start Free Trial
Painless setup, no credit card required
Other articles that might interest you.
The ultimate guide of creating a sales process. 
How CRM can reduce sales churn and keep your sales on track.
How to go hand in hand with technologies in sales process in 2019.